Accommodation in Delhi
Delhi is magical and it switches from reflecting an ancient era to a modern era quite fast. You simply have to travel from Old Delhi to New Delhi and the difference will be appreciated. Every nook and corner of the capital city is worth to explore. However, the very first thing that comes in every tourist's mind is accommodation in Delhi. Let us help you in combating these issues because we are about to list down best places to stay in Delhi that are absolutely suitable for tourists in terms of location, transportation, and affordability.
Best Selected Places to Stay in Delhi
1. Paharganj
This place in Delhi is considered the hub for shopping cheap and lodging cheap. You will find every affordable item here, from gift items to budget hotels, Paharganj is the only place where you can really depend on your wallet and buy stuff without making a hole in your pocket. Interestingly, you can get to this part of the city to find affordable places to stay in Delhi.

Plus Point- The place is close to most of the transport platform, which makes it easy to travel to popular destinations.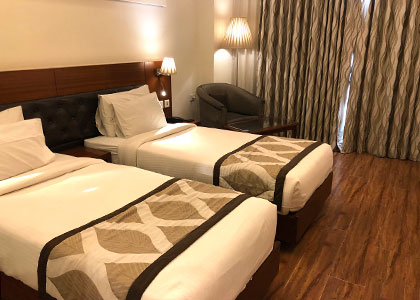 Hotel in Connaught Place
You must have heard about this place from movies or YouTube videos, most of the food bloggers select this place to taste the street delicacies of India. However, what you might not know is that Connaught place also has some of the great accommodation in Delhi. This place has everything you would want, heritage, history, food, religious attractions, souvenirs, and many other items. However, the price of staying in this location can be a little higher than other places in Delhi, but still, prove out to be affordable.

Plus Point- This place is also famous for street-side shopping with Janpath around the corner, you will get shopping and food in close proximity in this location.
3. Defence Colony
Most of the tourists want to stay in location because of the art galleries, bars, restaurants, and fascinating stores. This place is located in south Delhi and the location is a hot cake for upper-class Delhi residents. However, there are places where you can get an amazing package for tourists. The best part being in Defence Colony is that you get to travel easy, the Lajpat Nagar metro station is very close to the location.

Plus Point- For people wanting to spend in shopping, this place is the capital's heaven.

Stay in Chandi Chowk
This place is again on of the hot cake on the list. The fact that it is very close to the Old Delhi Railway station, makes it even more in demand. Chandi Chowk has some of the most affordable hotels in town and you get the bonus of incredible food. This place also has some of the famous tourist's attractions and has maintained its name of being the most demanded locations in Delhi. Accommodation in Delhi near locations like Jama Masjid, Red Fort, and Haveli Dharampura is like a dream come true for every tourist.

Plus point- This place is a daydream for Shopaholics. You get everything, and we mean EVERYTHING.
5. Mehrauli
If you are looking to stay in places close to religious attractions, then Mehrauli is the place to be. The place is rich in religious structures with various mosque and temples like Jain Mandir Dadabari, Jamali Kambli Masjid, Chhatrapur Temple, Quwwatul Islam Masjid, and so on. This place also has the famous heritage site, Qutub Minar, Zafar Mahal and others.

Plus Point- Some of the famous nurseries are in close proximity to the location.
6. Rajpath Marg
This area is famous for being famous; Rajpat Marg has the brilliant India Gate. This memory of Indian soldiers was built as the war memory during the 1st World war. You will come across many affordable lodges and hotels to match your budget.

Plus Point- Extremely close to famous tourist attractions and easy availability of transportation.
7. Karol Bagh
You will feel like walking into Delhi and some timeless cultures, the place is situated in central Delhi and you will love the ambience. The shopping is cheap, food will be affordable, and in terms of transportation, you will not have to worry about prices and being ripped in terms of money.

Plus Point- Connected to major metro routes, airport, and railway stations.
Estimated Cost of Staying in Delhi
Bachelors- INR 1,000- 3,000
Couples- INR 2,000- 5,000
Families- INR 5,000- 8,000
Staying in Hotels – Minimum INR 549- as pricy you want it to be
Staying Dorms- Minimum INR 233- INR 800
Staying in Lodges- Minimum INR 503- INR 2,128

Note: The prices can vary based on season and demand.
This article will definitely help you sort out the accommodation in Delhi without hassle. Delhi is vast in terms of historical attractions, and heritage, it offers a great getaway into a different world altogether, where delicious cuisines and historical monuments are the centers of attraction. Hope you found some answers to places to stay in Delhi.
You May Like: