7 Best Places to Visit in November in India
Planning your end of the year celebration might require a lot of research work. But the opposite can be said when you decide over best places to visit in November in India. Affordable trips, excellent landscapes, nature's beauty, mouth-watering food, adventure sports, traditional heritage, ancient history, and welcoming people define India from every nook and corner. Without any delay, take a look at some of the incredible places you would love to visit in November in India.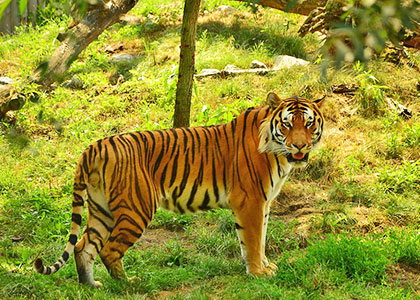 Bengal Tiger
1. Sundarbans (West Bengal)
Sundarbans are mostly in every traveler's bucket list to explore the wilderness and wildlife of the area. This UNESCO World Heritage Site is the pride of Bengal and receives a large number of tourists every month. People from around the world visit the dense mangrove forest to witness the Bengal Tiger. Tourists visit Sundarbans to explore one of the best national parks in India. People with a heart for beautiful beasts will love the Sundarban forest.
Famous Activities
• Boat rides tiger spotting
• Holy dip in the Gangasagar
• Bird watching in the Sajnekhali Wildlife Sanctuary.
2. Old Goa (Goa)
This place needs no introduction because every tourist by default has Goa on their bucket list for visiting at least once in their lifetime. This place is famous for its beaches, delicious food, and especially, for old-Portuguese churches and convents which are UNESCO World Heritage Sites. Old Goa has many tourist attractions and it will give you enough places to explore and make memories. The best part about visiting Goa in November will be the Feats of St. Francis Xavier (Patron saint of Goa). This event is held every year and large crowds from across the world assemble in Goa to be a part of this event.
Tourist Attractions
• Goa State Museum
•
Se Cathedral
• Church of St. Francis of Assisi

Baga Beach Anjuna
3. Tarkarli (Maharastra)
This incredible site lies between Mumbai and Malyan, and its growing popularity tremendously. As one of the best places to visit in November in India, this place has the moderate climate and scenic beauty. You will be able to explore the incredible backwaters and blue waters of the beaches. National and international tourists gather in this place to experience the peaceful environment around serene beaches. Sailing on houseboats can be a brilliant way to de-stress from the hectic daily schedule; you can take a dip in the salty water of the Arabian Sea. By default, November turns out to be the best time to take the trip to Tarkarli.
Tourist Attraction
• Karli Backwaters
• Dhamapur Lake
• Sindhudurg Fort
• Padma Garh Fort
• Kolamb Beach
• Kanak Devi Mandir
• Sarjekot Fort
• Achra Beach.
4. Sanasar (Jammu and Kashmir)
The State of Kashmir is known to be paradise on earth for a reason. The beauty of these two villages Sana and Sar are spellbinding and contributes into making that statement possible. The view is breathtaking and it's one of the best places to visit in November in India. People who are close to nature will find a home in the pine tree forest patch and picture-perfect lakes of this place. The landscapes in this region are brilliant for trekking and also have some of the best spots for photography and sightseeing. The feeling of being close to nature will bring a sense of peace and calm.
Famous Activities and places
• Paragliding
• Wilderness adventure camping
• Trekking, Shank pal temple
• Naag Mandir
5. Almora (Uttarakhand)
If your bucket list has hill stations on it, then this charming place will serve the purpose right. November might not be the same in every part of the country but this place has some divine beauty where you can feast your eyes. You will experience closeness to nature because of its snow-clad mountains, oak trees, river streams and valleys, superb terrace farming, and welcoming people. This hill station has been growing popularity for all the right reasons. If you want to scratch out a hill station off your bucket list, wait no more, pack your bags for Almora in Uttarakhand.
Tourists Attractions
• Binsar Wildlife Sanctuary
• Katarmal Sun Temple
• Kasar Devi Temple
• Govind Vallabh Pant Museum
6. Amritsar (Punjab)
November is the best time to visit the Golden Temple because of the annual event Guru Nanak Gurpurab. The entire city looks beautiful and you will find every street decorated with lights and flowers. Amritsar has a major attraction called the Golden Temple which is a very important Sikh shrine. The top portion of the golden temple is covered with Gold and this place is visited by hundreds of pilgrims around the year. The event mentioned holds a lot of importance by the Sikh community around the world but the real beauty and soul of this festival is best experienced in Amritsar in November.
Tourist Attraction
• Jallianwala Bagh
• The Golden Temple
• Akal Takht
• Palace of Maharaja Ranjit Singh.
7. Wayanad, Kerala
This is another hill station to scratch off your bucket list. Wayanad in Kerala is one of the best places to visit in November in India. If you were planning to explore some beautiful plantation, wildlife, greenery, and vibrant culture, then this place will prove to be one of the apt places for you. Due to the splendid landscape and cozy climate, Wayanad is also known to be a good honeymoon spot in Kerala (See also 6 Best Honeymoon Places in Kerala). You will witness the colorful sight of autumn and true nature's beauty in this hill station.
Tourists Attraction
• Wayanad Wildlife Sanctuary
• Chembra Peak
• Sulthan Bathery
• Thirunelli Temple
• Edakkal Caves Ambukuthi mala
• Kuruvadweep.
Apart from these best places to visit in November in India, there are few more on the list that you shouldn't miss exploring. Places like Coorg in Karnataka, Varkala in
Kerala
,
Udaipur
in
Rajasthan
, and
Varanasi
in Uttar Pradesh. The splendor of these places are never-ending, thanks to the diversity of India, you can experience different weather in different parts of the country. Some places will have extreme winter conditions while others will prove to be moderately cold. Nonetheless, you will be set to explore the very best of India in the month of November.
You May Like:
6 Best Places to Visit in February
5 Best Places to Visit in April
7 Best Places to Visit in June
5 Best Places to Visit in August
5 Best Places to Visit in October