Jaipur Transportation – Air, Train, Bus, Taxi, Tuktuk
Jaipur is the tourism hub of India keeping many unique places. Tourists all over the world come here to explore the rich cultural city. It is built using the Hindu architecture science Vastu Shastra and Shilpa Shastra, which makes Jaipur one of the most unique and beautiful cities in the world. As one of the cities in the Golden Triangle, a tour circuit in India while the other two being Delhi and Agra, Jaipur has well-developed transport system and is well connected by highways, railways, and air. Due to which it is easily accessible from any part of India.
How to Reach Jaipur?
Reaching Jaipur by air

Flight is the most convenient and fastest Jaipur transportation. The international airport is 10km (6.2mi) far from the center of the city, whereas the domestic airport is 7km (4.3mi) far. The Jaipur airport is rated as the 11th busiest Airport in India, the airport connects to various major places in India that include Bangalore, Mumbai, Chennai, Hyderabad, etc.
The airport also connects to international destinations that include Singapore, Thailand, etc. Jaipur can be reached by air directly from various major ports in India, the direct connectivity from the Jaipur International Airport is limited. Flight tickets can be booked online. The Jaipur airport also offers facilities of chartered planes to London. There are various taxis available outside the airport, the main city can be easily reached by hiring a taxi.
Read More: Jaipur Airport
Reaching Jaipur by Train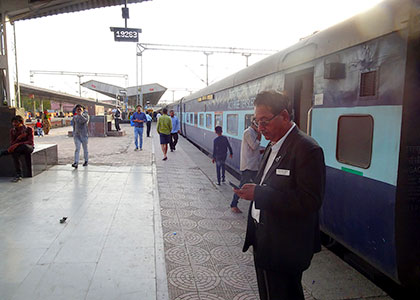 Get to Jaipur by Train
Train is another crucial Jaipur transport method. Jaipur is well connected to various major Indian cities including Bangalore, Mumbai, Chennai, etc. Railways also connect to small villages. Travelling to Jaipur by train is the most economical option, especially when the group consists of a large number of members and also when the distance is long. There is a famous luxury train named Palace on Wheels, which was started by the Rajasthan Government in partnership with Indian Railways, in order to promote Rajasthan tourism (See also Rajasthan Travel Guide). The trains run from Delhi to Jaipur in to and fro movement, covering major cities and towns that include Agra, Jaisalmer, Bharatpur, etc. The tickets for the trains need to be booked in advance as it is not possible to get on the spot tickets. Tickets for other trains can be booked 24 hours before the departure, if available, through Tatkal service.
Read More: How to Reach Jaipur by Train Jaipur Junction Railway Station
Reaching Jaipur by Bus
Jaipur is well connected by roads to various parts of India, which makes travelling by bus a less stressful journey. Travelling by bus, the most convenient Jaipur transportation, is well suited for the tourist group with a less number of members. Travelling to Jaipur by bus from cities or towns 400-600km (249mi-373mi) faraway is a good option, Jaipur can be reached in a single day. There are various government buses from nearby states of Gujarat, UP, Delhi that go to Jaipur on a daily basis. There are luxury private buses to Jaipur available too. The bus tickets can be booked online and can be bought from the bus stands directly. The buses are available in different variants that include AC, sleeper, semi-sleeper, and Non-AC.
Read More: Exploring Jaipur by Bus – Stations, Routes, Fare
Reaching Jaipur by Taxi
Taxi is the most flexible Jaipur transport. Jaipur can be reached by Taxi but the services are limited only to major cities. There are many taxi operators available in Agra, Delhi, Ahmedabad, Noida, and other nearby major cities, that provide rental cars for a ride to Jaipur. Taxi services include sedan cars, luxury cars, and tempo travelers, the advantage of taxi services is they offer more privacy. Taxi services cost more as the fare is calculated based on a fixed price per kilometer.
Tuk-tuk service in Jaipur

Tuk-tuk in Jaipur
Auto rickshaws are popularly known as tuk-tuk in Jaipur. Tuk-tuk is not for reaching Jaipur, instead of for exploring Jaipur. Tuk-tuk services are available for sightseeing. They are a fun ride and are definitely worth a try. The three-wheeler vehicle service is cheaper compared to the taxis, which can be used for exploring the Pink City. The three-wheeler vehicle is very popular in India, foreigners often prefer to take a ride on the tuk-tuk for sightseeing as these unique vehicles are found only in India and few neighboring countries in Asia. The drivers of tuk-tuk charge a certain amount of fee for sightseeing service, which is comparatively cheaper.
Things to Remember
• Do not buy bus or train tickets from the platform from people who claim to be selling tickets. They would be selling tickets in black for a double rate of the original price. They can even sell fake tickets. Buy tickets from ticket counters available on platforms/bus stands.
• Private buses often charge more than the government buses, even when they provide the same facilities as a government bus. Hence tourists must check the facilities offered by the private buses and book only if the rates are reasonable
• It is recommended to carry food items if possible as buses tend to stop at the restaurants that give them more commission.
• While booking taxi services, tourists must ask for the price per kilometer, charged by the agency. The agencies might charge more if there's a miscommunication. Hence, it is important to know the pricing policy.
You May Like:
Delhi to Jaipur by Car: Best Route Plans, Fare Details, and Tips
Travel from Delhi to Jaipur: Air, Bus, or Train