Tipping in Egypt: Etiquettes Advice Associated with Baksheesh
Egypt is a timeless destination on the banks of the
Nile River
. Surrounded by history, the country has been the home to some of the most iconic monuments of the ancient civilization. If you are planning on a trip to Egypt, then you are in for a surprise. The country is indeed beautiful beyond measures. But you have to remember, Egyptian are different from any other European or American nation – culture, social, or economic stability-wise.
A chunk of the population is unemployed - and with rampant depletion of resources and a large population - the situation is not ideal for the locals. And the people who are employed do not make enough to sustain themselves and their families comfortably. A portion of the population is employed in the tourism sector. For these people, tip or Baksheesh (as locals refer to it) has become an additional source of income – in some cases necessary for survival.
This page is a dedicated guide on tipping in Egypt – and how you should do it.
Guide to Baksheesh or tip in Egypt
Unlike in American or European countries, Egyptians take their tipping very seriously. When in the country, you are expected to add some currency along with your total bill – rounding off the figure. In reality, the staff in the hotels and across other establishments often earn low wages. To make their living, these people are dependent on Baksheesh. It is treated as a welcome supplement to the regular income.
There is no definite rule as to how much you should pay – and in no way, you should feel threatened to pay more as a tip. However, you have to pay something extra for the services along with the bill. Also, you might be talked upon, even criticized, for your tip amount. However, do not get bothered by the gesture. It is a usual tipping etiquette. If something like this happens while tipping in Egypt, either smile and say 'that's enough' or simply take back the money.
Whom do I have to pay the tip?
1. Bar and local eateries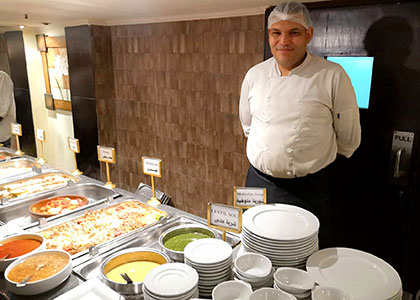 Egypt Restaurant Staff
In Egypt, many local bars and diners add a 10% service charge to the bill. In these eateries, you can skip tipping. However, local eateries where service charges are not added into the bill - it is customary to add 10% to 15% of the total amount as tip. Generous tipping in Egypt has its perks, from the extra attentive hotel staff on your second visit to sumptuous portions of the food servings.
P.S: The service charge at restaurants goes to the owner of the restaurant, and not to the staff.
2. Hotel concierges
While staying at a hotel or a resort, try to pay a generous tip (the American equivalent of $18 to $20). A generous tip ensures great service and a comfortable stay at the hotel. Apart from the concierges, you should pay tips to the
a. Housekeeping staff ($5 a day)
b. Porters/Bell boys ($1 per bag)
c. Bathroom attendants (50 cents)
d. Hotel staff who serves at breakfast or buffets ($3)
Read More: Accommodation in Egypt
3. Taxi
Although not customary, sometimes the cab driver might charge you 10% of the total bill as Baksheesh. Usually, most travelers fix the taxi fare at the start of the trip to avoid unnecessary hassles. You can do that too, and add a little amount at the end of the journey, as a goodwill gesture. It will cheer up the cab rider. So, when you call them around – you can get excellent service.
| | |
| --- | --- |
| Egypt Taxi Driver | Egyptian Tour Guide |
4. Tour Guide
You have come to Egypt to explore the beautiful pyramids and other ancient landmarks. There is a high chance that you will hire a local guide for sightseeing. The charges for a guide, along with gratuity, might depend on the duration of the tour.
a. For ½ day tour, you can pay $4 as a gratitude
b. For a full-day tour, you can pay $6 to $7 as a gratitude
Tipping in Egypt – Things to note:
1. Always carry small bills for the tips. Most vendors would either not accept large currency bills or assume the amount as a lump total of total billing amount and the tip
2. Pay the tip discreetly, followed by a handshake
3. Often locals might show a bit of displeasure on the tip amount. Don't worry - it's a local etiquette. If they show displeasure on the amount, just firmly say no and move along. Or else, take back the money from them.
4. While setting up the fare with the taxi driver, felucca, or caleche men, do remember to discuss the Baksheesh beforehand. If the cab fare is too high, then an emphasis on forgoing the tip. You can always add a few loose changes to round up the bill.
5. Tipping in Egypt is customary, but do not pay a tip for services you did not avail or enjoy
Small titbits for travelers
• 1 Egyptian Pounds (EGP) is divided into 100 piastres/ersh
• 1 piastres/ersh = 1,000 milliemes
• Currency bills are available in the denominations of 25 and 50 piastres, £1, £5, £10, £50 and £100, and £200 in banknotes. The 25 and 50 piastres and £1 denomination is available in coins as well.
• The currency is bilingual with Eastern Arabic and English numerals printed on them.
Read More: Currency in Egypt
You May Like:
Average Egypt Trip Cost on Food & Transportation & Accommodation