Egypt Street Food - Top 10 Local Snacks You should have a Try
The world is familiar with all the famous things in Egypt, you must have read and heard about the great pyramids, camels, desert beauty, mummies, pharaohs, the Sphinx, and other things, but very few of you are aware of the actually dynamics of great Egypt street food. There is always little mystery to
Egyptian cuisine
, the spices are complex and the procedures require experienced hands. However, let us just overlook everything and focus on the result: FOOD. It is mouth-watering to even think of Egypt street food, imagine what it will be like to actually eat those delight. Let us give you a brief glimpse of some of the finest and popularly known street foods in Egypt. Behold for the 10 most delightful street food of Egypt.
1. Hawass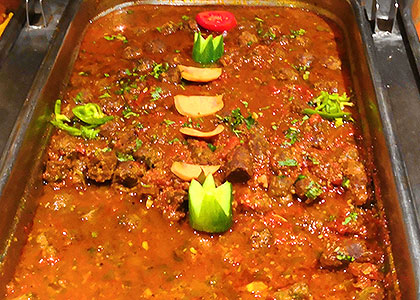 Spicy Meatballs
Anyone can suggest you the recipe for this dish because the ingredients are so simple yet it is a must-try dish in Egypt. Surprised? It is a minced lamb sandwich with simple ingredients and has won the hearts of millions. It is a perfect go-to street food when you want to grab a quick heavy bite. It is not about the ingredients that make this dish a winner but the way it is cooked. The filled bread is placed inside a wood oven for baking, which gives that crisp texture to the outer covering. Grab a Hawass, get a side drink to wash it down and you are done with breakfast.
Read More: Egyptian Breakfast Menus
2. Falafel
It is one of the favorite Middle Eastern dishes and you are going to find this snack in almost every street corner. It is a deep-fried mixture of herbs, peas, and beans, and gravely loved by vegetarians. Even though this dish became extremely popular in other countries, but the best one will be found in the streets of Egypt. Grab a bite with a soda and it can fulfill a deadly hunger. The prices will be reasonable enough to make you happy in exchange for a delicious taste.
3. Kofta and Kebab
Hopping around to find the best Egypt street food will be useless if you never grabbed a lamb kebab or kofta. This meaty dish has the hearts of millions; it is prepared with very basic ingredients but delivers a complex and oozing taste. The juicy chunks of seasoned beef or lamb are grilled over a charcoal fire and served with green chutney or salad. The non-vegetarians know what we are talking about, it like accepting a food coma by going for kebabs and koftas.
4. Shawarma
Everyone has eaten shawarma around somewhere, but we can vouch on the fact that you have never tasted anything like the shawarmas in Egypt. This is one of the favorite go-to Egypt street food, with a very affordable price and extremely filling attribute. This dish is prepared with pita bread wrapped with juicy meat and sauces to bring you a mouth-watering taste. However, we advise you to not meltdown on just any cart, remember to approach a right cart.
5. Mahshi
The name of the dish itself suggests something stuffed, and known as one of the most loved dishes in the Mediterranean countries. However, the Egyptians do it the best, Grapes leaves are the trick ingredient for this dish, a small amount of spiced rice is wrapped in grapes leaves and cooked in tomato sauce. Overtime this dish had a variety of ingredients; some people even use eggplant, zucchini, and cabbage for stuffing.
6. Hamam Mashi
An alternate name for this dish is pigeon where an entire bird is roasted to perfection after being stuffed with cracked wheat. Most of the people hear many rumors about the taste, but if you love trying new delicious dishes, we advise you to go ahead with this dish. It is actually considered a North African delicacy and the loved to the east and suggest this dish.
7. Koshari
This dish is packed with many of your favorite ingredients. The dish is prepared with rice, macaroni, chickpeas, tomatoes, and lentils. All the ingredients are rich in nutrients and taste, it does sound like a heavy dish but it is also a complete meal. Running around shopping in the bazaar, you find a Koshari stall, and there you are sorted. This inexpensive meal will brighten up your day and make your stomach happy as well.
8. Fiteer Baladi
It is Egyptian style pizza, very buttery and oozing with flavors. This original dish was served plain, but over time it developed sweet and savory versions of the dish with various fillings. The magic happens in a giant brick over and thus in return you get the most delicious Fiteer Baladi you can ever imagine.
9. Ful Mudamas
The reason why it ranked as one of the most preferred Egypt street food is that it consumed for breakfast. The fava beans is cooked with basic simple ingredients, like salt, pepper, cumin, olive oil and garnished with parsley and other available ingredients. It is mostly eaten with pita bread in sandwich form.
10. Kebda Eskandarani
The look might not allure you but the taste will cover that gap, this dish is prepared with fine chunks of liver, carefully seasoned with spices and basic ingredients like garlic, cardamom, chili peppers, and others. The fried beef liver is well-seasoned, cooked and served in sandwiches with spicy dips. The dish is well known in most of Egypt buy a more beloved to Alexandria where it is found in almost every street corner.
Spicy Mentions
Apart from these 11 dishes, other street foods have completely transformed the dynamic of street eating.
• Tahini
• Arabic bread
• Diet bread
• Arabic bread
• Egyptian sandwiches
• Roasted Chicken
• Molokhia
• Egyptian dates
• Crystallized honey
• Tea
• Egyptian coffee
Your stomach at first might need some adjustments to the delicacies, and once you are like bring-it-all, there is no stopping. There is one suggestion though, along with the itinerary for your travel across Egypt, do make an itinerary for a stomach rest day and eating Egypt street food.
You May Like:
10 Egyptian Desserts for Foodies