Why Newly Married Couples Spend Honeymoon in Agra
'Marriages are made in heaven' a spiritual twist to marriages in times when it is considered to be a burden according to some naysayers. Heaven is the abode for reaching pure bliss. Maybe our ancestors were indicating heaven is indeed on earth if you could find your soul mate if there exists one.
There are two forms of marriages in Indian society which are arranged and love. Well, love marriage doesn't need any explanation as such. Two humans are mutually attracted and in due time get into wedlock. On the contrary, if two people get into wedlock and then discover love in due time is called arranged marriage.
Love or arranged it is up to you but once you get married there will be a list of destinations to visit right? "Hold your horses" dear friends. There is a suggestion for you people, yes heroes and heroines of the 'Big fat Indian weddings' listen carefully the 'Taj' is waiting for you. And if you're not an Indian, don't stop yourself spend your honeymoon in Agra as we all know that love knows no boundaries.
There are umpteen tourist places in and around Agra but none can match the grandeur, the visual marvel and the true symbol of love called Taj Mahal. The Taj has become a synonym for love and why so? It is an architectural miracle standing beside the banks of Yamuna. The place defines peace through colours, textures, flowers and even the nature of people who visit this place. The Taj embraces you like a mother with warmth and care.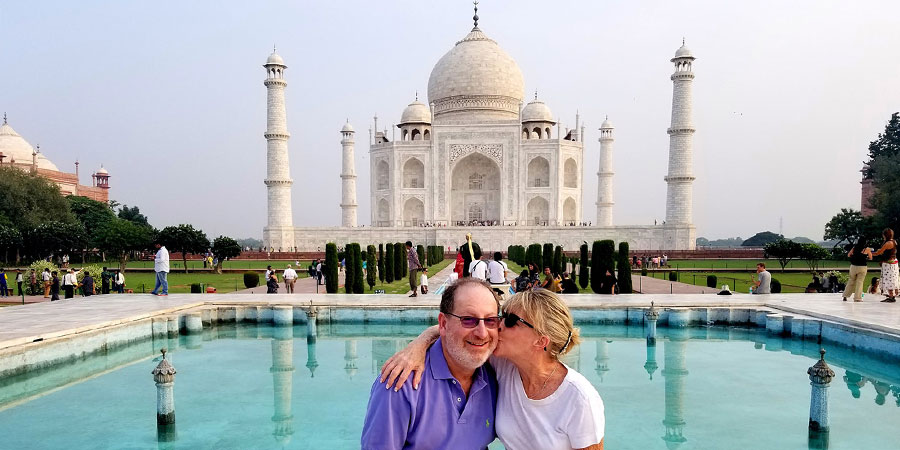 Married Couples in Taj Mahal
The story of the Taj Mahal is an emotional ride for even the critics of love. Tissues might come in handy. The Mughal Empire was flourishing in India during the 17th century. Prince Khurram, later to be famously known as Shah Jahan, roamed the streets of Delhi along with the courtiers. He reached Meena bazaar, a street bustling with trade and people, the place was a personification of chaos.
The Prince could have been startled by the noise of the street which contradicts the serenity of the palace. He saw his destiny stand in the distance, a girl in her teens soft in her actions, sharp and focused eyes with innocence still lingering in it and her fingers gliding over the glass beads as the fish swims across the tender waters. It was Mumtaz Mahal, thus began the epic love story. They both got married in the year 1607. Mumtaz died in the year 1631 due to certain complication which arose during the birth of their 14th child. Taj Mahal is an ode to love and a homage to Shah Jahan's loved one. It consumed 22 years to erect this epitome of love.
Love 400 years back was quite different, the eyes spoke more than words. The love of Shah Jahan lies in despair of not being to spend more time with his wife. Newly married couples do visit this place in large numbers. Before you are hit with absurdities and complexities of modern life, do submerge yourself in the blissful world of love in Agra.
Life is short not because of time constraints but the ignorance we display towards our near and dear ones. The clock keeps reminding us of the temporary nature of all the material achievements you have accumulated in this life. So spend your honeymoon in Agra, stand in front of the Taj Mahal, hold your loved one's hand tightly and promise that you will never let him or her go. It is the memories which are eternal and Agra is the place where you can create memories of a lifetime.
You May Like:
9 Romantic Things to Do in Agra
9 Romantic Things to Do in Taj Mahal