What Travelers Need to Know About Taj Mahal's Rules & Regulations
Over the years, many new rules have come into force for tourists to visit
Taj Mahal
in Agra, India. As lines are always long at all the entry gates, local authorities and security services advise people to not carry big bags and books as these things often increase your security check time. The Taj Mahal complex is a very large place, so knowing the rules and regulations as Taj Mahal travel tips is very important when visiting.
New rules for Taj visitors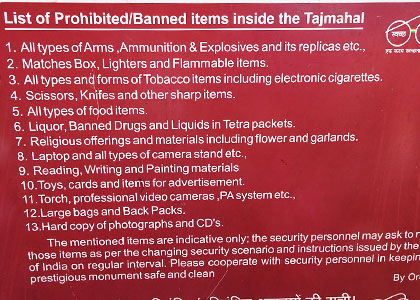 Taj Mahal's Rules & Regulations
• In June 2019, the Indian government, with the Archaeological Survey of India (ASI), announced that visitors who spend more than 3 hours at the Taj Mahal will have to pay a fine.
• To prevent unauthorized entry, ASI has put 7 turnstile gates at the east and west entry points. The authorities have also installed 5 exit gates and have confirmed that there will be separate entry points for foreigners.
• Visitors can recharge their tokens if they want to spend more than 3 hours inside.
• Earlier, Taj visitors were allowed to stay as long as they want between the opening and closing time. But after these new rules, tourists will have to pay extra charges.
Entry to the Taj Mahal: Gates, Timings, Entry Fee
Entry to the Taj Mahal is allowed only from the east and west gates. Due to security reasons, the South Gate was closed for entry and is being used for exit only.
Although you may see the Taj Mahal from your hotel in Agra, there's nothing better than seeing this beautiful monument from a close distance. The Taj Mahal's entry gates open 30 minutes before sunrise and close 30 minutes before sunset. One important thing travelers must remember is that the complex is closed on Fridays.
As far as the entry fee is concerned, the authorities have created different fee slots for tourists. While Indians have to pay an entry fee of INR 50, foreigners (except the citizens of SAARC and BIMSTEC Countries) have to spend around twenty times more money on tickets. The entry fee for foreign nationals is INR 1100 (approx. US$15). Citizens of SAARC and BIMSTEC countries need to pay INR 540 as entry fees for the Taj visit.

See Taj Mahal Up Close
Additional charges:

There's an additional fee of INR 200 for visiting the main mausoleum and it is equal for all. As mentioned earlier, the additional charges are also applied if you spend more than 3 hours at the Taj Mahal.
How and where to buy tickets/tokens:

Buy Taj Mahal Tickets
There are two 'authorized' ways of buying a ticket to visit the Taj Mahal. You can buy tickets at any of the two entry gates (The East Gate and the West Gate). Even if you forget to buy a ticket in advance and still want to see the sunrise at the Taj Mahal, you can get entry tickets at these gates one hour before sunrise.
You can also buy tickets online, but remember that the government of India has authorized only one website for the sale of the Taj Mahal tickets. Although, there are reputed tour operators that provide entry tickets. Make sure to not buy tickets from an unreliable source.
General Rules for the Taj Mahal Visit:
Littering, smoking, and damaging the monument are some of the offenses that could result in fines or legal actions. The rules discussed below are aimed to keep the Taj Mahal safe from disruptive tourists. Minor breaches could attract fines, while misbehaving tourists causing serious offenses may be put in jail.
• Put the camera away: Everyone who visits the Taj Mahal in Agra wants to capture the memories in the camera. While photography is allowed in most places, be very careful when you enter the main mausoleum. Photography is strictly prohibited in this area of the Taj Mahal.
• No drone cameras, no tripods: There's nothing quite as intimidating as carrying drone cameras and camera tripods, especially when your sole purpose of visiting Agra is seeing the Taj Mahal. Unfortunately, these items are prohibited here, especially drone cameras are prohibited in the city.
• List of prohibited items: Liquor, mobile phone charger, headphones, cigarettes, food, arms, ammunition, lighters, tobacco products, and sharp objects like knives are prohibited.
Tips to stay safe and avoid trouble

Tourists Gathered Together
When in Agra, always make sure to follow the guidelines and instructions written on the boards. You can also take the help of local authorities as they can help you better than any random tourists.
With thousands of travelers and locals, many parts of Agra are usually crowded and the Taj Mahal is no exception. While being in the crowd can be fun, make sure to stay in places where you can easily escape the crowds, especially when you're standing in a queue.
If you're staying in a hotel, leave your luggage at the hotel before visiting the Taj Mahal. Many tourists leave their luggage, wallets, and other expensive items in taxis which is not a good idea. You should know that polluting vehicles are not allowed within the 500 meters radius of the Taj Mahal.
When you're in Agra, try to observe how locals live, how they behave, and what they wear. Although India doesn't strictly advise people to dress conservatively in public like how Saudi Arabia does, it's still better to learn more about the culture because as a tourist, you would not want to send the wrong messages.
Planning a Taj Mahal visit in Agra? Remember all these practical tips and rules to make your visit easier and more enjoyable.
Nearby attractions: Mehtab Bagh (Moonlight Garden), Taj Nature Walk Park, Taj Museum.