Traveller's Guide to Trekking in Nepal Himalaya
Nepal is famous for trekking and adventure. Trekking in Nepal Himalaya offers various stunning landscapes and a wide view to explore the rural lives of the Sherpa's and other local folks. It is rather unfair to rank any one as the best trek in Nepal as these routes have their signature beauty and charm.
You can find the best trek that suits you by considering the various features of these routes. Difficult, budget, duration, trekking style – plenty of factors contribute to make a trek successful and enjoyable.
Although you can hike all the year-round, most trekkers wish to go either in fall or in spring. For the first time trekking in Nepal Himalaya, try to plan during the peak seasons. So, even though the trails will be more crowded, it will be better to be amongst the experienced people on your first trial.
Fall (October - November):

It is the most suggested trekking season for trekking in Nepal Himalaya where you get the sunny azures, clement weather, and little precipitation. However, you only have to be careful about the other tourists who can really be a crowd. Make sure to book the teahouses, especially of the popular routes which will otherwise remain filled.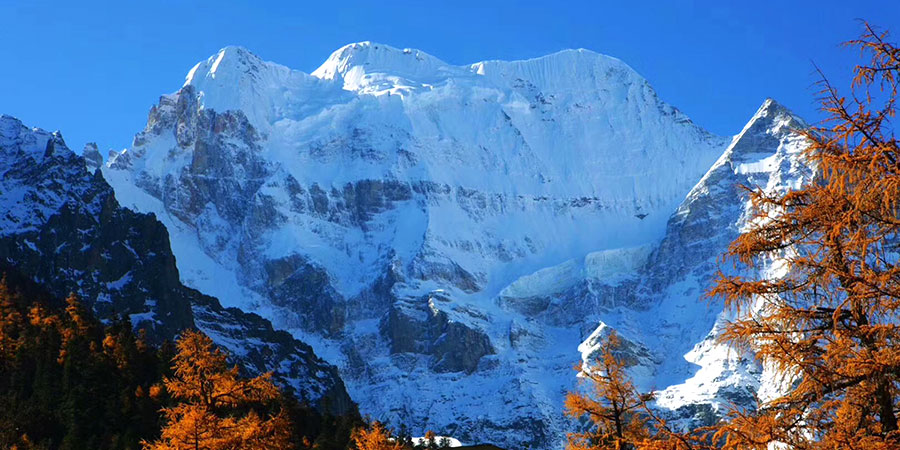 Fall scenery of Nepal Himalaya
Spring (March - April):

Spring is one of the most favourite time for trekking in Nepal Himalaya. The red bloom of the rhododendron flowers is one of the most exquisite highlights. The temperatures are usually mild during these months and are a perfect time for viewing wildlife. The only downside of these spring hikes are the hazy skies and active trails both of which are really difficult sometimes when it comes to obscuring the mountain views. However, the situation gets better as you climb up.
Winter (December - February):

Winter have mostly found sunny days with excellent mountain views. The temperature tends of become extremely cold with shorter daylight hours, which disrupts the standard travel plans, let along trekking. This is, thus, advised to be a little warned of the complications that might arise. Heavy snowfall at higher elevations makes most of the popular trails inaccessible and the path remains closed in these two months of the year.

Snow-covered Himalayas in Winter, Nepal
Monsoon Months (May - September):

Monsoon months are definitely not the ideal time for trekking in Nepal Himalaya. Be prepared for landslides and leaches after the monsoon and don't be surprised to see the hilly terrains are almost closed due to lack of communication. Monsoon rains makes hiking or trekking in the mountains critically challenging. That being said, the weather can actually remain hot and humid when there are no rains.
Off Peak Season:

Trekking outside the peak seasons in Nepal can be a rewarding experience. If you want to connect more with nature and solitude, choose from the off-time trek season. The prices are cheaper, and if you can befriend the locals, the basic guide to the trails can get easier. That said, there are notable downsides to trekking outside the peak seasons in Nepal, so don't be too nonchalant when arranging your travel dates.
Tea House Trekking
One of the reasons Nepal is such a fantastic place for trekking as well as hiking is their teahouse. "Teahouses", as suggestive from the name, are primarily small mountain lodges. They are strategically placed along the popular trails. On most trails (such as the ones that take you to Everest, Manaslu, Langtang, and Annapurna) travellers can enjoy home-cooked meal, and relax properly for a night.
While you are on the teahouse trekking in Nepal Himalaya, you'll find the simple accommodations that are comfortably simple, and most importantly, affordable. Some of them also has semi-decent wifi.
Generally, the teahouses are priced between $3-5 per night, which can be booked upon arrival for the offseason tourists. Even though you will find the beds and sheets, it is wiser to carry a sleeping bag for comfort and cleanliness.

Tea House in Nepal Himalaya
For those interested in hiking in Nepal's remotest areas, you can arrange the treks after arriving in the capital. In fact, the teahouse treks has seen more popularity than camping treks for its lower challenges.
(See also 5 Things You Can't Miss About Nepal Tea House).
Best short treks in Nepal you must not miss
• Langtang Trek
• Poon Hill Trek
• Annapurna Base Camp Trek
• Lakes of Gosaikunda
• Everest View Trek
• Dolakha – Kalinchowk Trek
• Kathmandu Valley Trek
• Mardi Himal Trek
• Chisapani- Nagarkot- Dhulikhel Trek
• Sarangkot- Dhampus Trek
Teahouse Trekking Checklist

Everest Base Camp
• Lightweight backpack
• Sleeping bags
• Running shoes or boots
• Water purifier
• Plastic water bottles
• Map, compass & guidebook
• Sun protection
• First aid kit
• Cords and adapters
Best Trekking in Nepal Himalaya for Advanced Mountaineers
• Everest Base Camp Trek
• Annapurna Circuit Trek
• Manaslu Circuit Trek
•
Ghorepani Poon Hill Trekking
• Langtang Valley Trek
• Upper Mustang
• Kanchenjunga Base Camp Trek
• Annapurna Base Camp Trek
• Gokyo Ri Trek
• Upper Dolpo
Trekking difficulty depends on several factors, including your experience, pack weight, physical fitness, and weather conditions. There are many different types of treks to choose from, but most of them are not technical for the beginners or the first-timers (no ropes, ice axes, or crampons), However, be prepared for the big ups and downs, long days and sore legs! You have to give yourself some time for rest and acclimatization so that no one frets.
For all its magnitude and grandeur, plans for trekking in Nepal Himalaya aren't as tough as you might think. Trekking tourism has been popular for decades now and there's no denying that Nepalese are excellent hosts. Kathmandu has hundreds of quality guiding companies and lodges that see the footfall of thousands of tourists every year. Even for those with little backpacking experience, trekking in Nepal is certainly going to be accessible, as well as an affordable experience.
You may like:
6 Best Destinations for Nepal Trekking Season
Find the Ultimate Guide to Trekking
How to Organize the Best Khopra Danda Trek in Nepal
Best Time to Trek in Nepal, Trekking Places in 4 Seasons
An All-inclusive Story on Ghorepani Poon Hill Trek
Tibet to Nepal is One-of-a-Lifetime Journey