Nepal Transportation
How to Get to Nepal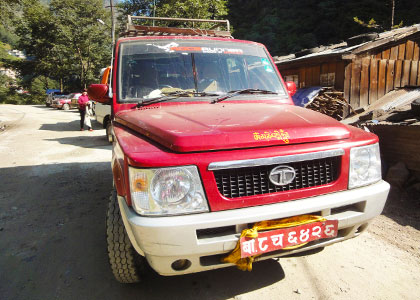 Jeep, Nepal
1. By Plane Tribhuvan International Airport is the only international airport in the country, which is about 6 kilometers (3.7 miles) from the city center of Kathmandu. Flights from Chengdu, Lhasa, Shanghai, Guangzhou, Kunming and Hong Kong of China, Bangalore, Delhi, Mumbai and Kolkata of India, Bangkok of Thailand, Dhaka of Bangladesh, Kuala Lumpur of Malaysia, Doha of Qatar, Karachi of Pakistan, Dubai of the United Arab Emirates, Amsterdam of Netherlands, and Singapore land here. You can visit the nation by plane from the above countries. After getting off the plane, you can take a taxi to downtown area.
2. By Bus
Taking a plane is the fastest and most comfortable way to visit Nepal, but bus is another option. You can take a coach in Delhi, Siliguri, Kolkata and Patna of India or Lhasa of China to the country. Coaches between Lhasa and Kathmandu only run twice a week and the journey takes three days.
3. By Train
Trains between Janakpur in Nepal and Jaynagar in India run daily, so you can take a train to the country according to the schedule. (See also
Nepal to India Train Journey
)
Domestic Traffic Overview

Nepal Rental Car
Domestic aviation is relatively developed in the country with a lot of airlines, but the planes are so small that they can only carry twenty to thirty passengers and it is difficult to buy ticket in peak travel season. There is no subway, so bus transport dominates the transportation system. You can get around between cities and towns by plane, bus or rental car. Taxi and rickshaw are more suitable for a trip within a city.
1. Planes
There are seven airlines in the country, among which Nepal Airlines is the major carrier. Flights among Kathmandu, Pokhara, Biratnagar, Nepalganj, Lukla, Simikot, Jomsom, Janakpur and Bharatpur are operated in Nepal. You can make your trip plan according to the flight schedule.
2. Buses
Local buses to and from Kathmandu, Pokhara and Terai Region are cheap with high-frequency service, but vehicle condition is poor. Tourist buses between Kathmandu, Pokhara, Chitwan and other famous tourist cities are favored by visitors with good conditions and lunch included, in addition the prices of the front and rear seats are different. Green line is a kind of high-grade coach running between popular cities once a day; therefore you should book a seat at least one day in advance.
3. Rental Car
Self-driving in Nepal is unsafe in consideration of bad road condition and different traffic rules. However it is easy to rent a car with local driver, which will improve efficiency and save time. A car can be rented from local travel agencies. The cost of visiting attractions by rental cars with a local driver in Kathmandu is about 75 dollars without admission fees. The route from Kathmandu to other tourist cities costs more.
4. Taxies and Rickshaw
Taxi and rickshaw are the most convenient transportation means. If the destination is not far, you can take rickshaw to wander on the streets and appreciate the scenery along the way. The cost is low with a flag-down price of 30 rupees. If the destination is far away from your hotel, taxi is a good choice.
| | |
| --- | --- |
| Taxi | Rickshaw |

Further Reading:
Things to Do in Nepal