Top Things to Do in Nepal
Top 10 Best Places to Visit in Nepal
1. Boudhanath Stupa, Kathmandu
As one of the World Heritage Sites in Nepal, Boudhanath Stupa is the largest stupa in Kathmandu with a height of 38 meters (125 ft), and also the holiest pilgrimage site for Tibetan Buddhists. Buddha eyes, known as wise eyes, are painted on all sides of the stupa, overlooking the whole Kathmandu valley. The nose resembling a question mark below the eyes is actually interpreted as Nepali numeral 1, symbolizing unity. The top of the stupa is exquisitely decorated. Surrounding the stupa are stores which sell religious articles and handicrafts.

Admission fee: 150 Rupees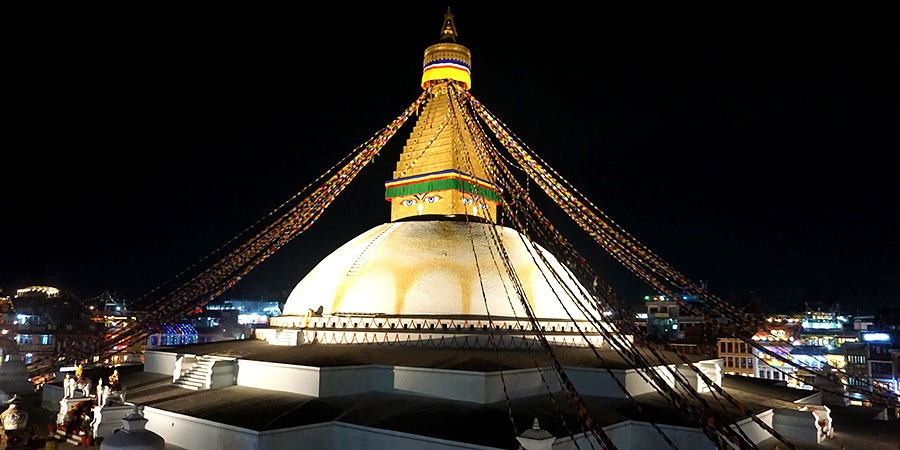 Boudhanath Stupa
2. Pashupatinath Temple, Kathmandu
Situated about 5 kilometers (3 miles) east to the downtown of Kathmandu, Pashupatinath Temple is the biggest Hindu temple in the country and the most famous Shiva Temple in South Asia. It is a place for Hindus to hold outdoor cremation and has been listed as a World Heritage Site. A Nepalese style pagoda with double eaves is the main construction, around which are many small temples, creating a view of a myriad of stars surrounding the moon. Gilded roofs, silver rooms and exquisite wood carvings make the temple complex gorgeous.

Admission fee: 500 Rupees

Pashupatinath Temple
3. Swayambhunath, Kathmandu
Swayambhunath is an old Buddhist temple atop a hill in Kathmandu, also named as Monkey Temple because a lot of monkeys are living there. It is an important pilgrimage site for Buddhists and also the sacred place to celebrate Buddha's Birthday. From the top of the temple, you have a panoramic view of Kathmandu.

Admission fee: 200 Rupees

Stupa in Swayambhunath Monkey Temple
4. Hanuman Dhoka, Kathmandu
Located in the Durbar Square of city center, Hanuman Dhoka is the old royal palace and a famous museum of art, religion and history. Hanuman is a monkey god in Hindu mythology, which is the embodiment of justice, and Dhoka means gate in Nepali; therefore the palace is also known as Hanuman Gate Palace. A statue of Hanuman with red brocade canopy on its head stands on the left side of entry gate to guard the palace. The palace is partially opened for visitors.

Hanuman Dhoka
5. Kumari Bahal, Kathmandu
Built in 1757, Kumari Bahal is home for Kumari, a girl chosen to be the human incarnation of Durga goddess. The temple is a courtyard style structure built with red bricks. The balcony and windows are decorated with elaborate wooden carvings. Kumari will make public appearance at a window on the third floor within stipulated time.

Admission fee: free
6. Phewa Lake, Pokhara
Once a holiday resort for royal members, Phewa Lake is the most charming attraction in Pokhara. The north shore of the lake, usually called the Lakeside Area, is visitors' center where hotels and restaurants are built. The lake is always tranquil, and golden sunset over Annapurna Range shines on the water. You can go boating on the lake to enjoy the natural beauty of the lake and mountains. Charterage is about 300 Rupees per hour without boatman.

Admission fee: free

Colorful Boats on Phewa Lake
7. World Peace Pagoda, Pokhara
Built in 2000, the World Peace Pagoda stands on the top of a hill in the south of Phewa Lake, around which are four golden Buddha statues. It is a wonderful place to watch snow mountains and sunset, and to appreciate beautiful scenery of Phewa Lake. There is no highway to the site at present, so tourists can only go on foot.

White World Peace Pagoda in Pokhara
8. Lumbini, Narayani Zone
As the birthplace of Buddhism founder Siddhartha Gautama, Lumbini is an important pilgrimage site for Buddhists and also the base for modern Buddhism rejuvenation. It is a small village with beautiful scenery nowadays. There are many historical sites associated with Buddha, such as Mayadevi Temple, Ashokan Pillar and Lumbini Museum. There you can learn about Buddhism or mediate under the Bodhi trees.

Admission fee: 200 Rupees
9. Chitwan National Park, Chitwan
Built in 1962, Chitwan National Park is the largest wildlife park in Nepal and one of the largest forest park in Asia. It is the first national park of the country and was added on the World Heritage List as a natural heritage in 1984. It is a shelter for Bengal tigers, Asian elephants, crocodiles, rhinos, bears, leopards and over 350 species of birds. There you can look for one-horned rhinoceros or Bengal tigers by riding an elephant in jungle or trek through the tropical forest.

Admission fee: 300 Rupees

Rhinos in Chitwan National Park
10. Sagarmatha National Park, Solukhumbu District
Located on the south slope of Mount Everest, Sagarmatha National Park is a famous tourist attraction in the country, which borders on Qomolangma National Nature Preserve of Tibet in the north. It is one of UNESCO's first cultural and natural heritage sites and home to some rare mammal species such as musk deer, snow leopard and hundreds of species of birds. The typical plants are cedars and rhododendra. Blooming rhododendra and snow mountains add radiance and beauty to each other, giving visitors a splendid view.

Backpackers hiking in Sagarmatha National Park
Delicious Food

Group of Tourists Hiking in Lantang
The main staple food of Nepalese is rice and corn, millet and buckwheat are also main food locals in remote mountain areas. A standard meal includes a bowl of soup, rice, vegetables and meat with curry. Local people like eating pancakes, potatoes, vegetables, mutton, and drinking milk and tea. They usually eat food by hand. The delicious foods and drinks you can't miss are Daal Bhaat, Momo, hand-made yogurt, tea with milk and fresh juice. Ielebi and laddu with different flavors are two popular sweets.
Read More: 10 Nepal Famous Food You Can Discover
Recreational Activities
Because of the special climate and terrain, mountain climbing, trekking, and hunting in jungles are the most popular activities in Nepal. There is always one for you to conquer among the numerous mountains in the country. Trekking is a good way to enjoy natural beauty and experience local customs. National parks of the country are best places to hunt.
Further Reading: