7 Steps to Plan a Perfect Nepal Trip
Nepal, home to the mighty Mount Everest, is a sensory overloaded. Towering snowcapped Himalayan Mountains, charming hill villages, golden pagodas and everything in between – Nepal is your ultimate travel destination. The gentle pace of life and a colorful cultural heritage inspire travelers to come back to this beautiful nation.
Nepal trip is a must for mountain lovers. The country has some of the most stunning hiking trails, with an incredible view of the glossy hills and serpentine rivers. When you are done with hiking, you can always explore the historic cities, century-old monasteries, and delicate temple art.
Has Nepal piqued your attention? Then, the following tips can help you in planning the vacation to this country where 'once is not enough'.
1. Time to Travel and the Duration of the Trip
During the October-November period, the sky is clear and days are comparatively comfortable. This time of the year is usually flooded by tourists interested in mountaineering, hiking, or other adventure sports.
If you are more of an offbeat traveler, then opt for the March and April (spring season). The weather is ideal for trekking, and you might spot the beautiful rhododendrons on your way. Plus, the tourist destinations are less crowded, so you will have more time to explore areas at your pace.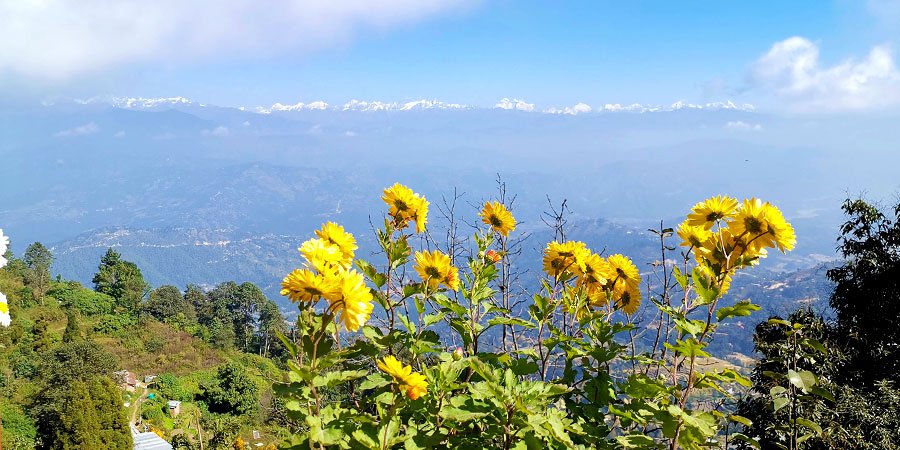 Flowers and Clear Sky in April During Nepal Travel
Read More: Best Time to Visit Nepal
2. Reaching Nepal and Immigrations
Several Asian and Middle Eastern airlines offer services to Nepal. Apart from airways, Indian railways offer train services to Kathmandu from different Indian cities. Bus routes connecting Indian cities such as Delhi to Kathmandu are also available.
Nepal has ten Entry or Exit points (eight on Indian borders, one in Kathmandu, and one close to the Chinese border). Tourists can get Visa on Arrival (considered as Tourist Visa in Nepal) from these points. Individuals coming from Afghanistan, Eswatini, and few other countries are required pre-approved Visa to enter Nepal.

Book Hotel in Sdvance for a Perfect Nepal Trip
3. Booking Domestic Travel Logistics and Hotel Bookings
Booking your accommodations and travel logistics early is important for having a stress-free Nepal trip. Most major cities of the country, due to the booming tourism business, are well-connected through buses and cab services. Flights are the most comfortable way.
Nepal has several options for budget and luxury hotels but is it recommended to book early, as during the peak tourist season the hotel prices soar up. To get the real flavors Nepalese culture, you can also book homestay.
4. Places to Visit and Week-wise Itinerary
You can do a lot of things in Nepal. Starting from conquering the towering mountains to visiting several UNESCO World Heritage Sites, you will get loads of options. A little planning and setting a week-wise itinerary could help you in getting most out of your Nepal trip. If you are on a tight schedule, then focus on the Kathmandu Valley and its iconic landmarks.
For longer trips, you can include Lumbini, Tilaurakot, Pokhara, Patan, and Janakpur into your itinerary. And, if you are into trekking or hiking, then do include the Everest Base Camp (EBC) at Lukla or Dharapani into the itinerary.
Read More: 10 Most Beautiful Places in Nepal to Visit
5. Packing Essentials
Always pack light clothes for the summer or monsoon Nepal trip. Nepalese are quite relaxed in regards to what tourists wear, but carrying clothes that cover shoulders, neck, and legs can help in avoiding unwanted attention. Also, the fleece jacket can come quite handy during the trekking expeditions. At 4,500 meter (14,763 feet) altitude, you need warm hats, down jackets, and gloves.

Wear Light Clothes and Sunglasses
Apart from that, include the following items while planning the hiking expedition:

Good sunscreen

Lip balms and moisturizers

Hats

Comfortable hiking shoes

Sunglasses
6. Food and Drinks
In Nepal, you will find an extraordinary array of dishes. From the local Newari cuisines to exotic Tibetan dishes, you will find a lot of pocket-friendly options. Due to the constant influx of tourists from different parts of the world, dishes from different corners of the world are also available.

Nepalese Street Fried Snacks
The Daal Bhaat Tarkari – the humble lentil soup served with rice and local vegetables – is the Nepalese staple. Certain delicacies, like the Kwati (a bean soup) and Gutuk (special dumplings), are specially made during religious festivals. If you are daring, then do try the raw steak Jan-La or Ti-Syah (bone marrow fried with spices). Spices are usually used in the cuisines, which accentuate the flavors of the dish.
Tibetan cuisines, like Thuk noodle soap or Momos (dumplings), are also found on the streets. Another popular item is Chow Mein, thin noodles stir-fried with vegetables, choice of meats, and spices.
Bhojanalaya (local diner) serves good quality food, and are pocket-friendly too. Also, do try the Nepalese beer, it can be very refreshing after a hard day touring and trekking. Moreover, the local distilleries produce a variety of spirits including brandy, gin, and rum. They are a must-try.
Read More: 10 Nepal Famous Food
7. Shopping
During your Nepal trip, you will be spoilt for choices while shopping. From bags to wooden masks, you can get so many things on your shopping spree. As a tip, remember to keep your shopping to the end of your traveling, so that you do not have to carry your souvenirs with you all along the trip.

Select Some Delicate Handmade Products in Nepal
Here are some of the things you can get from Nepal:

Khukuri knife

Terracotta puppets

Singing bowl

Tibetan prayer flags

Lokta paper products

Pashmina shawls

Hemp-made bags

Herbal tea

Bonus Information:

Buy a good quality face mask and noise cancelling earphones to block the pollution and noises of the cities.

Most tourists tend to spend too much time at Katmandu and nearby areas and end up squeezing the rest of the places in the limited time frame. For a satisfying Nepal trip, you need to visit the countryside.

Take good quality dark polarized sunglasses and hiking shoes.

For trekking enthusiasts, mid-November is recommended as the tourist inflow comes to an end.
Nepal is the land of colorful prayer flags that gives travelers a sense of serenity and divine. The Himalayan backdrop, serpentine rivers, and treacherous mountain slopes make this nation more enticing.
So, when are you planning your Nepal trip?
Read More: Nepal Souvenirs
You May Like:
5 Things about Safety in Nepal
6 Things You Should Know Before You Visit Nepal
5 Things You Can't Miss About Nepal Tea House