Nepal Travel Guide
Basic Facts of Nepal
40 photos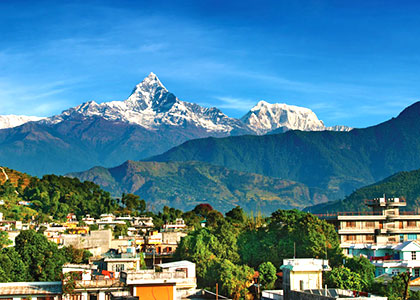 Location: in South Asia

Area: 147,181 square km (56,827 square mi)

Population: 28.5 million

Language: Nepali

Currency: Nepalese rupee (NPR)

Time Zone: UTC+5:45

Capital: Kathmandu

Administrative Division: 7 provinces

Religions and Beliefs: Hinduism
Read More:
Nepal Facts You Should Know Before Visiting
Known as the "Kingdom of Snow Mountains", eight of the world's highest mountains are in Nepal, among which the most attractive is the Mount Everest. When you visit the country, climbing mountain is a challenging activity. Stupas and temples are also worthy to visit. Nepal is also one of the best countries for trekking, during which you can appreciate natural beauty and experience locals' idyllic life. Sunshine, snow mountains, rotating prayer wheels, colorful Thangka and anthems are symbols of the country.

Nepal is the only Hindu state in the world, where temples are more than houses, among which the Pashupatinath Temple is the most biggest and famous in the country. Lumbini is a holy site for Buddhists, as it is the birthplace of Sakyamuni who is the founder of Buddhism. A unique religious custom is kept in the country, where you can see Kumari, the only living goddess in the world.
| | |
| --- | --- |
| Kathmandu Durbar Square | Take a Boat Trip on Phewa Lake |
Top Destinations & Attractions:
1. Kathmandu: Durbar Square, Hanuman Dhoka, Swayambhunath (Monkey Temple), Boudhanath Stupa, Pashupatinath Temple
2. Pokhara: Phewa Lake, World Peace Pagoda, Mt. Fishtail
3. Chitwan: Chitwan National Park
4. Lumbini: Maya Devi Temple
5. Solukhumbu District: Sagarmatha National Park
Read More:
The Ultimate Guide to Trekking in Nepal
10 Most Beautiful Places in Nepal
5 Best Places & Things to Do During Summer
7 Steps to Plan a Perfect Nepal Trip
Generally October to November is the best time to visit the country for holidays, as the weather is the most comfortable in a year with mild temperature and clean air. It is also the best season for travelers who want to take Nepal trekking package tour. February to April is also good time to visit the country, as the weather is warm and flowers are in full bloom, but the air quality is not good. With monsoon climate, April to September is the rainy season, which is not suitable for the best tours in Nepal.
3-Day Weather Forecast of Major Cities
Read More: Nepal Weather Kathmandu Weather
Nepal is a landlocked country where highway and air transports dominate the transportation system. There are 45 airports in the country, but Tribhuvan International Airport in Kathmandu is the only international airport which operates flights to China, India, Pakistan, Thailand, Singapore and others. Flights between the major towns are operated by other airports. Bus is the main means of transportation within the country.
It is necessary to apply to the Nepali Embassy for a visa before visiting the country or get a visa on arrival at Tribhuvan International Airport. Destinations with good accommodation and convenient facilities are also a part of your travel plan. Nepal is a country where most people believe in Hinduism and many temples ban non-Hindus from entering. The left hand is considered unclean; therefore, left hand shouldn't be used when you shake hands with others or deliver things to someone. You'd better bring your own toiletries, because many hotels do not offer. If you plan Nepal tours in rainy season, umbrella and waterproof clothes are needed.
Read More:
5 Things about Safety in Nepal 6 Things You Should Know Before Visiting Nepal Nepal Trip Cost in Budget
Nepal Visa Best Souvenirs in Nepal 10 Nepal Famous Food

Famous Historical Spots: Hanuman Dhoka
History
Nepal is one of the ancient countries in Asia, which had been inhabited about 2,500 years ago. It passed through the rise and fall of many dynasties and tended to be unified in the middle of the 18th century during the regime of Shah Dynasty. After British invasion and civil war, it became a republic in 2007 with abolition of the monarchy. Hanuman Dhoka and Durbar Square are well-known historical attractions.
Read More: 10 Interesting Myths about Nepal History
Geographical Features
Nepal is divided into three physiographic regions, namely, plains, hills and mountain regions. The northern part of the country is Himalayan Range where the scenery of mist-shrouded mountains is attractive. The southern part of the country is alluvial plain with fertile soil, where dense forests and vast grassland are distributed. Because of the terrain and environmental advantages, wildlife reserves are commonly situated in South Nepal, among which Chitwan National Park is the most famous one. As the big temperature differences between the north and the south, you can experience spring, summer and winter seasons in the course of a single day trip in different regions of the nation.