Top 10 Things to Buy in Jaipur on Your Vacation
Jaipur, one of the most enthralling and historical cities of India. Also known as the 'Pink City', the place has a certain air of royalty to it. It is the capital of the very ravishing and largest state of India, Rajasthan. From camels to kites and Havelis to Dal Bati Churma, Jaipur gives you the most exciting and enriching trip.
Jaipur was founded by a ruler named Jai Singh and remained forever after that under the influence of kings, which made its culture rich and royal over the course of time. The place has so many extravagant Palaces and Havelis that are bound to take your breath away like Hawa Mahal and Jal Mahal etc. However, your vacation would be incomplete without shopping, and while you are in the Pink City, here are some top things to buy in Jaipur that you cannot miss.
1. Bandhani Dupatta
Also known by its old name of Pulakband, it is a simple yet elegant designed Tie and Dye that is either used as dupatta and saree for women or pagri (headgear) for men. It is one of the most famous and traditional things to buy in Jaipur. You can buy the readymade ones or create your own combination of embroidery. The best places to buy bandhani dupatta in Jaipur are Bapu Bazaar and Johari Bazaar.
2. Lehariya Saree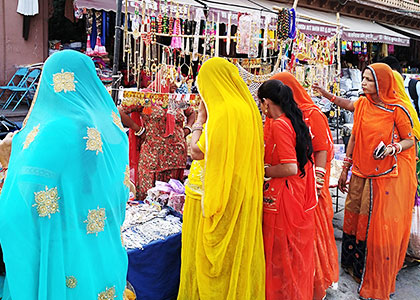 Coloful Lehariya Saree
Lehar means wave or layers which became the inspiration for this type of saree. It consists of two color shades (darker and lighter) trying to give the effect of a wave making it beautiful. You will find these in different colors, patterns, and fabrics and that too at a very affordable price. These are available in Johari Bazaar and Bapu Bazaar. Also, there are shops near Hawa Mahal at Badi Chaupar where you can find lehariya sarees. Make sure to equip yourself with bargaining skills as doing so will come handy especially when you find interesting things to buy in Jaipur's local markets.
3. Jewelry and Gemstones
Jaipur's richness can be seen through the variety of jewelry available for the women out there. If asking what to buy in Jaipur, you cannot miss the jewelry. Jaipur is considered one of the major hubs for different kinds of jewelry, which the tourists love buying. Kundan jewelry is famous for having uncut diamonds and other precious stones like ruby and emerald studded in metal leaf around them which looks absolutely gorgeous. Some of these designs come in reverse Meenakari. You can find these in Johari Bazaar. Also, make sure to get a certificate of authenticity from the seller.
4. Meenakari Work
It is the enamel work done on different things like jhumkas (earrings), pendants, and artifacts. Majorly in red and green, you can find these traditional works of art in different colors and designs, a must thing to buy in Jaipur. Enamel work done by locals gives an attractive and rich look to jewellery without being too heavy. These can be found in abundance in Johari Bazaar and M.I. Road. The good thing is, you can also get customized bangles, earrings, and other artifacts as per your design specifications.
5. Mojris

Indian Mojris
These are the traditional Rajasthani footwear that is comfortable to wear and royal to look at, definitely one of the best things to buy in Jaipur. The variety of designs and colors of mojris available in Jaipur will force you to buy a bunch. You can find these in Nehru Bazaar which is situated just next to Bapu Bazaar near M.I. Road and is one of the biggest centers for shopping in Jaipur. While you're there, don't skip the street food.
6. Ghevar
A traditional sweet and mouth-watering dish of Jaipur usually made during the festive time of Teej. The sweetness of this dish will stay with you forever. While in Jaipur, do try Ghevar even if you don't like sweet personally and take some back for your family and friends. You can easily buy this at Nehru Bazaar and many other places in Jaipur. The dry form of Ghevar can be kept for a few days.
7. Embroidered Bed Sheets
From block printed home linen to heavily hand-embroidered ones, there is a variety of bed sheets to choose from while in Jaipur. These are available at very affordable prices in the market of Badi Chaupar which is very near to Hawa Mahal. However, make sure to check the fabric and color quality and also ask the seller about wash and care instructions.

Bracelets and Jewelries
8. Lac Bangles
From Referring to the things to buy, you cannot miss Lac Bangles. This is the traditional style of bangle-making with detailed work of Kundan on them. It has a certain beauty and charm to it that grabs the tourist's attention towards itself and is so much irresistible. You can get lac bangles in a wide variety of colors, sizes, and designs. Bapu Bazaar and Johri Bazaar have all kinds of lac bangles.
9. Blue Pottery
Mainly from Goa, this has become a key art of Jaipur. The collection and design in the artwork of blue pottery is one of the most famous attractions for the tourists. Ashtray, pots, jars and all other kinds of pottery are sold on the streets of Civil Lines and Bapu Bazaar.
10. Miniature Paintings
One of the best things to buy in Jaipur, these paintings are made either on old court papers or marble plate. Beautiful paintings of god and random sceneries are made in Jaipur with gemstone dust increasing its value and essence. You can easily buy miniature paintings at M.I. Road.
You May Like:
Jaipur's Best Handicraft Markets
Jaipur's Best Jewellery Markets
Jaipur Shopping Guide: Where to Shop without Getting Scammed