Jaipur's Best Handicraft Markets: Specialty, Timings & Location
Jaipur's cultural history is vast and encompasses the best from many other cultures blended into one. It is very evident in its traditional handicraft work and local art. Jaipur's markets are full of such signature items, be it in clothing, furniture, footwear, accessories, or even food.
There is a distinctness to the craftwork of Rajasthan that lures the tourists. Vibrant colors, excellent craftsmanship, indigenous variations, the royal delicateness, and inherent beauty to all they make. There are many remarkable items that one would want to take home. These items of craft, make excellent gifts and very distinct pieces that are conversation starters.
Here we talk about the famous handicraft markets in Jaipur that would save some exploration time for you and have you heading towards your target item. However, each one is an excellent place to be in, so take out time to explore them all and you will realize that none is going to disappoint.
Word of caution: Be ready to bargain to strike the best deals.
Sireh Deori Bazaar: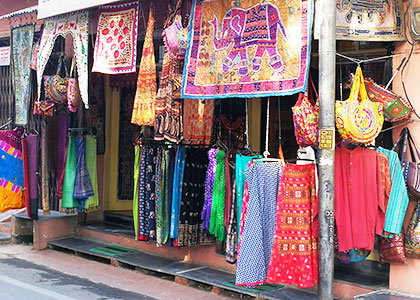 Local Wall Hanging
This is one of the best handicraft markets in Jaipur, located right opposite to Hawa Mahal and is full of exclusive local items that make good souvenirs and gift items. Great for street shopping of handicraft items, you could buy:
1. Mojris: Footwear made of camel skin, brightly embroidered and tastefully embellished, these foot-wears are your best bright dressing partners that can pep-up any costume.
2. Puppets: Made of wood, papier-mache, local bandhani or tied and dyed clothes, these puppets are a great addition to any drawing room for their vibrancy. These also make a great show in case you are trained in puppetry.
3. Wall hanging and door hangings: Every other traditional home in Rajasthan uses door hangings to spruce up the place and more importantly invite guests and good luck to their homes. Traditionally called toran, these are made with various brightly colored beads, threads, gota (the golden lace), felt leaves, and many other things. Matching wall hangings are also available to give your home a touch of Rajasthan.
4. Quilts: Jaipuri quilts are a class of its own. These are super lightweight, warm and beautifully printed quilts that are easy to store, and carry. Cotton block printed dresses, bedsheets, miniature paintings, bandhani fabric are some other takeaways from this market.

Specialty: This place sells the best camel leather products. Some shops also have goat leather products that look similar. So be careful however many shopkeepers will point that out.

Open: 7 days open from 11 am onwards.

Location: Sireh Deori Gate, Tulsi Marg, J.D.A. Market, Jaipur

Nearest Bus Stop: Badi Chaupar Bus Stop

Jaipur Textiles
Bapu Bazaar is a one-stop shopping street selling almost everything that the other markets have. Often chaotic, crowded, and always colorful, this place beams with life and excellent collectibles. Jaipuri items like dupatta (traditional veil), juttis (footwear), sarees, Kurtis, Scarves, bridal Lehengas, and lac bangles at a reasonable price is the specialty of this place.
Brass work, handicraft items in kundan stonework, and woods, etc. are some other goods that brighten-up this market. Conventional block printed bed sheets, cushion covers, and fabrics, etc. are also good. Jaipur carpets are vibrantly colored and stunningly beautiful examples of local craftsmanship. Bapu Bazaar is also known for its wholesale cloth market selling best quality local art like bandhej, tie-n-dye, Gota Patti work, and other embroidered cotton, chiffons, and silks. If you are looking for Gharchola sarees, Kota sarees & Leheriya sarees in satin and chiffon for casual or weddings then this is one place to them from.
At the backdrop are the Pink City and Hawa Mahal which lend a rustic look and feel to your shopping experience.

Specialty: This market is especially popular for good quality Jaipur textiles.

Open: 7 days open from 11 am onwards.

Location: Bapu Bazaar, Jaipur between Sanganer Gate and New Gate

Nearest Bus Stop: Sindhi Camp Bus Stop.
Johari Market:


Beautiful Bracelets and Necklaces
This vivacious market, literally translated to jeweler's market, is one of the Jaipur's best handicraft markets. A long row of shops, all looking alike yet bustling with life is where all your jewelry needs are met with. Jaipur's own Kundan and Polki, Thewa and meenakari, jewelry studded with garnets, rubies, sapphires, and other gemstones, are widely available here in abundance and traditional and contemporary designs.
Jaipur also makes beautiful silver jewelry rampantly available in exquisite designs at Johari Bazaar. One can buy rings, bracelets, necklaces and chains, bangles, trinkets, earrings, and other traditional jewelry at reasonable prices here. If you are looking for pagadis (headdress) also called 'Safa' for the bridegroom to be or others, this place spoils you with choice. National Handloom is also in this market for the authentic, Indian handloom textiles.

Specialty: Jewellery of all kind

Location: Ramganj Bazaar, Old City, Jaipur

Nearest Bus Stop: Jaipur Main Bus Stop.
Tibet Market:


Local Exquisite Souvenirs and Handicrafts
This is a glimpse of Tibet in Jaipur. Good place for budget shoppers, to indulge in handicrafts, fashion, furnishings, home decor items, woolens, and much more. If you are in Jaipur in winters around November till the end of January, you can catch-up with this seasonal market for some good deals.

Specialty: Huge variety in woolen clothing and fashion clothing is available.

Open: 10.00 am to 9.00 pm

Location: Tripolia Bazar, Kanwar Nagar, Jaipur

Nearest Metro: Chandpole Metro Station.
Nehru Market:

Always bustling with shopaholics, Nehru Bazaar, one of the best handicraft markets in Jaipur, offers varieties in beautiful clothes and textiles. However, the showstopper is the local shoe variety called Mojris. It is a vibrant and comfortable option that comes in so many designs, embroidery, and colors that it is difficult to just settle with one.

Specialty: Juttis or Mojaris - tempting varieties make it a shoppers' delight.

Open: 7 days open from 10.30 am to 7.30 pm

Location: Film Colony, Modikhana, Jhotwara, Jaipur

Nearest Bus Stop: Hathoj Bus Stop
There are many shops outside the Amber or Amer fort selling Jaipur's famous blue pottery, white metal handicrafts, marble handicraft decorative, hand block printed bedspreads, lac bangles, etc. There are also shops selling exquisite items like Gharchola sarees, Kota sarees, Leheriya sarees, mirror worked wall hangings, jackets, quilts, cotton durries, and home furnishings.
One can also shop for carpets, textiles, silver jewelry, miniature paintings, gemstones, antique handicraft items, silver jewelry, etc. from the Government of India authorized shops. Patchwork quilts, cotton and woolen carpets, quilted jackets, patchwork umbrellas, and soft furnishings always find buyers buying in bulk from here.

Specialty: Blue pottery, and marble handicraft

Open: 7 days open from 10.00 am to 6.00 pm

Location: 11 km from Jaipur city on Jaipur Delhi road.

Nearest Bus Stop: Amer Fort Bus Stop
There are many more markets in Jaipur, which are good for shopaholics including MI or Mirza Ismail Road, Tripolia market, Chandpole market, Kishanpole market, Gaurav Towers, The Gem Palace, Aravalli Bazaar, etc. So, shop to your heart's content as this city offers the best shopping experience to come back to.
Read More:

Jaipur's Best Jewellery Markets