Jaipur's Best Jewellery Markets: Gemstones, Locations
Jaipur is not only famous for its luxury, architecture, wildlife, forts, and monuments, it is also equally known as one of the best shopping destinations in India. In fact, Jaipur is a shopper's delight, especially for jewellery.
Jaipur has its own specialty jewellery like lac jewellery, meenakari, thewa, kundan, semi-precious and precious gemstone studded jewellery, etc. Jotted below are Jaipur's best Jewellery markets, considered shopper's paradise. Good news is that there's not just one paradise here, they are in numbers. And a piece of caution – brush up your bargaining skills in advance, as you are going to need them in plenty.
Johari Bazaar: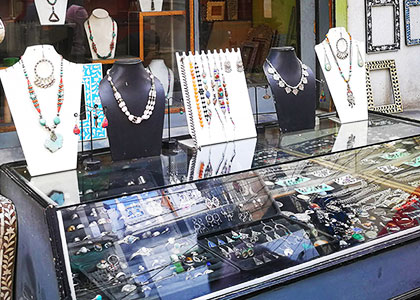 Gemstones, Jaipur
Jaipur is the proud owner of a mesmerizing variety and collection of jewellery, some exclusive to the city. Famous for its clothes, jewellery, and wherever fine artwork is required, Jaipur is regularly visited by customers for bridal and specialized jewellery.
Precious stones, especially garnets, are a specialty here as the Jaipur garnet is considered one of the best gemstone varieties in the world. Other gems, semi-precious stones, and jewellery with limited warranty have many sellers here. Johri Bazaar is an old jewellery market, also one of the most famous markets in Jaipur for jewellery shopping. It sells handmade necklaces and other delicate jewellery pieces.

Location: Johri Bazaar is situated near Gangori bazaar close to Badi Chaupar bus stop.
From colorful typical hand-painted Rajasthani lac bangles, beautifully designed glass bangles, and beaded bangles to ghungroo bangles, thread jewellery, meenakari jhumkas (enamel colored earrings), artificial oxidized silver jewellery, and handmade necklaces, Jaipur jewellery market Bapu Bazaar has tremendous varieties in clothes and jewellery.
Kundan is yet another Jaipur specialty and you can shop for kundan jewellery at Bapu Bazaar for as low as Rs. 500. Some shops also sell silver jewellery in traditional designs. There are also dulhan (bride) jewellery sets that are hand-painted and are studded with mirrors, stones, beads, and other embellishments.
The bangle set is usually a set of two beautifully decorated big bangles and four small ones. This is one place little girls are going to go gaga over the choice of bangles available for them. Usually smaller sizes do not come with much choice range; this place is going to pamper the kid for choices. These come in a myriad of colors to match with whichever color your bridal dress is. Something no bride would ever resist.
| | |
| --- | --- |
| Richly Decorated Bangles | Indian Hand-painted Bangles |
Tripolia Bazaar:

If you are a bangle lover, do not miss Tripolia Bazaar, another famous market in Jaipur. The bazaar has rows and rows of shops filled with bangles. Lac bangles in exquisite designs, hand painted wooden bangles, richly decorated glass bangles, 1 gm gold bangles and everything in between, you name it and it is there.
There is no dearth of colors and combinations in these. One thing that is hard to find anywhere else is jewellery made of papier-mache', literally translated to chewed paper. Bangles with intricate golden wirework are mouth-watering (girls can surely drool over these non-edible items of joy!). Tie-n-dye or Bandhani dresses with zari work, rich embroidery, gota-patti, and other hand done works are available in exquisite designs. The market has so true Indian colors and invites with open arms.

Location: The market is open all seven days, between 10 am and 7 pm and is located close to Choti Chaupar bus stop.
Chandpole Market:

Chandpole market is yet another famous market in Jaipur. Amongst clothes, furniture, utility items, bedsheets, purses, and bags, are also the shops selling beautiful jewellery in ethnic designs. Elephants hanging from your ears, or sitting on your wrists, these designs are typically Indian. Peacocks and fishes closely followed by the auspicious owl, are other animals that find themselves repeatedly on jewellery. Some of these shops are as old as fifty years. They design and make their own jewellery.

Location: Located near Choti Chaupar Bust Stop and is open from 11 am onwards.
Chameliwala Market on MI Road:

This Jaipur jewellery market is for those looking for precious jewellery either in gold, platinum, and silver with or without precious or semi-precious stones. This market is frequently visited by the tourists looking for Indian jewellery. The Gen Palace is a famous name in original jewellery and gems (it's a good idea to check the certifications though). The eighth-generation shop specializes in the exclusive designer collection to vintage pieces. Since the shop is owned by the family that was once the king's personal jewelers, one can find some piece of jewellery that belonged to royals once.
Even though you can get most of these products online, tourists and locals recommend buying them off the stores for three reasons. One for the feel of the jewellery and satisfaction of touch. Second, and especially for costlier range, it gives an opportunity to try the jewellery on before buying. Thirdly, one can assess the colors of gems, etc. properly, which might get distorted due to technological intervention.
It is always advisable to check the originality certificates for the valuable jewellery. Also in the street market, one needs to be very careful in buying gemstones as some shopkeepers also sell cheap colored glass pieces or crystals at the price of expensive jewellery or gemstones.
Read More:
Jaipur's Best Handicraft Markets