Taj Mahotsav Festival in Agra – Date, Tickets, Cultural Activities
Mughals were fond of art, architecture, and literature and when they arrived in India and ruled a huge part of the country, they blended their culture with that of the native Indians. Agra is one of the finest examples of how Mughals lived and thrived in India, and the Taj Mahotsav Festival in Agra gives us a glimpse of how rich the country is in terms of creative arts and crafts.
Let's get right to the point here and get to know one of the Agra's biggest cultural events - the Taj Mahotsav.
What is Taj Mahotsav
The Taj Mahotsav Festival in Agra honors the artisans and their work. More than 400 artisans from across the country reach Shilpgram (the craft village) in Agra every year. They bring with them their thought-provoking artwork. The Taj Mahotsav shows how artists can enhance our understanding of history, culture, design, colors, and creativity.
When does it Celebrate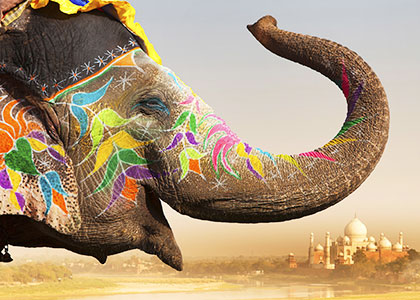 Decorated Elephant in Taj Mahotsav
The 10-day festival runs from February 18 through 27 when Agra bids farewell to winter and enjoys the change in season when the days become warm and the nights become cold.
Festival Activities
The Taj Mahotsav officially kicks off on 18th of each February, but tourists should plan on arriving early for the grand opening ceremony. From road processions to live performance by some of India's finest singers and music composers, and, of course, folk dance; a large number of activities are planned for the annual event.
Opening Ceremony & Road Procession
Do not miss the opening ceremony and the road procession led by locals who decorate elephants, camels and are joined by thousands of tourists, artisans, dancers, trumpet players, and drummers.
Artwork Market
The Taj Mahotsav festival has been a key trading place for many craftsmen and artisans since 1992. Swing by the market and you can find reasonably priced original artwork and handicrafts on sale. The festival spotlights locally designed products including wood and stone carvings from Tamil Nadu, South Indian and Kashmiri papier-mâché work, Agra's marble and zardozi (hand embroidery style) work, brassware, handmade shawls and carpets, pottery, silk and zari dress material, and hand-printed material from different parts of the country.
Food Stalls
Stalls selling food and soft drinks fill the streets here. Book your accommodation early, reach Shilpgram and feast on local foods, chocolates, and traditional food items. Signboards on stalls indicate whether they are offering veg or non-veg food. Some food stalls offer North Indian, Mughlai, and Punjabi food, some offer traditional South Indian food items from Karnataka, Kerala, and Tamil Nadu. Some offer both and even world cuisine.
Kids Zone
The Taj Mahotsav festival is also a family-friendly event where you can find a dedicated kids zone where kids of all ages can enjoy rides, games, and many hands-on activities.
Taj Mahotsav Entry Fee & Ticket
Luckily, the Taj Mahotsav festival offers everything you can expect from a funfair, but without high entry fees. There are no separate tickets to access different areas as one ticket covers your entry to cultural programs, food zone, kids' zone, as well as the shopping area. If you're an Indian adult, the entry fee to access the Taj Mahotsav is INR 50. For kids above five, the entry fee is INR 10. For foreigners, you don't need to buy a ticket for the Taj Mahotsav.
How to reach Shilpgram, Agra
Shilpgram is situated at a distance of about 500 meters from the East Gate of the Taj Mahal. If you're in Tajganj area, it's just a 5-10 minutes' walk. Also, you can take an auto rickshaw or a taxi to reach the event venue. Shilpgram is at a 15 minutes' drive from the Agra Cantonment (Agra Cantt) and Agra City railway stations.
Everyone has different expectations from art and cultural events. While some enjoy connecting themselves with the local cultures, others focus on the unique pieces of art they can find and collect. No matter your travel preferences, the Taj Mahotsav has something for everyone.
You May Like:
5 Festivals and Events in Agra