10 Best Jaipur Festivals: When to Go and What to Do
Focal point of Jaipur is its culture and tradition. Jaipur is one of the most visited cities of India. The culture and tradition is so rich that you can see it in its arts, hear it in its music and taste it in the cuisine. Festivals of a place reflect the rich cultural heritage of its people. The best way to keep the traditions alive is to celebrate them. Besides the common festivals like Diwali, Holi and many more celebrated all across the country, there are other festivals unique to the Pink City. Read More: Holi Festival in Delhi
Whether you are traveling to Jaipur with family, friends or alone, the place welcomes you with all its glory. October to March is the best time to visit Jaipur as the temperature is not too hot and the city celebrates a lot of festivals attracting a lot of tourists.
Here is a list of the 10 best Jaipur festivals that bring glory and joy.
1. Elephant Festival
This is one of the most popular Jaipur festivals. According to Rajasthani tradition, elephants are a symbol of royalty. Usually celebrated in the month of March, on the first day of Holi, this festival attracts thousands of visitors. Elephants are dressed in their best vibrant clothes, decorated and groomed with grand elephant jewelry, anklets and more. It's a treat to watch them all go on a procession along with their caretakers (Mahouts). The elephants are accompanied by other animals like camels and horses. The best-ornamented elephant is awarded. Elephant Polo and Elephant Dance are the highlights of this festival.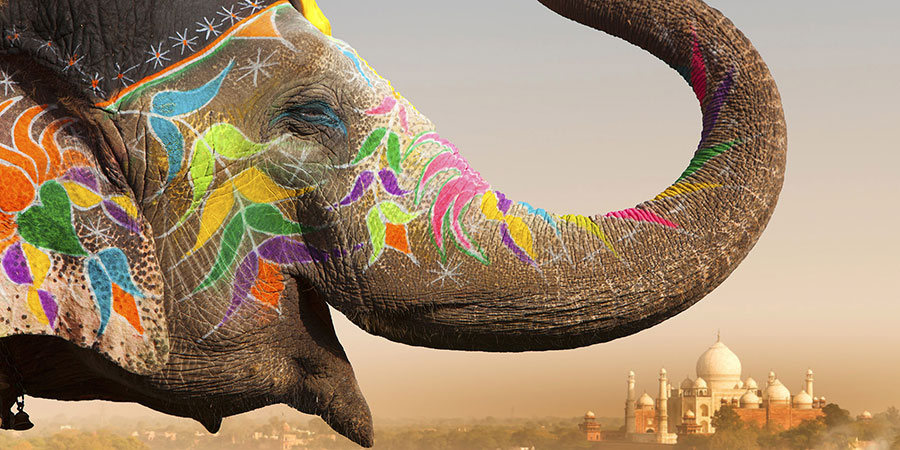 Elephant Festival
2. Kajli Teej Festival
This festival holds a religious significance amongst the people of Jaipur. While peacocks dance and welcome monsoon, Rajasthani women sing and dance to celebrate the arrival of monsoon. The local women mostly wear red sarees and dance to folk songs, performing prayer rituals for Goddess Parvati, wife of Lord Shiva. Local bazaars and fairs help draw a lot of crowds. The vibrant colors of clothing, be it sarees draped by women or colorful turbans worn by men, is an absolute treat to the eyes. This is a month-long event beginning in July and lasting till August, one of the best Jaipur festivals.
3. Kite Festival
Makar Sankranti is a Hindu festival celebrated in the mid of January, wide across the country. It is the harvest day of Rabi crops like sugarcane. It marks the end of winter and the sun enters Uttarayan phase which is considered auspicious. The skies of Pink City are hovered over by kites of various sizes and colors flown by the locals from their rooftops. The city looks more lit and colorful. The government organizes kite flying competition at Umaid Bhawan Palace in Jaipur for 3 days and rewards the winners. Making kites and flying them is an art and this is something people of Jaipur have mastered. The locals celebrate this festival with delicacies made of sesame seeds like Til Ke Laddu, Gajak, and Feeni. This is also one of the 10 best Jaipur festivals you cannot miss.
This is an annual festival that brings great thinkers, writers, politicians, business leaders, and entertainers from all over the world under one roof. This festival is conducted in January for about 5 days where there are multiple reading sessions accompanied by discussions. Various music performances keep the crowd entertained in the evenings. Stalls of food, handicrafts and books signed by authors are also put up for sale. Tourists can understand the culture of the place better through its literature.
Timings:
6:00 AM to 9:00 PM
5. Gangaur Festival
Gangaur festival, one of the best festivals in Jaipur, is celebrated in the honor of Goddess Parvati, wife of Lord Shiva. Married and unmarried women celebrate this festival for 16 days with utmost enthusiasm. Women pray for an ideal husband and if they're married, they pray for a happy married life and their husband's well-being. As a part of the ritual, women dress in their best clothes and jewelry. They carry earthen pots from door to door and collect ghee, sweets, oil, and cash. These pots with numerous holes are filled with grass, water and are illuminated with a lamp inside. On the 16th day of the ritual, they break the pot and put the debris into a well or a tank. This festival celebrated in March, highlights the religious beliefs of the local people and procession with horses that takes place adds more color to the festival.
6. Jaipur International Film Festival
This is a festival that is conducted by the Jaipur International Film Festival Trust. It is a platform to discuss the concepts of film making. Organized in January, this film festival is held for 5 days. Actors, directors, and film producers from all across the globe attend this festival. It promotes cultural co-operation between citizens of various countries in the form of documentaries and feature films.
7. Teej Festival
Teej Mata, a local deity is well decorated with ornaments and taken on a procession in a palanquin, accompanied by elephants and camels. Celebrated in September, this festival is of great significance to Rajasthani women. Women swinging, singing, applying henna and men flying kites are a major part of the celebration. Ghewar, Dal Bati Churma, Kheer Puri, and Malpua are the main dishes prepared during this festival. The festival is celebrated for 3 days, where the men cook for their wives on the first day, women fast for the longevity of their husbands on the second day. On the third day, prayers and devotional songs are offered to Teej Mata. The colors of Jaipur come to light which is a bliss to witness.
8. Jaipur Dussehra Festival
In the month of October, Dussehra festival is celebrated across the country in different forms, signifying the victory of good over evil, on the list of the best festivals in Jaipur. Lord Rama symbolizes the good while Ravana symbolizes the bad. The day marks the victory of Lord Rama over Ravana. In Jaipur, people come together to celebrate Dussehra in full zeal. The celebration begins with an auspicious procession of Lord Rama and ends with the burning of the giant 10 headed Ravana statue with fire, crackers, and fireworks. Dashera Maidan Adarsh Nagar, Vidhyadhar Nagar Stadium, Mansarovar Rajat Path, and Ramlila Maidan are a few places to visit if you are looking forward to being a part of this grand celebration.
9. Donkey Festival
Donkey Festival is celebrated in Looniyawas town located 20 kilometers (12.5 miles) away from Jaipur city. This is a perfect place for trading donkeys. Many traders from North India attend this fair to sell their donkeys. Donkeys are decorated and exhibited for sale. A lot of activities are held by the Rajasthan Government to promote this fair and the best-dressed donkey is awarded. Donkey festival is celebrated in the month of October. The donkeys are bought by washermen, laborers, and farmers. Decorated donkeys and the fair held here attracts a lot of tourists.
10. Sheetla Mata Fair
Sheetla Mata Fair is held in the village of Sheel Ki Doongri near Chaksu, 35 kilometers (22 miles) from Jaipur. It is organized in the month of March-April to celebrate the glory of Goddess Sheetla, local goddess of epidemic diseases like chickenpox, measles, and many more. Cattle fair is also held during this time. Thousands of devotees from the villages nearby flock the temple located on top of a hillock to pray to the Goddess and make offerings to keep her happy. Legend has it that the rage of the goddess leads to epidemic diseases. Temporary markets are put up for selling items like handicrafts, shoes, utensils, etc. Tourists can get a closer look at the religious importance the place beholds.
Besides these festivals, Jaipur celebrates Diwali, Holi and many more in grand fashion. Travelers can get a flavor of the rich culture and tradition of Jaipur by taking part in various activities organized in festive favor.
You May Like:
5 Festivals and Events in Agra