Why You Can't Miss These 5 Places to Visit in May in India
The month of May is the hottest in India, with summer piercing its pangs the hardest. Try to visualize its mid-May, you are sitting in your balcony with a cup of coffee and a good book, and enjoying the cool natural breeze in the evening, while the scenic beauty thrilling you to chills. Well, that's practically next to impossible if you are at your city, some metropolitan like Delhi, Kolkata or Mumbai. But then, what are vacations for? What are the hill stations for?
Here are some hand-picked places to visit in May in India, which promise to refresh your soul, mind and senses. Not only are these places extremely refreshing for a vacay, but these are the few which you must go in May to make the most of it.
Get set go with your summer vacation.
1. Manali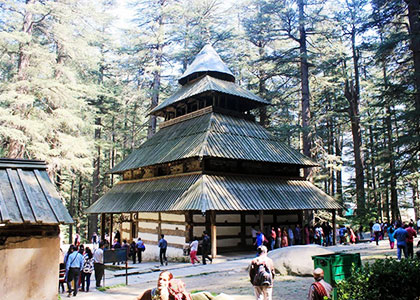 Hidimba Devi Temple in Manali

State – Himachal Pradesh

Special in May – Rohtang Pass opens up in May

Weather in May - 10°C to 24°C (50℉ - 75.2℉)

Major attraction – Rohtang Pass, Hot Water Springs, Manu Temple, Hidimba Devi Temple and Manali Sanctuary
This list of places to visit in May in India has to begin with none other than the mention of Manali at the top. Nestled beautifully in the snow-capped slopes of Pir Panjal and Dhauladhar ranges, Manali is one of the most visited hill stations during summer vacation. Thanks to the wide geographical variation in natural beauty as well as in flora and fauna ranging from lush green forests to ice white hills to vibrant meadows and shiny blue streams, Manali is a treat to the eyes.
The best part to travel in Manali in May is that the infamous Rohtang Pass is opened in May after a stretch of winter shutdown. Notorious as being dangerous for facing heavy and unpredictable snowstorms and blizzards, Rohtang Pass is best accessible in the month of May. However, snowfall might happen in summer too, and you will have to seek permit from the Himachal Pradesh state government for your vehicle.
2. Tawang

State – Arunachal Pradesh

Special in May – Celebration of the colourful Moatsu Festival

Weather in May - 3°C to 18°C (37.4℉ to 66.4℉) with a cool and clear climate

Major attractions – Tawang Monastery, Bap Teng Kang, Tawang War Memorial, Sela Pass, Gorichen Peak, Madhuri Lake
Among the most unusual hill stations of India is Tawang, in Arunachal Pradesh. Tucked at an altitude of about 3048 m, the place is famous for some of the most beautiful monasteries and as the birthplace of Dalai Lama. Loaded with natural and scenic beauty, Tawang is somewhere you can seek spirituality and at the same time can sip up the nectar from nature around. At the same time, adventure junkies can rejoice because the place is a top favourite for trekking, hiking, skiing, nature walking and several other activities, which make it a must-go places to visit in May in India.
Tawang celebrates the vibrant Moatsu Festival in the month of May for six days beginning from 1st of the month. Moatsu is all about celebrating the existence of the tribals, especially of Nagaland, the neighbour of Arunachal. The festival brings an end to the sowing season and welcomes a period of relaxation. The village and the routes are all decorated with colourful papers, and the people are all dressed in their traditional bests.
3. Gangtok-Dzongu

State – Sikkim

Special in May – Sikkim festival, the Saga Dawa festival

Weather in May - 11°C to 22°C (51.8℉to 71.6℉)

Major attractions - Hanuman Tok, Saramsa Garden, Fambong La Wildlife Sanctuary, Do Drul Chorten, Enchey Monastery, Rumtek Monastery, Tashiding Monastery
Gangtok, the capital of Sikkim, is an extremely alluring, pleasantly boisterous place to visit in May in India to explore. With an exclusive view of Mt Kanchenjunga to behold, Gangtok offers a pristine skyline clad with prismatic natural beauty, mist and snow-clad mountain peaks, and unrealistic winding hill roads as captured from a bird's eye view in a cable car ride.
The month of May celebrates the Saga Dawa festival in Gangtok which is celebrated in the holy fourth lunar month of Tibetan calendar (May-June). The festival observes the birth, parinirvana (death), and enlightenment of Buddha, and it is believed that all positive and negative actions are multiplied as a result. The Saga Dawa festival is to worship and celebrate the auspicious Mt Kailash, when thousands visit the city as a circumambulator of the holy mountain.
4. Mcleodganj

State – Himachal Pradesh

Special in May – Trekking in "cool" summer

Weather in May – 22°C to 38°C (71.6℉ to 82.4℉), perfect for adventure

Major attractions - Namgyal Monastery, Tsuglagkhang, Bhagsu Nag temple, Bhagsu Falls, Tibetan Museum, Church of St. John, Triund and Dal Lake.
Mcleodganj, near Dharamshala, is a popular trekking spot which reflects a perfect blend of Tibetan and British influence. It is also known as Little Lhasa, and most popularly known for being home to the Tibetan spiritual leader Dalai Lama. Tucked amidst the beautiful and majestic hills and lush greenery, the town is bestowed with Tibetan influence owing to the major settlement of Tibetans here.
The visit to Mcleodganj takes the adventure freaks a step closer to nature, and a bigger push for adrenaline rush, which make it the perfect place to visit in May in India. The place is a perfect combination of an adventurer's paradise and at the same time a peaceful haven for the ones looking for some solitude.
5. Sandakphu

State – West Bengal

Special in May – Perfect for trekking

Weather in May - 6°C to 12°C (42.8℉ to 53.6℉)

Major attractions - Varsey Rhododendron Sanctuary, Singalila mountain range, Mane Bhanjang, Chitrey, Tonglu and Tumling.
Welcome to the wonderland for trekkers and nothing beats the convenience and weather comfort of Sandakphu the way the climate in May does! At a height of 11,929 feet, it is the highest point in the Singalila range. Boasting a nature at its pristine best, Sandakphu will prove its worth at every single point and view.
The peak is a vantage point which gives a glimpse of four of the world's five highest peaks - Everest, Kanchenjunga, Makalu and Lhotse. It is the highest peak in the entire Singalila mountain range, and a must visit to gather some of the exclusive Himalayan memories for your lifetime.
You May Like:
6 Best Places to Visit in January
6 Best Places to Visit in March
4 Best Places to Visit in September
7 Best Places to Visit in November