Your Complete Guide on Jaipur Solo Trip
Jaipur, the royal Pink city, is India's first planned city and one of the oldest cities in Rajasthan. The fascinating royal heritage of Jaipur and the well-preserved buildings paint a gorgeous landscape for the eyes. It has evolved into a modern city of hip culture with its cool cafes, shops, artist studios and spaces opening up. However, even today, when you visit Jaipur, the essence of regalia and the historical aroma can be breathed in the air.
Advantages of Jaipur Solo Trip
For anyone planning to a Jaipur solo trip, this city welcomes you with open arms and ensures that you leave this city with memories to reminisce and cherish. Jaipur solo trip is on the rise these days and despite some challenges, solo travelling is quite liberating and empowering. As cited by Henry David Thoreau, "The man who goes alone can start today, but he who travels with another must wait till that other is ready."
Exploring Jaipur on your own will surely give you a better chance to learn about yourself in a new and unfamiliar place and will make you more confident to take charge of your own life in a world where everyone is lost through the daily chaos. It's all about brushing yourself up and taking a step forward that will make you experience the beauty and charm of this multicultural pink city.
While wandering in and around Jaipur, you will witness outstanding and incredible destinations for clicking pictures that are a delight for the eyes. The city offers a plethora of experiences that can mesmerize and inspire you at the same time.
How to Travel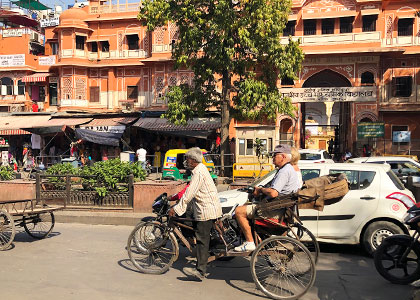 Cycle Rickshaws in Jaipur
Generally, Jaipur is a very safe city for people travelling independently. To get around Jaipur, first, you need to know where you're planning to go. This old city is well laid out and its major sites and shopping areas are not quite far and you can make your way to these places on foot which is usually the best option for solo travelers. But if you feel really tired, you can opt for cycle rickshaws that are easily available for short distances.
Jaipur City Transport Service Limited with its low floor buses is another option for travelling the city. These buses run from 6:30 am to 10:00 pm and the fare depends on the distance of your travel. Online cab services are also available but for travelling solo it's preferable to use public transport as it gets you to understand and experience the local taste of the place.
Read More: Jaipur Transportation – Air, Train, Bus, Taxi, Tuktuk
What to Visit in Jaipur
Jaipur is famous for its historic monuments which are the major tourist attractions such as the Amer Fort, Hawa Mahal, Jaigarh Fort, Jal Mahal, Nahargarh Fort, Jantar Mantar, Rambagh Palace, etc. You can take a self-guided tour of these places or join the heritage walking tours that are conducted every day. You can also enjoy a hot air balloon flight over Jaipur if you seek an adventure and get a bird's eye view of Jaipur. If you visit Jaipur in late January and you're a fan of literary culture, you can attend the Jaipur Literature Festival that is celebrated by the participation of famous writers and authors from all over the world.
See also Popular Attractions in Jaipur
Shopping
If you wish to splash some cash, you can shop at the numerous street shops that can be found nearly everywhere in Jaipur. You can find leather shoes, textiles, sweets, antiques, rugs, etc.
Bapu Bazaar
and Johari Bazaar are two most famous markets where you can find antique jewellery, precious stones, and clothing accessories. You can simply browse these shops and hang out with locals or shop for some souvenirs to take back home.
| | |
| --- | --- |
| Amer Fort | Nahargarh Fort |
Food
When it comes to teasing your taste buds, Jaipur has a lot to offer from its local cuisines like Dal-baati choorma, Ker Sangri, Makke ki Ghat, Lal Maans to its delicious and mouth-watering sweets that include Feni, Ghevar, Gajak, Moong Thal, and Mawa Kachori. You can also indulge in some authentic Rajasthani cuisine at the Taj Rambagh Palace's Indian restaurant Suvarna Mahal. This place serves the royal cuisines from Rajasthan, Awadh, Punjab, and Hyderabad.
Masala Chowk is also a famous place to sample local street food which is an open-air food court, a first of its kind with an assortment of street food stalls in Jaipur. It's situated in Ram Niwas Garden and is open daily from 10:00 am to 10:00 pm. An entry fee of 10 rupees per person is charged.
Read More: Top 7 Bars and Restaurants in Jaipur
The most pleasant time to visit Jaipur solo is during the start of the winter season or from November to March. The temperature is an average 25 degrees Celsius or 77 degrees Fahrenheit, but during nights it gets quite chilly where the temperature drops down to almost 5 degrees Celsius or 41 degrees Fahrenheit especially in the month of December and January. So pack your stuff accordingly.
The heat of Jaipur can drain your energy so it's important to take measures to avoid getting dehydrated while travelling solo if you visit during the hottest months. Drink plenty of water, carry an umbrella, sunscreen lotion and avoid staying out in the sun for a long time. And ensure that you have received necessary immunizations and medications for the safety of your health.
While travelling in and around this city for the first time, beware of the scams and tour packages offered and sometimes forced on the tourists, especially in a tourist-ridden city of Jaipur. Solo travelers are common targets for such scams, so be careful while travelling anywhere in Jaipur.
You May Like:
Traveler's Guide for Solo Trip to Jaipur