12 Best Places to Visit in Delhi with Friends
India Gate, amusement parks, shopping centers, water world, paintball, bars, etc. are all best places to visit in New Delhi with friends. It can not only enhance the relationship with your friends, but also see a different Delhi.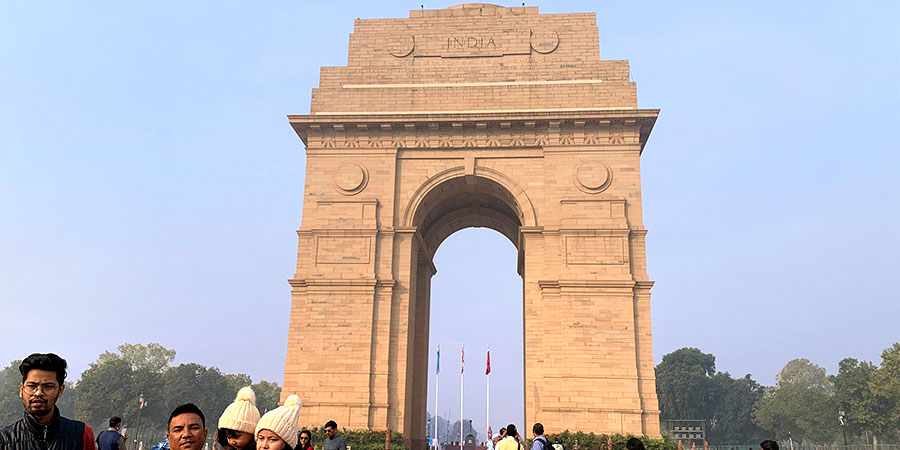 India Gate, New Delhi

Address: Rajpath, New Delhi

Ticket Fare: Free

Opening Time: All day
As a prominent landmark in Delhi, the Indian Gate is located in Rajpath. It is surrounded by a beautiful park, which is a good place to visit in Delhi with friends for picnics. There are also many street food and local snacks. After enjoying the good meal, you can have a walk together with friend in the park. At night, the lights are bright and many people choose to hang out there.

Address: Near Rajiv Chowk Metro Station, New Delhi

Opening Time: 10:00/11:00-21:00/22:00
Connaught Place is the central point of Delhi, it is a commercial, tourist and transportation center. It is a large circular square with a large park in the center, surrounded by shops and famous international brands as well as Indian brands. There are also many restaurants. It is definitely a good place to visit in New Delhi with friends.
3. Dilli Haat

Address: Dilli Haat, West Kidwai Nagar, Kidwai Nagar New Delhi

Ticket Fare: 100 rupees

Opening Time: 11:00-21:00
This is a folk handicraft village set up by the Indian government, bringing together textiles, handicrafts and delicacies from all over India. There are also free cultural activities to watch. You can enjoy shopping with your friends.
See more about Shopping in Delhi: Where to Buy & What to Buy
4. Adventure Island, Rohini

Address: Unitech Amusement Parks Ltd., Opposite Rithala Metro Station, Sector-10, Rohini, New Delhi

Ticket Fare: 300 rupees (NO RIDES INCLUDED)

Opening Time: 11:00-19:00
Covers over 62 acres, Adventure Island Rohini is one of the funniest amusement park in Delhi. The park is divided into three part - Metro Walk, Adventure Island and Lagoon. You can enjoy exciting entertainment items. And there are many showrooms in the Metro Walk, where have clothing stores and restaurant. I am sure you will have fun with friends there.
5. Parkash Amusement Rides & Fun World

Address: 20, F.I.E Partparganj, New Delhi
Parkash Amusement Rides & Fun World is a large amusement park with a long history. There are many entertainment facilities including amusement rides, water rides, international rides, indoor games, playground equipment and gym equipment. It is an excellent place to visit in Delhi with friends for a weekend or holiday trip. You will definitely have great fun there.
6. Worlds of Wonder, Noida

Address: Entertainment City Sector-38 A

Ticket Fare: 849 rupees / adult; 699 rupees / child

Opening Time: 11:00-19:30
Worlds of Wonder is an amusement park for both adults and children. There are many items can make your adrenaline rise. It has a large area with a variety of rides and activities. There is also a water ride for people to have fun in the hot summer. Designer also built a special ride called La Fiesta for faint-hearted people. Moreover, Worlds of Wonder has many different sizes of lawns for people to hold party. Obviously, it is a wonderful place to visit in Delhi with friends.
7. Jurasik Park Inn, Sonipat

Address: G.T. Karnal Road | National Highway 1, Near Omaxe City, Sonipat 131021, India

Ticket Fare: 750 rupees on Weekdays; 1000 rupees on Weekends

Opening Time: 10:30-18:30
Jurasik Park Inn is the first jungle theme park in North India. At the gate of the park, you will be welcomed by two tyrannosauruses and a giant dinosaur. There also have the cheapest water ride and the best amusement ride and adventure ride in Delhi. If you and your friends enjoy excitement, Jurasik Park Inn must be your best destination you cannot miss.
8. Atlantic Water World

Address: Kalindi Kunj Park, adjacent to Kalindi Kunj Metro Station, New Delhi

Ticket Fare: 1200 rupees

Opening Time: 11:00-18:00
Built in 2014, Atlantic Water World is a new place for people to avoid the sweltering summer in Delhi. There are many rides for all ages and different depth of water pools, therefore, you do not need to worry about the problem even if you cannot swim. Swimsuits and swimming gear are also available inside the park. It is really an interesting place to go with friends.
9. Drizzling Land, Duhai

Address: 8 KM Milestone Delhi – Meerut road, Duhai, Ghaziabad, UP, India

Ticket Fare: 850 rupees for adults on Saturdays and Sundays; Government Holidays are 950 rupees. 550 rupees for child upto 120cms (4ft) in height on Saturdays and Sundays; Government Holidays cost 650 rupees.

Opening Time: 10:00-19:00
Drizzling Land is the biggest entertainment park in the world, which was established in 2005. The Land has a large number of fun items including Water Park, Amusement Park, Adventure Sports Club and AC Party/Conference Hall & Party Lawn. And you can have meal at Food Court by the pool where offers delicious and fresh fast-food and authentic Indian food. In addition, there are rooms to stay overnight.
10. Shootout Zone, for Paintball

Address: Game-N-Grillz Restaurant, Near ITM University, Sector 23-A, Gurgaon 3.9

Opening Time: 10:00-21:00
If you are a green hand in paintball, Shootout Zone must be one of the best places to visit in Delhi with friends. Since most people usually waste a lot of ammo at their first time, the high cost effective Shootout Zone may be the better choice. There are 4 different game formats you can choose, total elimination, capture the flag, center flag, and zombie.
11. Select Citywalk

Address: Saket, New Delhi

Opening Time: 10:00-23:00
Select Citywalk is one of the upscale shopping centers in New Delhi covering 1.3 million square feet, which is a popular destination for all ages to kill time with friends. If you want to buy some cosmetics, brands like MAC, Burberry, Estee Lauder, Dior, Chanel, Bobbi Brown can meet your all kinds of requirements. There are also international clothing brand including ZARA, GAP, H&M, Tommy Hilfiger and so on. Moreover, there are hotels available if you want to stay longer.
12. Hangout at Kitty Su

Address: The Lalit, Barakhamba Avenue, Connaught Place, New Delhi

Average Cost: 5000 rupees for two people

Opening Time: 22:00-.01:30
If you and your friend want to dance and have a drink at night, Kitty Su must be the most suitable place to visit in Delhi with friends, which is the liveliest bar in Delhi. You can enjoy an amazing live show and good wine here.
You May Like:
15 Places to Visit in Delhi with Family
12 Most Beautiful Places to Visit in Delhi for Couples
15 Super Fun Places in Delhi for Youngsters
Adventure Places in Delhi – Top 10 Picks for Thrilling Activities