Monkey Temple (Galtaji Temple) Jaipur: Timings, Entry Fee
Galtaji Temple Jaipur is a holy pilgrimage site for Hindus, especially of the Vaishnava Ramanuja sect. Dated to prehistoric times, it is considered a blessed place. It is said that an enlightened sage Galav prayed relentlessly and performed 'Tapasya' as a penance to attain moksha or nirvana, for 100 years in Satyug. Happy with the prayers, God blessed him with
Ganga
(river Ganges) manifesting into Galta Ji.
Legend of Galtaji Temple
The holy water flows through Gaumukh – a cow's head made of stone, through which the water flows down into tanks at various levels. It is an abundant natural freshwater spring with curative properties that fills water in seven tanks. It was blessed that these kunds (tanks) will never go dry. And to date, it has not gone dry. The Galta Ji kund is the largest and the holiest of all the seven kunds. Later, a temple was built here to honor the saint and named after him. There is also a shrine of the saint on the temple campus. People believe that a holy bath in the kund will relieve them of bad karma. Another legend says that Lord Ram gave darshan to Goswami Tulsi Das, an ardent devotee of Lord Ram. Thus a Ram Gopal temple is also built here to mark this.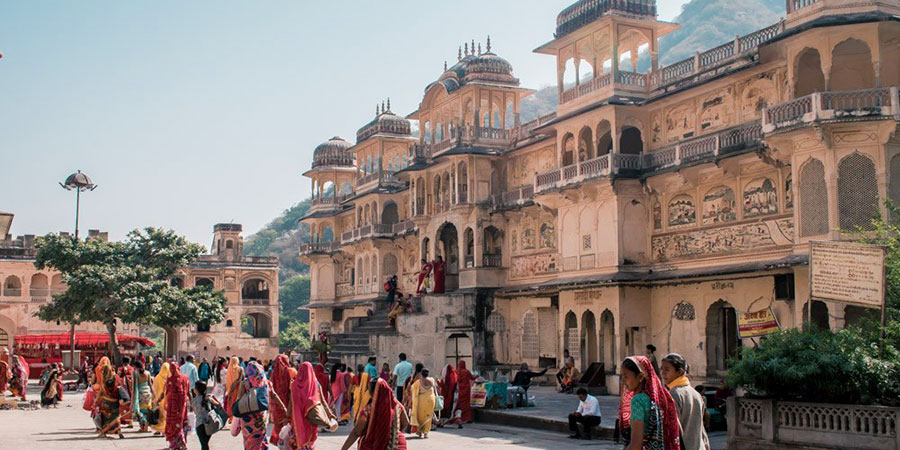 Monkey Temple
Construction and Layout of Galtaji Temple
As per the recorded history, Galtaji Temple Jaipur was built in stone and concrete in the 18th century by Maharaja Sawai Jai Singh's attendant Dewan Rao Kriparam. The construction of Galta Ji temple is quite unconventional, as it is built in a Palace or a Haveli style instead of following a temple pattern. Built-in pink sandstone, it follows the traditional pink color theme of Pink City. A beautiful yellow gate outside stands to welcome visitors.
A spectacular structure, the temple adorns beautiful walls and ceilings laden with murals and frescoes, rounded dome-shaped roofs, and carved pillars. However, the artwork is losing its sheen and eagerly awaits restoration. Along with kunds, the temple premises also have temples of Lord Brahma, Lord Ram, Lord Krishna, Lord Hanuman, and Lord Ganesha with his mother Goddess Parvati. The occasional ringing of bells, hymns, and chants create a healing environment.
Monkey Temple Jaipur
The temple is also known as the Monkey Temple due to many varieties of monkeys co-existing here in the temple. Around 5,000 monkeys stay in this place alone. Indian langurs and macaques are the predominant species. The monkeys have already found their way to the National Geographic channel in a series called Rebel Monkeys and another award-winning series 'Monkey Thieves'. The series features the famous Galta Gang of 60 strong monkeys. During summers when there is a drought-like situation and not much to eat, the gang goes on in the city for feeding opportunities. The teamwork the gang shows is remarkable and their social acumen laudable.
Best Time to Visit
The best time to visit Galtaji Temple Jaipur and surrounding tourist spots is during Makar Sankranti, the harvest festival celebrated all over India. The festival falls in mid-January. Taking a dip in holy Galta Ji is auspicious and has multifold effects on this day. The temple is open from dawn to dusk and the best time is around sunset. You can see flocks of monkeys taking a bath in the temple tank. The surrounding dense green vegetation makes this place surreal. As one of the most beautiful places in Jaipur's landscape, the temple needs to be charted.
Also, it is preferred to reach the premises around 3-4 PM to be able to enjoy the evening on the premises. In all, a different experience for devotees, art lovers, photographers, historians, nature-lovers, travelers, architecture students, and filmmakers.
Food
The surroundings of the temple do not have any eatery or restaurant. Not even any staying options. You must stay in Jaipur and visit the temple by two or four-wheeler. For food, it is preferred to carry some food/snacks with you. The spot is very beautiful and splendidly architecture. You could enjoy a picnic here. Beware of the monkeys though.

Entry Fee: No entry fee

Timings: 5:00 AM - 9:00 PM
Nearby Tourist Attractions
There are many other temples and tourist sites near Galtaji Temple Jaipur which can also be covered. Here is an account on 10 things that you can do at Galtaji temple:

1. Krishna Temple: Lord Krishna Temple is near Galta Ji Mandir.

2. Radha Krishna Temple: Located near the main market in Manor, this is a small beautiful Temple dedicated to Sri Radha and Lord Krishna.

3. Sri Ghat Ke Balaji Temple: This is the Ganesha Temple. In Hindu tradition, the first deity to be offered prayers is Lord Ganesha. The temple holds immense significance and is the calm and spiritual temple. The monkey population is too high here. So beware of monkeys.

4. Surya Temple: Second only to the famous Konark temple, this one is dedicated to the Sun (Surya). The temple lies on the hills and is flaunted by wonderful views around. The temple is open throughout the day until sunset. You must walk 15 minutes up the hill, once you are dropped at Surajpole Market.

5. Sita Ram Temple: This temple is dedicated to Lord Ram and his wife Goddess Sita.

6. Holy Dip in holy waters: You can take a dip in the holy waters of the Galta Ji kund.

7. Sisodia Rani Ka Bagh: Sisodia Rani Ka Bagh is a good place near the Galta Ji temple. The magnificent gardens and palace were laid out by Sawai Jai Singh II. This is a romantic, 18th-century palace set amidst beautiful gardens, fountains, temples, and pavilions. This place is great for the photoshoot. Outside food is allowed here, so you can bring food and enjoy it with great ambiance.

8. Hanuman Temple: This temple features a small lamp inside that said to have been burning continuously for more than 400 years.

9. Amagarh Fort: Located at Lal Dungri, this is a small fort that you can visit.

10. Neemghatta Bird Watching Point: It's a peaceful and small bird-watching point right inside the city. One can also find leopards near the lake if luck has it.
Top Attractions in Jaipur: