Agra Trip Cost: 5 Ways to Explore Agra on a Budget
Making the most of your Agra trip cost on a budget becomes easy when you know how to do it. Read on to learn how to save in Agra, avoid tourist traps, enjoy free sightseeing, get a full meal for less than US$5 or even for free, and find the best budget places to stay in Agra.
1. Avoid these tourist traps
• India is not the place where you can always rely on a cab driver to take you to the best hotel or restaurant. Your driver will likely take you to a place from where he gets his commission.
• When buying a SIM card, always head to the network operator's authorized store and avoid buying a SIM card from local mobile phone stores. The popular and the most reliable telecom operators in India are Vodafone, Airtel, Reliance Jio (only 4G), and BSNL (the only government-owned telecom service provider).
• If you're booking a long-distance taxi, ask your tour operator if the toll tax is included in the total fare. Don't let even small payments ruin your travel budget. Some drivers also don't tell about these hidden costs even when the toll tax is already added to the total fare.
Read more about Taxi Services in Agra
• In 2016, India announced the demonetization of 500 and 1000 rupees banknotes and issued 2000 rupees banknotes. This creates a lot of trouble, especially when shopkeepers don't have change. Never allow random shopkeepers to make you wait for change, either avoid buying from them or ask them to bring change before you pay.
• Don't accept demonetized banknotes of (Rs 500 or 1000) because banks no longer accept them. However, most of the demonetized banknotes were returned to banks. The Reserve Bank of India has issued new 500 rupees banknotes which are accepted everywhere in India, so make sure to take new notes and not the old ones.
2. Bargain in Agra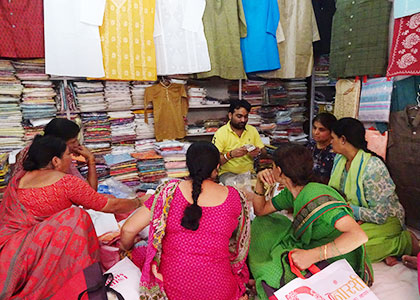 Bargaining at the Local Market
When in Agra, you can almost always bargain in shops and local markets. First of all, avoid places that are famous as tourist markets. Shops, restaurants, and even hotels pump up the price, especially when they see foreigners. Remember that generic products that you see in local stores often have fake MRP (maximum retail price) printed on them. So you can always negotiate the price when buying such things.
To find the best hotel deals, avoid peak summer season and Christmas holidays. During these days, many people visit Agra as school holidays begin in summer and prices go up. Agra's hostel scene is also thriving, which means you can easily find good deals on family-run B&Bs and budget hotels.
Tourists are often seen as people who come loaded with cash. The moment shopkeepers or taxi drivers realize that you're interested in buying something, they will likely quote you 5x or even 10x the price. The best way to get things at the 'best price' is to stop showing too much interest in the items you want to buy. Pretend like you're just curious.
For something that's 1000 rupees, start with Rs 50 or 100. They may laugh and say no, but this is how it begins. Increase a little and tell your best price and if they don't agree, just start to move. In most cases, they will come running to you and tell their final price which is again negotiable to some extent. Also, if you're buying many things from a store, negotiate the price of each item individually.
Some of the best places to go shopping in Agra are:
• Bai Ka Bazar
• TDI Mall
• Sadar Bazar
• Kinari Bazar
• Mahatma Gandhi Road (MG Road)
• Raja Ki Mandi
3. Opt for free sightseeing
To enjoy your Agra trip on budget, walk – it's free. There are many places in the city where you don't need to pay entry fees. Visit Chini Ka Rauza, a tomb of the Mughal emperor Shah Jahan's Wazir (Prime Minister) Allama Afzal Khan Mullah. It is situated on the eastern bank of the
Yamuna river
and is near (only 1 kilometer) to the
Itmad-Ud-Daulah Tomb
which is also known as the Baby Taj.
Chini Ka Rauza got this unique name because unlike other Mughal-era buildings in Agra, this monument was built using Chinese ceramic which is called "chini" in the local language. Another hidden gem in Agra is Mother Teresa's Missionaries of Charity. This is an orphanage where nuns take care of children. The place is worth a visit if you are seeking peace.

Seeing the Taj Mahal from a Distance without a ticket
Without spending money on a ticket, you'll get only a glimpse of the Taj Mahal, but there are some more places that can be visited for free. Regardless of your religious affiliation, the Gurudwara called Guru Ka Tal is a nice place to see. It is situated just between Chini Ka Rauza and Sikandra. The Sikh community here offers free food (Langar) every day.
In the morning you can visit Shri Mankameshwar Temple. It's a sacred place where many Hindu devotees come to offer prayers to Shiva, a member of the Holy Trinity of Hinduism. Places like Soami Bagh and local parks and gardens are also worth visiting, especially if you're traveling in a group or with kids.
Read more about Mehtab Bagh in Agra
4. Seek out budget accommodation & cheap eats

Budget Accommodation in Agra
If you plan on staying in a budget hotel in Agra even during peak seasons, you're in luck as the city offers a lot of options to choose from. The cheapest places to stay in Agra are guest houses where you get shared rooms with 5 to 10 people. This type of places can be found all over the city.
One more type of accommodation you can find in Agra, in fact almost everywhere in India, is Dharmshala (guest house). These are offered at a very low price (as low as 100 rupees per night). Although you may find shared rooms in most of them, some guesthouses offer single and double-bed rooms.
Shrimati Shakuntala Devi Dharmshala, Shri Digamber Jain Dharmshala, and Sindhi Dharmshala are some of the most affordable guesthouses in Agra. Remember that in most of these guest houses, you have to be very careful about your luggage and other belongings. Also, it's better to carry extra padlocks and chains to secure your luggage.
Read more about 10 Hotels in Agra for Budget Travelers
If you don't like staying in a guest house, you can try these budget hotels and hostels in Agra:
• Moustache Agra
• Bedweiser Backpackers Hostel
• Hotel Sidhartha
• Taj Inn Hotel
• Hotel Sai Palace
Want to eat a full meal for less than 200 rupees? Go to Laxmi Vilas, a South Indian restaurant in Sadar Bazar. This is not a fancy place like other 5-star restaurants in Agra, but the food is hygienic and affordable. You can get a full thali meal here for less than 200 rupees. While South Indian food may not be everyone's choice, there are other options as well. You can go to Shankara Vegis near the South Gate in Tajganj, Agra. It's a vegetarian restaurant offering a full meal (a similar thali system) for around 200 rupees.
Here's a list of the best pocket-friendly places to eat in Agra.
• Sadar Bazar
• Taj Ganj
• Chat Gali
• Seth Gali
5. Consider pre-departure purchase
The absolute cheapest way to travel to Agra from
Delhi
or any nearby city like
Jaipur
is to catch a train that costs less than 1000 rupees. The good thing is you can book your tickets in advance - 90 days before the date of journey. This way, you won't have to pay a premium price for tickets.
If you fear that traveling by bus or taxi will require a huge amount of money, you are in for a pleasant surprise. Traveling in India gets costly if you are unprepared and are making last-minute bookings. From hotels to taxis and bus/train tickets, everything can be booked in advance. Utilize your time to make such purchases as you can find many websites that offer instant discounts or provide coupons for your future purchases.
Despite its reputation as a place for some of the world's most luxurious hotels and restaurants, some of Agra's best moments are affordable.
Read more about 10 Best Restaurants in Agra