8 Best Weekend Getaways from Agra
Agra is a bucket-list attraction for many people across the world owing to the mesmerizing mausoleum Taj Mahal and many other Mughal and Hindu architectural marvels with-in the city. The tourists who are in Agra and want to spend some-time admiring the beauty of nearby places have several options to choose from. And it makes sense to cover them once you are in Agra. In and around Agra also speaks of our glorious times. There are beautiful gardens, wildlife sanctuaries, and old structures that will have you gaping in marvel.
If you are planning a one day trip from Agra, this terrain pampers you for choices. There are so many places nearby that you can club them together to fit in a one-day itinerary. Here is a guide to offer you the options of the best weekend getaways from Agra.
Keoladeo Ghana National Park (Rajasthan – UP border):

The wildlife sanctuary, one of the best weekend getaways from Agra, is just 60 kilometers (37 miles) from the heart of Agra city. That is a little over one hour of drive. Also, called Bharatpur Bird Sanctuary, this is one of the world's most recognized bird breeding and feeding sanctuaries.
A World Heritage Site declared by UNESCO, this sanctuary was created as a brainchild of India's noted Ornithologist and naturalist Salim Ali. There are 370 species of birds, including the endangered Siberian Crane. Nature is at its unmatched here.
Mathura: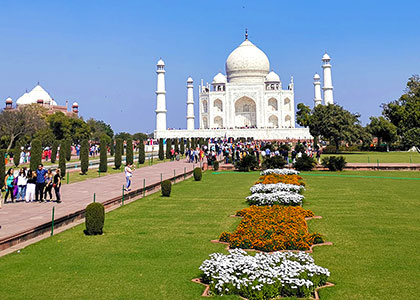 Mesmerizing Mausoleum Taj Mahal
October to March is a good time to explore this area. The birthplace of Lord Krishna, Mathura is one of the most visited places in India. Sri Krishna Janmabhumi is the place where Lord was incarnated and was born in a prison. Set amongst an array of temples are the two famous temples known as Dwarkadheesh Temple and the Gita Mandir.
Dwarkadheesh Temple is from the 1800s and the best time to visit it is around Holi or Janmashtami so you can enjoy these festivals in their true colors. Don't miss the Mathura day trip from Agra. The old-world charm of the city is sure to send you down the nostalgic lanes.
Vrindavan (UP):

Situated at a distance of 54 kilometers (34 miles) from Agra on the banks of the river Yamuna, Vrindavan is the place where Lord Krishna spent his childhood. The name is an amalgamation of Vrinda – Holy Tulsi or Basil and Van meaning grove. A lot of people come here to take up the spiritual path.
Vrindavan has a host of temples amongst which famous ones are Banke Bihari Temple and ISKCON temple. Located on the banks of Yamuna River, many temples are amidst the lush thick woods and embodying peace and spiritual calm. Holi in Brij is one of its kind, this is a must on the itinerary of the best weekend getaways from Agra.
Deeg:

75 kilometers (47 miles) from Agra and close to Bharatpur Bird Sanctuary in Rajasthan, Deeg has many palaces, fortifications, and local bazaars that win the tourists over in their simplicity yet exquisiteness. Back in time, Deeg was the summer resort to the royal family and has nature in abundance.
Gwalior:

Just 108 km (67 miles) from Agra is this city of historical importance and spiritual awakenings, also one of the top weekend getaways from Agra. Appropriately christened tourism city of Madhya Pradesh, the city was founded by Raja (king) Surajsen. Its monuments, palaces, mosques, rock temples, and statues speak in the volume of the glory of the city. Gwalior Fort is surrounded by beautiful green laden hills. Jai Vilas Palace - the palace of king, now half-open to tourists, the Sun Temple, and the tomb of the gifted musician Tansen are few prominent tourist attractions.

Jeep Safari in Ranthambhore Tiger Reserve
Ranthambhore:
One of the best Tiger Reserves of the country with a high concentration of surprisingly friendly Tigers is just 198 km (123 miles) from Agra. Nestled in the confluence of Aravalli and Vindhyachal mountain ranges, this sanctuary is rich in flora and fauna. Quietly sitting inside is the 10th Century property Ranthambore Fort, commissioned by the brave Chauhan Dynasty. The fort is a UNESCO-declared World Heritage Site. There are many temples and lakes enhancing the experience.
Alwar:

The Tiger Gate of Rajasthan, nestled in Aravalli ranges, is located 143 km (89 miles) from Agra. Bhangarh Fort, Bala Quila, Pandu Pol Temple, heritage havelis, serene lakes, wildlife and nature reserves like Sariska Tiger Reserve are Alwar's pride. It's also a favorite place for many Bollywood movie makers. The city is famous for its Mega Alwar Trade Fair at Dussehra grounds, and Papier'-mache' toys and items.
Chambal Wildlife Sanctuary:

At a 100 kilometers (62 miles) drive, there's so much green around Agra. This is one more wildlife sanctuary you could visit. Just two hours of drive leaves you in this sanctuary on the banks of the Chambal River, in Uttar Pradesh. The river is one of the cleanest in the country, it gives you an abundance of wildlife and landscape, some medieval temples, ancient ruins, animal fairs, and Naga Sadhus to fill your trip.A motorboat trip or a guided walk up and down the ravines make it an exciting day trip from Agra. Some endangered species like Gharial, Red-crowned turtles, Gangetic Dolphins, Indian skimmers can be seen here. Along with jeep safari, river safari, bicycle safari, camel safari, and horse safaris are some other ways apart from mundane options.
Other Attractions
Nainital
: 355 km (221 miles) from Agra and nestled in quaint Kumaon Hills is the city of lakes also called Nainital. The city got its name from the famous Naini Lake, set between snow-capped mountains, tranquil lakes and a feel of times bygone. The lake is known for its natural beauty, its unique shape and pleasant weather all through the year. For those who do not mind a long drive on these enrapturing hills for mental spa, this is an ideal getaway to recharge yourself.
Khajuraho
: July to March is a good time to plan this trip to the famous architectural marvel -
Khajuraho Temples
and one-of-its-kind temples based on the theme of erotica. The artistically sensuous temples come from the medieval period (950-1050 AD) and are an example of all-encompassing Indian Culture. These are yet another UNESCO recognized World Heritage sites. Very close to the temples is our very own Canyon known for diamond and Panna mining. Plus, Panna National Park is also an attraction, with Tigers and Leopards in decent numbers.
| | |
| --- | --- |
| Magnificent Temple in Khajuraho | Sculptures in Various Poses, Khajuraho |
The list doesn't end here of-course. There are more places that command a mention like New
Delhi
, the national capital and sight-seeing, food and shopping destination (183 km); Lucknow - the land of Nawabs, famous for monuments and food alike (293 Km); Orchha Fort, Ram Raja Temple, Raja Mahal, and palaces on the banks of Betwa River (211 Km),
Jaipur
for its monuments, forts, luxury, wildlife, distinct markets and food (222 km); Rishikesh the yoga capital of the world (325 km); and many more.