Rajasthani Folk Arts - the Essence of Rajasthani Culture
India is a land filled with customs, traditions, arts, and literature. Various states of the country have its own stories engraved in the form of paintings. The state that has attracted numerous tourists is Rajasthan. Known for its mesmerizing forts that were built during the 14th centuries, this land has witnessed many historic battles. But what makes this state unique is Rajasthani folk arts and culture. The mesmerizing architecture of palaces and forts is a symbol of the skills of its artists. Various types of art forms are practiced in the state. Below is the list of folk art forms that reflect the jewels of the state.
1. Thapa
This is a basic form of handmade painting that represents various Indian gods, goddesses, and religious ceremonies. To draw this beautiful art, artist use kumkum, sindoor, ghee, Heena, and cow dung. Women mainly draw this colorful art, and Kumkum is the main ingredient. Other primary colors like red, yellow, green, blue, black, and yellow are used to make it more attractive.
2. Mandana
Mandan means decoration or ornamentation, and this creative art is all about decoration. It is first plastered with a mixture of cow dung and clay, which are drawn on the walls and floor of the house. This form of art is popular in Madhya Pradesh as well. Mandana are drowned on special occasions of religious festivals, fasts, auspicious ceremony or marriages.
3. Gond Painting
Gond painting is a tribal art of pictures that is practiced by the tribal community. Apart from Rajasthan, other Indian states like Madhya Pradesh, Andhra Pradesh, Maharashtra, Chhattisgarh, and Orissa also practice this form of art. These paintings are used to decorate houses on special occasions and generally found on the walls of the homes and windows. Red, yellow, blue, black, and white are the primary colors in this painting. The decorative images taken from the oral natives of the Gond, like cockfight, scenes connected with forest and nature, agriculture, marriage, and other rituals, are drawn and painted in Gond painting.
See More: Top 7 Rajasthan Handicrafts
4. Rajput paintings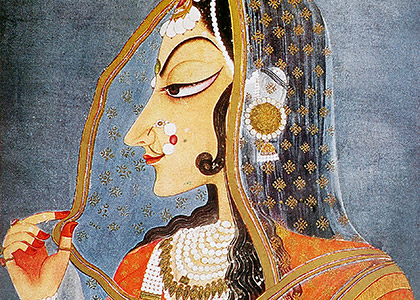 Rajput painting
The evolution of this painting is from the royal courts of Rajputana in the early 17th century. Rajput pictures are one of the most popular forms of art in Rajasthan. What makes this painting elegant is that this painting is revolved around the magnificent ancient epic of Ramayana and Mahabharata, the life of Lord Krishna, landscapes, and human. Another reason for this painting to be considered as royal because this painting is derived from minerals, plant sources, conch shells, precious stones, gold, silver, etc.
5. Gudna Motif
Gudna Motif is a kind of tattoos that is drawn in the body with the help of a needle. This art is used many ingredients to add colors, and it is one of the most popular folk arts of Rajasthan. Artist use Kumkum, juice of harsingar flowers, milk of aak, and leaves of bilva plant to make Gunda Motif. This unique art includes images of gods and goddesses, swastika, sun, moon, flowers, birds, and animals. These designs have rituals and symbolic meanings.
6. Shekhawati
These paintings are drawn directly on the walls of only floral and abstract compositions. This form of art was boomed after the decline of Mughal rule during the 19th century. The artists were heavily dependent on traditional Indian subjects like some of the scenes of mythology, Lord Krishna, local legends, plants, animals, daily lives of people and towns.
See More: 10 Popular Rajasthan Markets
7. Bandhani
Bandhani is one of the most famous artists of Rajasthan, which is a type of fabric art. Highly skilled artists were required to perform this form of art. The technique involves dyeing a fabric that is tied tightly with a thread at several points producing various patterns like Bavan Baug, Chandrakala, and Shikari. The exciting part of Bandhani art is that it was first identified during Indus valley civilization in 6thcentury. This Rajasthani folk art can also be seen in paintings depicting the life of Buddha found on the wall of Ajanta Caves in Maharashtra.
8. Phad Paintings
This unique piece of art is done on a long piece of cloth ranging from fifteen feet to thirty feet or canvas known as Phad. The primary purpose of this painting was to depict a tale using images like comics. The main character of this painting is Pabuji, a folk deity of the Rabari community. This form was started to depict the legend of Pabuji. Though the icons created on these Phads are systematically arranged, reading them logically is still very difficult, which makes this painting a unique piece of craftsmanship.
9. Sanjhi Art
It is derived from the words like 'Sajja,' 'Shringar,' and 'Sajavat', which means decoration. Sanjhi art is a highly refined art form practiced by the ancient Brahmin priests. Because of its inherent spiritual implications, this Rajasthani folk art is famous. The popularity of Sanjhi art grew rapidly during the 16th and 17th centuries, when the walls, floors of the temples were decorated with Sanjhi Motifs (decorative images). The primary purpose of this form of art is to serve the channel of expression of the artist's towards Lord Krishna.
10. Blue Pottery
This Turko-Persian origin piece of art is the traditional craft of Rajasthan. The eye-catching blue dye used to color the pottery and it is named 'blue pottery.' The art of making this glazing pottery came to Rajasthan via Kashmir. This art perfectly depicts the sharing of knowledge and skills from indigenous people across the world.