Pink City Tour: Walk Jaipur's Lesser-known Tourist Spots
A tourist is seldom satisfied in Jaipur. It is next to impossible to grab everything here and return as a satisfied soul. There will be spots unseen or Havelis unexplored or some items not purchased, or some food not tasted, or some part of Jaipur left behind to return to. Amidst the galore of monuments, palaces, havelis, temples, forts, parks, wildlife sanctuaries, etc. the lesser immortals are often forgotten.
With memories in their hearts and tales to tell, these places in Jaipur are lesser-known to the larger world. And there are many such places in Jaipur quietly witnessing time with no attempt on stardom. In an attempt to bring sunshine to these no lesser pieces of art and history, here is a guiding list to help explore these gems. Bonus is, there is no need to worry about the crowd and mostly there are no tickets too.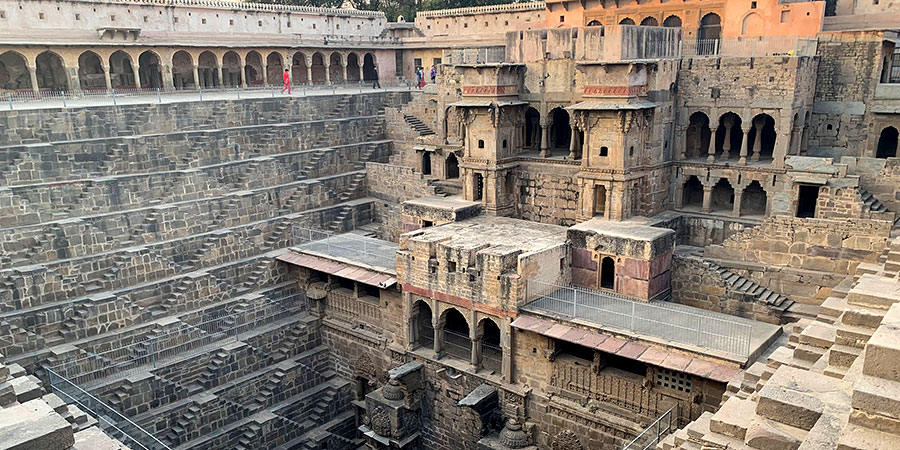 Chand Baori Stepwell, Jaipur
Constructed in 800 AD, this is the deepest stepwell in India. Though the well is no longer in use, it still is a must-visit place, because of the magnitude of the construction and the beautiful geometrically precise patterns. The step-well has over 3,500 narrow steps and is 13 stories deep. The site is in Dausa district, 95 km (59 mi) from Jaipur. It opens between 4 am and 10 pm at no entry fee.
Gaitor Ki Chhatriyan:

Some of the great kings and their family members have been laid to peace here. It is like a crematorium for the royals, but with a view. The place is quiet and relaxing with lovely views that transport back in time. Just before the sunset is a beautiful time to be here as the place doesn't see much crowd. The deceptively bigger than what it appears from the outside, the gorgeous cenotaphs are intricately carved in Rajasthani styles, and set against lush greenery. The ticket costs Rs. 30 and is included in the City Palace tour ticket. There are no guides, so either read about this place prior or later to the visit or just enjoy its beauty.
Hidden in narrow folds of Aravalli hills, this is a series of temples dated back to the 15th century and a pilgrimage site since then. The Monkey Temple (Galta Ji temple) is named after the holiest of the seven kunds (water tanks), the Galta Kund, in this premises. It is believed that the kund was purported to never go dry. The temple complex is located 13 km (8 mi) away from Jaipur and opens at 5 am to close at 9 pm. There is no entry fee.
Bairath:

These are the archeological remains or ruins of a city built by three powerful dynasties namely the Mauryas, the Rajputs and the Mughals. A Hanuman temple, coin mint, Buddhist stupas, and gardens are some of the interesting things to see here. This is like time-travel to the past. Located at a distance of 86 kilometers (53 miles) on Shahpura-Alwar road, these remains are open to the public between 10 am and 4.30 pm, except on Fridays when it is closed. There is an entry of Rs 3 for Indian nationals and Rs. 10 for foreigners.

Leopard in Nahargarh Park
Nahargarh Biological Park:

This is an animal sanctuary located in the woods of Aravalli Hills. This place was created to spread awareness about the wildlife. Here Asiatic lions, panthers, Bengal tigers, boars, and other animals are conserved amidst diverse flora and fauna. Located at just 12 kilometers (7.5 miles) away from Jaipur on the Jaipur-Delhi highway, this biological park is open from 8.30 in the morning to 5.30 in the evening between 15th Mar and 14th Oct. The timings change from 15th Oct to 14th Mar to 9 am – 5 pm. It is closed on Tuesday. Indian Nationals get an entry at a fee of Rs. 50, whereas it is Rs. 300 for foreigners.
Read More: Sariska Tiger Reserve Tour from Jaipur
Ramniwas Bagh:

A 19th-century huge park, built by Maharaja Sawai Ram Singh attracts tourists with its lush green open space, well-manicured gardens with a variety of flowers, plants, and trees. This garden is an early morning tourists' delight that allows motorized vehicles to enter only after 8.00 am.
A good place for walking and playing, this place is usually crowded. You can horse–ride, enjoy good morning snacks at the stalls outside. Located right in the heart of the city and near the Alberta Museum, the gardens are well maintained and require no tickets. Albeit take care as a lot of homeless people take shelter here.
Museum of Gems and Jewellery:

Great place for a detailed introduction to the world of Gems and Jewelry. Especially curated and well-laid museum, this place is small but quiet that keeps hosting jewelry exhibitions and tours. A short film on the history of the museum, followed by the rounds through exhibits to learn the science behind them and then the concepts of four C's - cut, clarity, color, and carat are educating. The cherry on the cake is the extensive collection of their awe-inspiring jewelry. Also, it is worth seeing the jewelry making process here.
Bagru:

If you want to dive deep into the magical world of colorful dyes, and the sights of colorfully dyed clothes drying all around, this village is the place to be in. Natural dye made of natural ingredients like indigo, turmeric, and madder root; and wooden block printing and 'Mojri'-the camel leather shoes- are the prevalent professions in this village. The village stands at 32 kilometers (20 miles) from Jaipur towards Ajmer. Of course, the entry is free.
Sisodia Rani Ka Bagh is an 18th-century romantic palace with gardens, temples, pavilions, and fountains. Whereas Vidhyadhar Bagh is a big garden with fountains, peacocks, and structures bearing Lord Krishna's paintings. A lot of variety of plants, flowers, and trees provide a perfect backdrop. Both the gardens are located very close to each other.
Ravindra Rang Manch:

If you are an artist yourself or enjoy theater and cultural festivals, this open theatre will surely interest you. This is a massive theatre and has a good quality of construction. There are three different auditoriums categorized by the number of people they can house at a time. The mini auditorium is for 100-200 people, the main auditorium for up to 1,000 viewers, and the main open theatre is meant for big events hosting more than 1,000 people. The rates are not too high as it is owned by the government.
Sanganer:

Famous for its blue pottery, handmade paper, wooden block printing on cloth and other handicraft wonders, Sanganer has a 10th-century Jain temple with exquisite stone carvings. To reach here, one must drive down 16 kilometers (10 miles) south from the city center. The timings are 6 am to 10 pm and there is no entry fee.
Other places that are also good to go to are Hida Ki Mori the Gurudwara; Deer Park where you can see a lot of deer playing and busy in their daily chores right in the heart of the city. Jaipur also has many museums and parks to keep its guests interested.