5 Things You Wish You Knew about Safety in Nepal
Nepal is most famous for its tourist attractions and stunning mountains. The region is said to have some of the loftiest peaks which attract tourists from all over the world throughout the year. People visit this country for trekking, mountain climbing, and amazing adventure sports. However, there are certain things that the visitors are constantly worried about, and one of them is safety in Nepal.
Whether you are traveling alone or with a group of friends and family, you need to know some of the important safety parameters to be secure in the country. Here are some of the things categorized according to the important places and activities that tourists take part in.
1. Trekking Safety in Nepal
It is absolutely impossible for any tourist to not go for trekking while visiting Nepal. People wish to trek to the Himalayas and many other surrounding mountains which are hard to resist. This can be another reason why you must know a few things about safety while trekking. Things will be easier when you know some of the safety measures in Nepal.
Altitude sickness
Having an altitude sickness is quite possible when you are climbing heights. It's a common phenomenon for any individual to experience fright and uneasiness. You must visit a doctor and enquire about the symptoms to identify the problem if it occurs.
Get a guide
This is very important, especially if you are visiting Nepal for the first time. Hiring a guide is highly suggested for newbies and the old trekkers. A guide is well-versed with the routes, emergency measures and everything else. Your investment over a guide is completely worth it.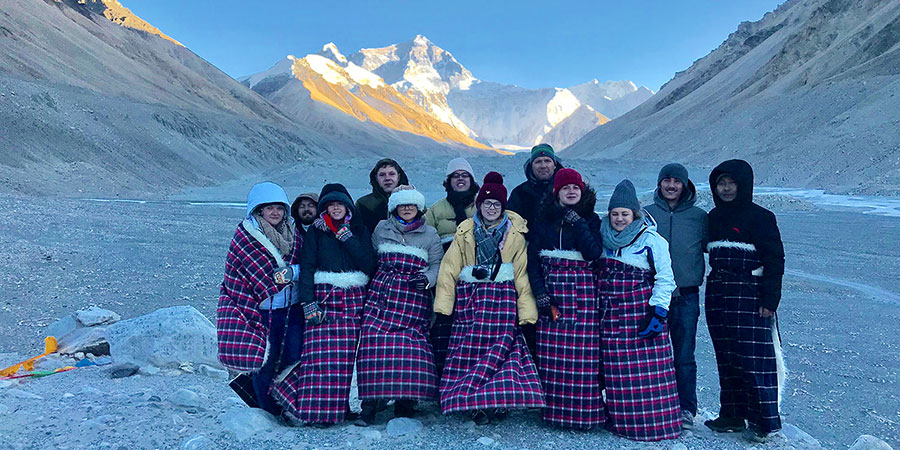 Get a Guide for Nepal Travel
Yaks
You should be aware of another important thing if you are planning for a trek. The mountains above 3000m will have lots of yaks; they look like Buffaloes but are very different from them. They are famous for climbing down the mountains in a very rush manner. Be careful if you come across any.
Landslide area
It is very much possible that the trekking zone you picked is prone to landslide. Which is why it is important to get in touch with a guide, they know their way to the mountains better than anyone.
2. Essential Safety Tips of Nepal
Another important safety measure in Nepal is about some of the essential things. Keep these safety tips in mind before taking the journey.
Safety from drugs
Drugs are illegal in Nepal, however, you might get some people coming up to you and offer you something you should really stay away from. Drugs can get you in trouble and you can get people who will try to sell it to you. Beware of such nuisances.
Prostitution
Not the core areas of Nepal, but this is quite relevant in some regions. Prostitution is again illegal in Nepal and you might get a hefty penalty if you are found involved in any such thing. Be careful while visiting and staying in Kathmandu.
Child trafficking
This part is simply to enlighten you to where you are donating your money. There are places where child trafficking still practices in Nepal.

Lovely Nepalese Kids
Earthquakes
Earthquakes became huge issues recently when some of the important parts of Nepal were destroyed. This section is just to put in a decent reminder of being prepared for the worst. However, there are many safety measures mentioned in times of natural calamity.
Social Etiquettes
You must know some of the basic practices that are important in Nepal. Traditional greetings involve saying 'Namaste' to anyone you meet. There are a few more which you must know before visiting Nepal.
3. Health Safety in Nepal
Health safety in Nepal has to be the most important thing. If you haven't got proper vaccination before visiting Nepal, there are high chances that you might be vulnerable to food poisoning, diarrhea, pneumonia, Cholera, etc. To escape some of these issues, it's important you take care of:
Healthcare
Drinking water
Vaccination
Air
Food
Water
Taking these simple health safety steps will keep you away from major problems in the long run. While you are in Nepal, take good care of your food, drinking water. Avoid eating too much street food and tap water.
4. Transport Safety in Nepal
This is another very important point that you need to follow. The roads in the core area in Nepal are well constructed; however, there are some remote area and off-the-beaten tracks where regular transport facility is unavailable. Some of the basic transport facility available in the region is as follows:
Airways Motorbikes Buses Tempos Bicycle

Transportation in off-the-beaten Tracks
5. Safety Against Racism
You might notice when you visit but like most Asian countries, Nepal also gives its first preference to light skin tone. However, there isn't any major issue related to skin color for tourists. You simply have to be careful while communicating with the locals, keep your mind and speech clear and very focused, because there is a chance for you to get in trouble if you hurt their sentiments.
Religious tolerance
Nepal has a diverse population and the natives respect all religions. You will find Hindus, Muslims, Christians, and other religions in Nepal living with harmony. People are very understanding and you will instantly feel at home.
Keeping these safety tips in mind can help you explore the best out of Nepal. Its people, culture, stunning mountains and the food will compel you to pay a second visit. Where the safety in Nepal is concerned, you must be prepared to go through any situation while you are in Nepal. The important information about the safety will help you in the long run.
Further reading:
7 Steps to Plan a Perfect Nepal Trip