Mongolia Transportation
Travel to Mongolia
By Plane
ChinggisKhaan International Airport,18km(11miles)to the Southwest of Ulaanbaatar, is the largest airport in Mongolia.Airlines have business counters in the airport including Aero Mongolia, Aeroflot, Air China, Eznis Airways, Korean Air, MIAT Mongolian Airlines and Japan Airlines.
Scheduled flights from and to Beijing, Hohhot,Osaka, Tokyo, Seoul, Berlin, Moscow and Irkutskare available. In summer, MIAT adds flights between Ulaanbaatar and Hong Kong/Singapore. JAL and ANA also increase flights to suit demand.
Flight booking number in Mongolia: 325633
By Train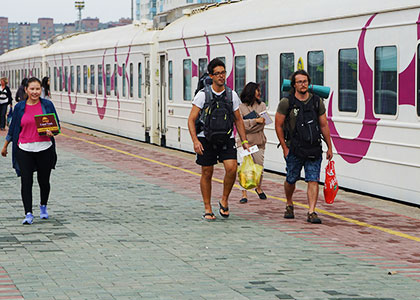 Mongolia Train
Train K23 starts from Beijing at 8:05 every Tuesday and Saturday and arrives atUlaanbaatarat 13:20 next day. The whole journey costs 27 hours.
Train K3 starts from Beijing at 8:05 on Wednesday and arrives at Ulaanbaatar at 13:20 on Thursday.
Train 681 starts from Erenhotin Inner Mongolia of Chinaat 17:10on Tuesday and Saturday and arrives at Ulaanbaatar at 10:40 the next day in 17.5 hours.
The number of Train 681 is changed to 685 on Monday and Friday to run from Erenhotto Ulaanbaatar.
Tips:
1. The tickets can be reserved one month in advance. Tourists traveling in a group of over six can book tickets 2 months before the departure(only for designated trains). The ticket office charges about 12$as reservation fee and will return it when passengers get the ticket.
2. Please show your passport or provide your passport number while purchasing tickets.
3. Ticket purchasing number: 010-65120507
★ Popular Mongolian Train Routes
Ulaanbaatar to Beijing Train Ulaanbaatar to Hohhot Train Ulaanbaatar to Irkutsk Train
Ulaanbaatar to Moscow Train Ulaanbaatar to Sukhbaatar Train Ulaanbaatar to Zamiin-Uud Train
Travel in Mongolia
By Plane
Mongolia has 19 airports including ChinggisKhaan International Airport, Altai Airport, Uliastai Airport and Bulgan Airport.
MIAT and AeroMongoliaoffer scheduled flights to other cities in the country throughout the year. The information of thoseflights can be found on the official websites of the two airlines. From June to August, thepeak tourist season in the country, the two airlines offer chartered flights and add flights which cannot be found on their websites. Tourists need to take these flightscan ask the local travel agency for more information. In case that tickets are sold out, tourists should make reservation in advance in travel season.
All the flights inside the country take off or land in ChinggisKhaan International Airport. For example, if you plan to travel from Moron to Dalanzadgad by air, you have to fly from Moron to Ulaanbaatar and then continue to head for Dalanzadgad.
By Railway
The main railway line in Mongolia runs across the country through Ulaanbaatar. It is over 1,000km in length. Mongolia offers daily passenger train for the convenience of tourists.
| | |
| --- | --- |
| City Bus in Mongolia | Mongolian Vans and Jeeps for Prairie Safari |
Read More about Mongolia Train:
How to Buy Mongolia Train Tickets How to Take a Train in Mongolia How to Read a Mongolia Train Ticket
Mongolia Train Types Things to Know before Mogolia Train Travel
By Road
Mongolia does not have public transport system. The main local transport means is vans and jeeps. They usually do not have a fixed timetable and depart only when the van or jeep is full so it may take hours to wait for other passengers. The roads, especially those in the northern part of the country, often get damaged in August because of increased rainfall.
Mongolia does not have car rental companies. In big cities, private car owners provide driving service for visitors and it costs US$0.25 per kilometer. However, self-driving tour is not recommended because the traffic condition is very poor.
Further Reading:
Mongolia Weather
Things to Do in Mongolia
Useful Travel Tips