How to Take a Train in Mongolia
Taking train is a convenient transportation in Mongolia, most of the trains have stops in major cities. We would like to offer some guidance on how to take a train in Mongolia and what needs to be prepared.
A Quick Guide on How to Get on The Train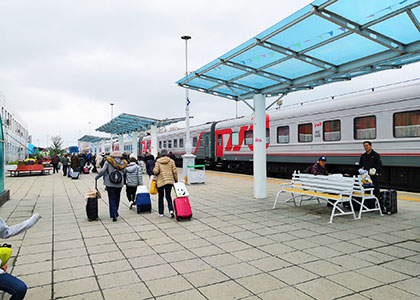 The platform of Ulaanbaatar train station
1.
Get your paper ticket in advance.
2.
Arrive at the train station at least 1 hour before the train departure time.
3.
There is no need to go into the waiting room, the platform is open to public and please get to the platform directly.
4.
Find your carriage No. and show your ticket to the staff and then board on the train.
5.
Find your seat and put your luggage well under the lower bunk or the luggage rack.
6.
Keep the ticket safe as it will be spot checked along the way.
7.
Show your ticket and then exit when you arrive at the destination.
Essential Preparation
•

Get a train ticket in advance

When travel to or pass by Mongolia by train, a paper ticket is required. It's better to book the ticket with an agency in advance to guarantee the availability. For How to Buy Train Ticket in Mongolia, please check our page.

Some domestic trains offer E ticket, but the E tickets can only be issued 7 days before the train departure time while the paper tickets can be issued two months in advance, and passenger who is holding an E ticket still needs to change it to paper one before boarding, so, E ticket is not practical.

For passengers who do not book a ticket in advance, they can buy tickets from the train station on the day if available.
•

Visa

Only a few countries are endowed with visa-free travel to Mongolia, so, travelers need to check this with the local embassy, a Tourist Visa is needed.

Since Mongolia is an important section for the Trans-Siberia train network, some passengers only pass by Mongolia and then head to China or Russian, then we suggest all passengers apply for the visas to China or Russian firstly and then apply for a transit visa for Mongolia, a transit visa is valid for 10 days.
•

Importance Notice

The visa must be valid at the time the train passes the boarder to that country. It's better to have the effective date of visa advanced one or two day.

Take the train K3 as an example, K3 will leave Beijing on Wednesday, and will arrive at Zamyn-Uud and Naushki on the following day, they are two boarder cities of Mongolia and Russian respectively, your visas to Mongolia and Russian should be valid at the time you arrive at the these two station.
Date




Stations




Arrival




Departure




Wednesday




Beijing




---




07:27




Thursday




Zamyn-Uud




01:25




02:40




Ulaanbaatar




14:35




15:22




Naushki




18:55




20:45




Monday




Moscow




13:58



---
•

Customs and Immigration

If you take Trans-Siberia train, you will pass the international frontiers in different countries. Do not like the immigration at the airport, passengers here do not need to queue up and get their passports and paperwork checked and stamped, the officials will get on the train to checked them, and some luggage will be spot checked on the train. The security at the Russian frontier is especially strict, but still, the officials will get on the train to process accordingly.

Under the whole process, passengers can sit on the train to read a book or just enjoy your time, in some cases, passengers can get off the train to stretch their legs, but maybe you are not allowed to get on the train until the whole process is finished, which may take about two hours or more, please get ready for what will be dressed and carried.

Border crossings will lengthen the stop reasonably for an average of three hours, the toilets will be locked during this period, and passengers need to anticipate this and make a plan.