Ulaanbaatar to Sukhbaatar Train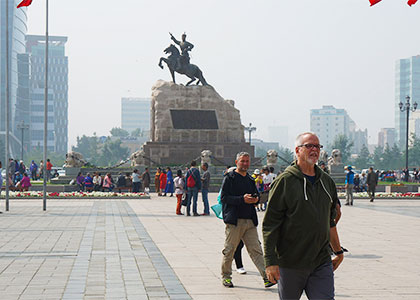 Chinggis Khaan Square, Ulaanbaatar
Ulaanbaatar, the largest and most essential city of Mongolia, has almost half of the total population of the country, therefore, it is no doubt the transportation hub of Mongolia. Sukhbaatar is the capital of Selenge aimags and the border with Russia, standing at the north-ends of Trans- Siberian route within Mongolia territory. Therefore, Ulaanbaatar to Sukhbaatar Train line plays and irreplaceable role in international trade between Mongolia and Russia.
Currently, there are 5 pairs of Ulaanbaatar to Sukhbaatar trains: train 271/272, 263/264, 305/306, 5/6 and train 3/4. Among these trains, only 271/272 and 263/264 run daily. Travelers are highly recommended to choose one of them for this trip. The other 3 pairs of trains are international trains to Russia, this trip is only a part of their journal. 305/306, the express train, runs 3 times a week to Irkutsk, 3/4 and 5/6 run once a week to Moscow. Considering the frequency and demands of tickets, travelers are not recommended to choose these international trains for a domestic routes.
Basic Information of Ulaanbaatar to Sukhbaatar Train
Construction Year: 1949
Running Distance: 379km
Duration: 6.5 to 9 hours
Along this rail line, trains can stop at up to 23 stops. Among them, Zuunkharaa and Darkhan are the two main stops. Trains usually stop for around 15min to 30min there, passengers could get off for a short break. For other small stopovers, trains only stop for around 2min only.
Ulaanbaatar to Sukhbaatar Train Schedule
(Last update on April 20, 2020)
| | | | | |
| --- | --- | --- | --- | --- |
| Train No. | Departure | Arrival | Duration | Operation Date |
| 263 | 20:35 | 04:36+ | 8h1m | Daily |
| 271 | 10:45 | 19:41 | 8h56m | Daily |
| 3 | 15:22 | 21:50 | 6h28m | Thursday |
| 5 | 15:22 | 21:50 | 6h28m | Friday |
| 305 | 15:22 | 21:50 | 6h28m | Tuesday, Saturday, Sunday |
Sukhbaatar to Ulaanbaatar Train Timetable
(Last update on April 20, 2020)
Train No.




Departure




Arrival




Duration




Operation Date




264




20:55




06:00+




9h5m




Daily



272

07:15




16:30




9h15m




Daily



4

00:14




06:45




6h31m




Sunda

y



6

00:14




06:45




6h31m




Satur

day



306

00:14




0

6

:

45




6h31m




Tuesday, Wednesday,Saturday



Note: The above timetable is for reference only. It can be adjusted by Railway Company on different date. The detailed time of trains is subject to issued tickets.
Ticket Fare of Ulaanbaatar to Sukhbaatar Train
(Last update on April 20, 2020)
Train




First Class




Second Class




Hard Sleeper




Hard Seat




263/264,

271/272



/

USD8




USD5




USD3




3/4, 5/6, 305/306



/
USD10
USD8
/
How to Get to Ulaanbaatar Station
From Genghis Khan Square:
Travelers can take bus No. T4 directly.
From Chinggis Khaan International Airport:
There is no direct bus from the airport to Ulaanbaatar Station. For convenience, it is recommended to take taxi. The taxi fare is around USD20. To transfer by bus, travelers may take bus No. 7 to Genghis Khan Square first and then change to bus T4 to reach railway station.
Sukhbaatar Station Information
Sukhbaatar, Selenge is a small town founded on 1940, compared with Ulaanbaatar, transportation is very simple. The train station is around 20min walking distance from downtown area. Hotels, banks/ATM and small restaurants can be find nearby for convenience of passengers to and entry from Russia.
Other Transportation: Ulaanbaatar – Sukhbaatar Long Distance Bus
Except rail service, travelers can also use Long Distance Bus service to transfer between the two cities. There is a daily bus at 11:30am from Dragon Bus Terminal to Sukhbaatar and also a bus at 8am daily from Sukhbaatar to Ulaanbaatar, Songinokhairkhan. The bus ticket price is 14,400 Mongolian (around USD6) Tugrik per person.