Mongolia Travel Guide
Basic Facts of Mongolia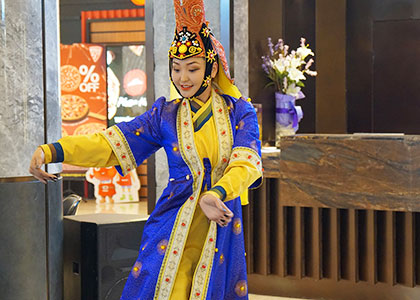 Mongolian Dnace

Location: sharing border with China on the south, east and west, and bounded Russia on the north

Area: 1,566,500 km² (604,830 sq. mi)

Population: 3.04 million (2016)

Language: Mongolian

Currency: MOT

Time Zone: UTC+8

Capital: Ulaanbaatar

Religion: Buddhism

Administrative Division: One capital city and 21 provinces namely Arkhangai, Bayan-Ölgii, Bayankhongor, Bulgan, Darkhan-Uul, Dornod, Dornogovi, Dundgovi, Govi-Altai, Govisümber, Khentii, Khovd, Khövsgöl, Ömnögovi, Orkhon, Övörkhangai, Selenge, Sükhbaatar, Töv, Uvs, Zavkhan.
Mongolia is the only landlocked country in East Asia. The word "Mongolia" means brave and simple. Beside endless grassland, ethnic activities, houses, and food featuring colorful national characteristics are also worth mentioning, such as the annual Nadam Fair, milky tea, koumiss, yurt, long-tune folk songs, and Morin khuur.

Ulaanbaatar is the most popular tourist city of the country with many enjoyable attractions such as Ganden Monastery, Gorkhi-Terelj National Park, National Museum of Mongolian, and Chinggis Khaan Square. In addition, you can also have fun listening to the melody 'played' by wind and sand at Khongor Sand Dunes, viewing the flaming cliffs of Bayanzag, or attending the grand Nadam Fair.
| | |
| --- | --- |
| Flaming Cliffs on Gobi Desert | Naadam Festival: Mongolia archery |
The best time to travel in Mongolia is early July. Travelers can get the best Mongolia tours during this period. Most part of the country has a continental temporary grassland climate with a long stormy winter as well as a short summer with large temperature difference between day and night. The average temperature often ranges from 9? to 22? in summer and -8? to -20? in winter. Rainfall is concentrated in July and August but is generally low throughout the year. Tourists who take Mongolia travel tours should bring long sleeves and coat in summer and thick clothes in winter.
3-Day Weather Forecast of Major Cities
Read More: Mongolia weather Ulaanbaatar weather
Chinggis Khaan International Airport is the largest airport in Mongolia which operates international flights to and from Beijing, Hohhot, Osaka, Tokyo, Seoul, Berlin, Moscow, and Irkutsk. International trains are available to get to the country from either China or Russia.

The country does not have public transportation system but rely on vans and Jeeps instead.
Read More about Mongolian Train
1. Tourists must follow the local rules and respect the customs.
2. As Mongolia has a unique climate, tourists may need to take some time adjusting to the local weather and other natural conditions, so advance preparation is necessary in case of any need such as sun-proof cream, heatstroke pills, stomach medicines, and jackets.
3. When traveling, you cannot miss some best Mongolia souvenirs like woolen products or cashmere, Morin Khuur - Horsehead Fiddle, silver cutleries, organic skin care products...
Read More: Mongolia Tourist Visa
History
In the 13th century, a tribal leader called Temujin unified Mongolia and occupied China. From 1236 to 1237, the successor to Temujin dispatched a troop of 150,000 people to invade East Europe and set up the largest empire in the world, but its rule ended in 1368 due to continuous resistance of people under the Mongolian rule. Afterwards, Mongolia was a part of the territory of the Ming and Qing dynasties, but gained its independence as a constitutional monarchy until 1921. People's revolutionary army overthrew the ruling of royal court in 1924 and established the Mongolian People's Republic.
Geographical Features
Hilly regions are common in the western, northern, and central areas of the country, with an average altitude of 1,580m (5,185 ft). The Friendship Peak on the border of Mongolia and China is the highest peak of the country of 4,653m (15,265ft) above the sea level. Eastern region is featured of plains while the Gobi desert in the south covers 1/3 of the whole area of the country. There are over 3,000 lakes and more than 1,200 rivers among the vast land, including Uvs Lake, Selenga River, and Kherlen River.