Ulaanbaatar to Zamiin-Uud Train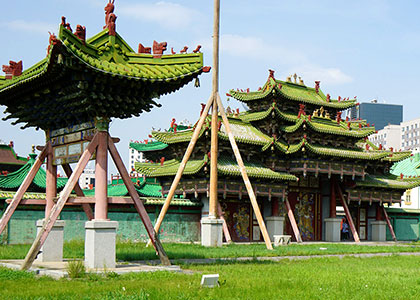 Bogd Khaan Museum, Ulaanbaatar
Being the two big cities in Mongolia, Ulaanbaatar and Zamiin-Uud are popular among tourists. The train has a daily departure, and it takes about 14.5 hours by train.
Ulaanbaatar is definitely the political and economic center of the whole country, and it is the starting and terminal station of all domestic trains. It also connects all Trans-Siberian from China to Russian.
Zamiin-Uud means the gate of the road, it is a city locating at southeast of Mongolia, which boarders Mongolia and China. The distance between Ulaanbaatar - Zamiin-Uud is 550km, but it is only 7km away from the border city Erlian in China. In the early days, it was an important business line linking two countries. Mongolia built a free trade zone here in 2004, even in these days, it still play an important role for business and travel. For trans-Mongolia trains between Mongolia and China, all of them need to change the wheels at Zamiin-Uud to meet the standard of different countries that they are heading to.
Basic Information of Ulaanbaatar to Zamyn-Uud Train
Running Distance: 606km
Running hour: 14.5h
The train will pass by 19 stations along the way, the two biggest stops are Choir and Sainshand, if passengers want to get off the train to have a release or buy some items on the platform, you can ask the train staff how long the train can stop and then take your time.
Ulaanbaatar to Zamyn-Uud Train Schedule
(Last Update on May 05, 2020)
Train No.




Stations

Arrival



Departure
Duration
276

Ulaanbaatar

---
17:15
16h

Choir



21:45
22:03

Sainshand



01:48
02:30

Zamyn-Uud



09:15 +1
----
Zamyn-Uud to Ulaanbaatar Train Schedule
(Last Update on May 05, 2020)
Train No.



Stations
Arrival
Departure
Duration
275


Zamyn-Uud



---
18:05
16h40m


Sainshand



23:05
23:45

Choir



03:55
04:15

Ulaanbaatar




(Ulan Bator)



08:45 +1
---
Note: The train schedules and their stopover information is only for reference only. They can be adjusted by official and the information is slightly different every day.
Ticket Price on Ulaanbaatar to Zamyn-Uud Train
Note: 2nd class is the hard sleeper cabin, 2 lower and 2 upper berths in both sides but without a door.
How to Go to Ulaanbaatar Train Station
The public bus No. 6, 176, 27, T4, 42, 17A, 46 and 52 can take you to the train station. But all bus stations are marked by Mongolia language, the best way is to take a taxi instead.
Among those public buses, the bus 6 and 42 can take passengers to Dragon Bus Terminal, and T4 can get to Genghis Khan square, which is most famous and central part of Ulaanbaatar.
The Transporation in Zamyn-Uud
Taxis are limited and hard to get, some locals offer transfer service with their car or tricycles, but few people understand or speak English, please write down your destination and talk about the price with the driver in advance.
The Other Transportation between Ulaanbaatar to Zamyn-Uud
1. Take the long distance buses at the international bus station, the buses have a dailay departure at 10am and 1pm, the bus ride takes about 10 hours.
2. Carpool with some other locals or guests, but it's better to get an agreed price before getting on the car.