Mongolia Tourist Visa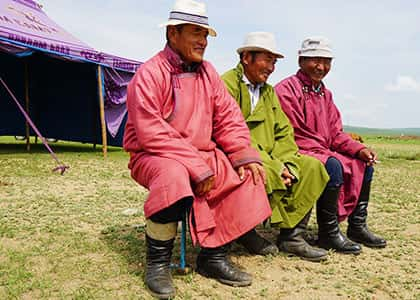 Mongolian People
Before making your trip, you need to make sure you have all required travel document and paperwork done. This is always the note No. 1 on your agenda, otherwise, you may find you are not allowed for entry but with all tickets and hotel pre-booked.
For most travelers, visa of appropriate types must be obtained in advance before entry corresponding to the purpose of their visit. Travelers from some countries which have visa exemption agreements with Mongolia can visit without visa if staying within Mongolia territory under a certain period of time. Please check the details of visa-free countries here:
List of Visa-free Countries to Mongolia
How to Apply a Mongolia Tourist Visa?
Nationals of countries excluded in the list above or will stay beyond the certain period of time need to apply for a Mongolia tourist visa. There are mainly two ways of getting a Mongolia tourist visa. First, you can submit application at a nearest Mongolian embassy or consulate in person. Second, you can use a travel agency for visa service. Usually travel agency can help with this application if you booked a tour. You can check the name and address of embassies and consulates abroad here:
Mongolian Embassy Abroad
What Do You Need for Mongolia Tourist Visa Application?
Generally speaking, for Mongolia tourist visa, you need to prepare below documents:
1. Completed application form; you can check the sample of application form here:
Visa Application Form
2. Passport in original (must be valid for a minimum of six months before your intended travel to Mongolia)
3. 3.5x4.5cm photo (the size of the photo is mandatory)
4. A copy of hotel booking or accommodation information in Mongolia
5. A copy of flight/train tickets
6. Proof of sufficient funds, i.e. bank statements for the recent six months (if necessary)
7. The visa fee is to be paid upon submission of application. The fee various according to the visa type, single/double/multiple entries etc. The fee is non-refundable.
8. Invitation Letters or Permission Letters is required for travelers from some countries. It is advised to contact a Mongolian Diplomatic Mission to double check it.
Notice: 1. Visa officer may require you to submit additional documents in order for you to prove the purpose of your visit.
2. Normally it takes around a week (exclude weekends and holidays) for visa issuing. Please apply your visa early in time. Expedited visa can be offered with extra costs at some embassies and consulates. Please contact the nearest Mongolian diplomatic mission for more information.
3. For regular tourist visa you may stay up to 30 days in Mongolia. It may be extended for a further 30 days at the Immigration Agency of Mongolia if you apply for an extension not less than 4 days before the duration of your visa expires.
4. If you will need to stay more than 30 days in Mongolia must register with the Immigration Agency of Mongolia in Ulaanbaatar or its local branches within 7 business days after arriving in Mongolia. There will be a fee for this application.
Mongolia Visa on Arrival
Travelers for tourist purpose coming from European countries where there is no Mongolian diplomatic presence are eligible to obtain on-arrival visa at the airport in Ulaanbaatar. Please kindly notice that visa on arrival can only be applied at Chinggis Khaan International Airport when you land by international flight. For travelers who will travel by rail or other ways, it cannot be used.
Transit visa can also be applied at Mongolian borders if the applicant is coming from European countries where there is no Mongolian diplomatic presence and has an onward flight/train ticket or obtained a visa if applicable, of the country he or she plans to visit immediately after Mongolia. Transit visa allows for a stay up to 10 days in Mongolia. However, it is totally not recommended to apply a transit visa on arrival which is very rare and very risky. Different border points could have different policy about it. There is very large chance the application will be rejected and even a high penalty as well as a bad credit on your record. Please avoid this option if you have any other choice.
Traveling by International Trains to Russia and China
Travelers who will travel internationally by train to Russia or China will need to apply visas of Russia or China in advance too.
For Russia: There is generally 3 steps to get a Russian visa. First, you need an invitation letter which is also called visa support letter to apply for a visa to Russia. Second, once getting your invitation letter, you can fill out the application form on the Ministry of Foreign Affairs website. Fibally, with necessary documents including passport, two passport sized photos and Consulate-Specific Documents: Health Insurance, Letters of Employer, etc. you can submit the application form at a Russia embassy or consulate.
For China: Although China has visa-free transit policies, none of them support traveling by international trains from or to Mongolia. Most travelers to China need to apply a visa in advance before arrival. It is easier to do it in your country instead of at a third country. You would also need to complete an application with photo taken recently. Other document including a valid passport, booking record of ticket in and out of China, a hotel confirmation, or an invitation letter may needed too. You can then submit them to the Chinese embassy or consulate which is in charge of your residence area.