How to Buy Mongolia Train Tickets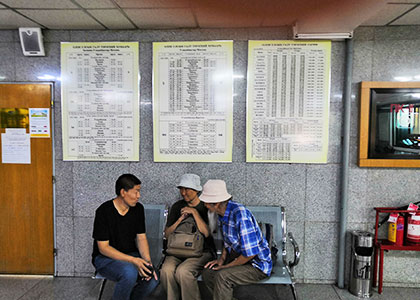 A Corner in Ulaanbaatar Train Station
Mainly, there are three ways to buy Mongolia train tickets:
1. Book the tickets with a travel agency www.Agatetravel.com, passengers can make a booking at the earliest possible time to guaranteed the availability.

2. Purchase train tickets at Ulaanbaatar train station. The train staff there do not understand or speak English, there will be a language barrier.

3. Purchase tickets from Mongolia official website www.ubtz.mn, all information is in Mongolian language. If passengers prefer to buy tickets online, finding a person who is good at Mongolian luggage is recommended.

Hereunder we would like to make a detailed instruction about Mongolia train tickets booking.


1)

Booking with Agatetravel.com, Quick Booking Procedure and Best Value for Money
Booking with an agency is the best choice for non-Mongolian speakers. The tickets can be booked two months in advance but Agatetravel.com accept earlier bookings without any limitation. Besides, the train ticket office and the Mongolia official train ticket booking website only accept payment by Mongolian bank card, which prevents the most of the foreigners from purchasing tickets online.



Agatetravel.com Offers Excellent Service for All Guests
• Quick search and easy booking procedure. The train search system includes the main important destinations for Mongolia domestic trains and the Trans-Siberia trains, passengers can search the train schedules and book online, take all the hassle out of the whole process.

• Various payment methods. We accept payment by PayPal, credit card, Wechat Pay and Alipay. For passengers who would like to use their credit card, they can pay through PayPal even they do not have a PayPal account, PayPal accept most of the credit cards and it is an insist payment way.

• Prompt confirmation. Agatetravel.com will make the booking at the earliest releasing date to guarantee the availability. The tickets can be sold out quickly during the high season when the grassland is lush and the Gobi desert is vigorous, especially for Trans-Siberia routes around Nadam Festival. It will be a release if you have your train tickets confirmed.

• Door to door delivery service. We issued the tickets and will deliver them to your appoint hotel/ personal address before your check in date.

• Professional English-Speaking booking operators take care of your bookings.

• Agatetravel.com guarantee the adjacent seats/berth for a family or a party. Train tickets on some hot lines will be under great demand, one party may get seats/ berths in different area or carriage. Making an advanced booking with us, our representative in Mongolia can buy tickets altogether for a group.


Some Popular Routes:
Ulaanbaatar - Zamiin-Uud
Ulaanbaatar – Sukhbaatar
Ulaanbaatar – Ulan Ude - Irkutsk
Ulaanbaatar – Moscow
Ulaanbaatar –Beijing
Ulaanbaatar - Hohhot
2) Purchase Mongolia Train Tickets at Stations
Train tickets can be purchased at the train station. If you are in Ulaanbaatar train station, all domestic train tickets are sold at the first floor, while all international tickets are sold on the second floor. Due to the language barrier, foreigners need to prepare or write down the departure and arrival stations, preferred departure date, ext. to make the purchase easier. And some trains do not have a daily departure, please make sure the availability of train on your preferred date. To book a ticket, passenger's passport is required.

The train station only accept cash payment in Mongolia Tugrik and Mongolia bank card, the banks nearby the train station offer currency change service.


3) Purchase Mongolia Train Tickets from Official Website
The Mongolia train ticket official website is with Mongolian luggage and the system is not stable, this system is seldom used even by the locals. For domestic trains, passengers can show E ticket information to board on the train. But the real paper ticket is required for international journey.


Kind Reminder
Please keep your ticket safe, once it is lost, then passengers will have to purchase a new tickets, the lost one is not allowed to be replaced.