Your Ultimate Guide to Indian Train Classes / Types
Tourists visiting India for the first time will struggle with the train classes before booking. India has some of the largest crowd who travel through trains for the nearest and the farthest corners of the country. No matter what your purpose of travel is, whether you want to travel to witness the scenic beauty through the window, or to get an experience of the railways of India, the train journey will always be a perfect option. You can make a better decision if you know some of the Indian train classes. It's not that confusing after all; the sections in Indian trains can be divided into eight classes, take a look.
1. Unreserved General Class (UR)
This Indian train type has reached new heights when it comes to being overcrowded. You will get a free body massage if you are traveling in this section. Oh no, not in a literal sense, but because you will be closely knit with the other person standing next to you, rather standing on your feet. Expect wooden benches, where you will be able to barely stand or sit (if you are lucky), you will find many people sleeping in a small space right in front of your eyes. Don't envy, they are a regular.

Pro tips: Don't consider the unreserved class for long-distance travel.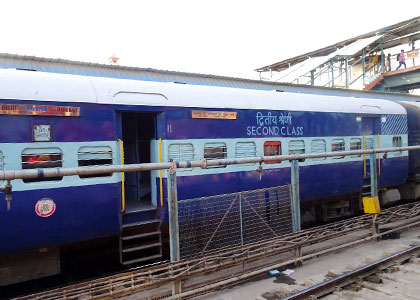 Second Class Train
2. Second Class (2S)
This second class Indian train type will require reservations for sure. Remember the codes used for different sections, you will find it easy to make the booking. No matter how much you're paying, the seats of the second class don't recline. Though, the seats are comfy with cushioned benches and you will have the luxury of sitting on one single seat, unlike the unreserved section.

Pro tips: Expect people with no reservations to show up and capture your leg space.
3. Sleeper Class (SL)
Prepare yourself to rest in an open-plan compartment, and yes, they have some legroom, if that's what you are thinking. Many middle-class Indians who were fans of SL have now taken 3AS as their BAE. Wondering why? Because people from the general class will self-invite themselves to the sleeper class carriage. You will find fans to take off the heat and Indian, as well as the western toilets.

Pro tips: Even though it's called a sleeper class, it will be next to impossible to sleep because of the noise and hot temperature.
4. Three Tier Air Conditioned Class (3AC)
This section can be a fair upgrade due to the addition of AC. You won't find unnecessary faces and you will find peace and comfort. The compartments are made in a similar manner as the sleeper class except for the windows that have a glass instead of iron bars. The surprise of the entire journey in this class will be unfolded when you will find proper bedding and you will also be handed with towels.

Pro Tips: Privacy still lacks in this compartment.
| | |
| --- | --- |
| Three Tier Air Conditioned Class | Two Tier Air Conditioned Class |
5. Two Tier Air Conditioned Class (2AC)
The 2AC section of the Indian trains is mostly traveled by the upper-class travelers. Each compartment consists of 4 beds and it's much more comfortable than the other previous sections of the train. You will find a good leg space and a peaceful environment. Unlike other classes, people who love sleeping will find a perfect environment for that.

Pro tips: Rejoice, you get a privacy curtain across each of the beds.
6. First Class Air Conditioned (1AC)
Hail the elite travelers. The first class is often reserved by the ones who cannot compromise with their comfort. The cost is double of the 2AC, you will get doors with lockers, and vertically stacked beds. The comfort level considering a train compartment goes off the radar. You will find room freshener, towels, pillow, and sheets to sleep peacefully without disturbance. Couples mostly prefer two-bed compartments.

Pro tips: You will not crave for shower cubical and clean bathrooms because they are already available.
| | |
| --- | --- |
| First Class Air Conditioned | Two-bed Compartments in 1AC |
7. Executive Air Conditioned Chair Car (1A)
This Indian train class is found only in Shatabdi Express trains. These are premium superfast trains that only run between a few major cities like Delhi, Kolkata, Jaipur, and Agra. If it's hard for you to relate, then just imagine the executive class as the Railway version of business class inthe Airlines. You will be blessed with excellent legroom, nice seats, proper food, and luggage space.

Pro tips: You won't shrink your nose or frown after seeing the unnecessary crowd; it's clean and very well-maintained.
8. Air Conditioned Chair Car (CC)
This kind of compartment is found in railways that are mostly designed to cover shorter distances. This section is comparatively more crowded than the executive class and has three seats on one side of the aisle and two on the other side.

Pro tips: You will not have to worry about the reclining seats; a lot of overhead space to keep the luggage is available.
Well, these Indian train classes are not so confusing after all. Once you travel or even try to make the booking, you will understand the segregations. Book the required classes that you think will be appropriate for your need. If you are looking for a suggestion, then here's one. Travel in the second class of the train, if you want to experience unusual things and don't forget to take a local friend along who can translate the visual activities for you. Here's a small glimpse for you, you will see women fighting over a seat, men trying to fit into a small space, people carrying goods, and most of all hawkers selling hot snacks. You can always try a few things out of your itinerary list because sometimes you make better memories by doing things out of the ordinary.
Indian railways can help you experience the heart and soul of this subcontinent. Just make sure to select a suitable train class, and you are good to go. Now that you have a complete idea about the Indian train classes, make your own decision to travel in the compartments that will give you a better exposure to the journey of India.
Read More:
6 Steps on How to Take an Indian Train