What to Buy in Egypt
Do tall pyramids, pharaohs, ancient monuments, old relics, and mummies remind you of EGYPT? Of course, the words itself take you back in history. If you love exploring ancient monuments, and world heritage, then you will enjoy wondering around in the dusty Egyptian bazaars, drinking in the details of the lost ancient Egyptian era.
Read More: 7 Famous Places in Egypt Special Drinks in Egypt
Around all the mesmerizing things in Egypt, a traveler is bound to get confused about what to buy in Egypt as a souvenir. Wouldn't you be confused? Exactly! This post will not only help you clear those second thoughts about buying things from the enchanting bazaars, but will also help you select the very best things to take home.
6 Things you should take home from Egypt
1. Mini Pyramids
Every country has a defining symbol and as far as Egypt is concerned, it is the pyramids. The great Pyramids of Giza is one of the most visited attractions in Egypt and the only surviving wonder in the ancient world. There are one of the most popular things travelers run towards after visiting Egypt. You will find mini replicas, and miniature complexes in the market, and there are two other smaller pyramids called the pyramid of Khafre and the pyramid of Menkaure. These souvenirs are the best things to take home.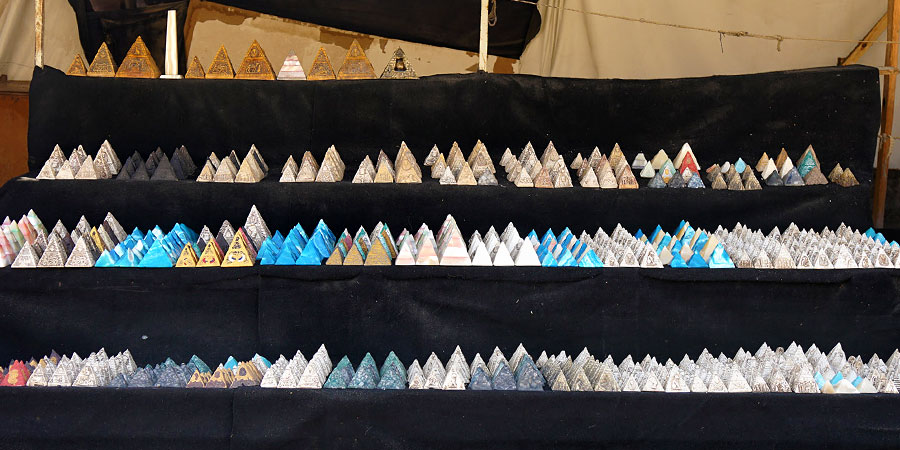 Egypt Souvenirs - Beautiful Mini Pyramids
2. Scarab
The Scarab is the amulets in the shape of dung beetles, and the ancient Egyptians use to wear the Scarab beetle as a symbol of religious significance to a particular ancient religion. Today, it is one of the most celebrated souvenirs that tourists consider buying. The piece of Scarab beetle can be found in various shapes and sizes, made with different materials. Some look better than the other does when engraved with Hieroglyphic alphabet. These bracelets and necklaces are quite famous and you will often find tourists strolling the market wearing them.
3. Egyptian Jalabeya
If you love wearing the traditional outfits of Egypt, then buying a Jalebeya is necessary. It is a traditional outfit in Egypt, which is made of loose fabric, much similar to a dress. It is easily available for both men and women. However, you will not find many locals wearing this outfit, but it is an amazing souvenir to take back home. Out of countless things to buy in Egypt, you will get many options for this item. The designs and fabrics are different in various places; some are colorful while others remain black with plain embroidery.
| | |
| --- | --- |
| Egyptian Jalabeya | Egypt Leather Slippers |
4. Leather slippers
You will often find lines of handmade leather slippers in the bazaar shelves. Tourists love these slippers and it is one of the best things on the list of "What to Buy" in Egypt. They are available in different colors, and a special touch instantly ranks them in the souvenirs list. The designs of these slippers are mostly plain, but the Egyptian pharaonic symbols make them valuable and worthy enough to represent the ancient history and culture of Egypt.
5. Glass sand bottles
You must have seen sand souvenirs in other countries around the globe because it is just so common. However, Egypt has a completely different vibe about glass sand bottles; the glass is filled with white or colored sand from the deserts of Egypt to make it into a sand clock, showpieces, and other items. The most popular cities to find glass bottles are Luxon, Aswan, Dahab. Out of all the things to buy in Egypt, this item never loses its charm as it holds a part of its land in the item itself. The sparkling sand will only remind you of the ancient place you once visited.
Read More: Shopping in Aswan - Where & What to Buy
6. Perfumes
Egypt is also known for its fragrances. The earthy, musty smell that floats around will engulf the senses in the bazaars. There are many shops outside the Giza that sell perfumes, so that you will not only get to buy the perfume but also get to know the sources of its existence. The pricing is often under budget, and mesmerizing bottles of perfumes makes a great gift item for a loved one.
Read More: What to Buy in Cairo
Where to shop in Egypt?
To give you a head start before you finally decide on what to buy in Egypt, you must know that the largest and most famous market in Egypt is the Khan El Khalili Market, based in the Hussein District in Cairo. You will be amazed to know that the place is around 500-years old, the maze of streets, old stores, lanes, and other surrounding attractions found are one of the most famous shopping destinations for tourists in the world.
Read More: Top 6 Markets in Egypt Shopping in Egypt
Final Thoughts
Hope these six selective things to buy in Egypt have helped you decide your purchase. Visiting any country is always exciting but shopping in the open market and living in all the history and culture of the place is a different story altogether. Also, if you ever come across pushy salespersons, just ignore them and try to explore yourself. It is not easy to know the fair pricing of the items but you have all the right to haggle and do not ever feel pressured to buy things you do not want to.
In the form of souvenirs and things you buy from the local shops, they help you to touch the memories of Egypt. Years later when you pick them up, it will refresh the hustle you experienced years back.