What to Buy in Cairo
What to Buy in Cairo? A big part of any tourist experience is shopping, and your Cairo tour cannot be complete without splurging in the local delights. Shopping is not only therapeutic, but also helps you uncover the local culture and helps in uplifting the local economy.
With Egypt being the home to magnificent city, home to some of the most stunning structure of the ancient world, a little splurge is always accepted.
See also Shopping in Cairo What to Buy in Egypt
Here are some of the things you can add to your what to buy in Cairo shopping list:
1. Mini Pyramids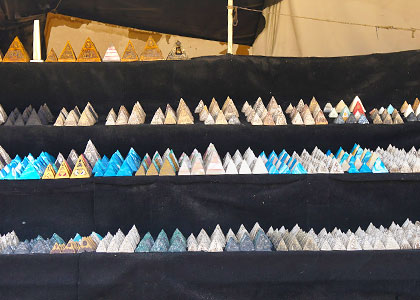 Mini Pyramids, Cairo Shopping

What is it? Miniature model of pyramids

Where to get it? Easily available in the local shops and the Giza Necropolis
Well, you came to Egypt to watch the pyramids – up close and personal – so getting yourself a miniature model of the monument is always expected. These mini models created by locals, so your shopping can help the local artisans in getting a better life.
Remember, the seller is expecting you to bargain and so will initially hike the price by 50% or more. Argue and haggle till you and the seller reach at a sweeter deal.
2. Scarab Amulets

What is it? Replica of the amulets worn by the ancient Egyptians

Where to get it? Souvenir shops at Old Market
Next on the list of what to buy in Cairo is Scarab Amulets. In the ancient Egypt, people wore amulets shaped as scarab beetles (dung beetles) for protection against malevolent spirits. Today, there are no such sentiments associated with these amulets when tourists pick them up from the local souvenir shops. Available in different colors, shapes and designs, many Scarab amulets are engraved with Hieroglyphic reliefs. While men prefer Scarab Amulets bracelets, women frequently pick up necklaces of the same.
3. Papyrus Scroll

What is it? Replica of the scrolls used in ancient Egypt

Where to buy it? Giza Necropolis or Sharia Khayamiya Market
One of the most frequently bought souvenir in Egypt are papyrus scrolls. These are the replica of the original papyrus scrolls used by the ancient Egyptians. Found in different shapes and sizes, these souvenirs come with stunning hierographic reliefs retelling different stories from ancient Egypt.
4. Geometric Jewelry Boxes

What is it? Arabesque-style cases

Where to buy it?
Khan El Khalili Market
Another thing you need to include in what to buy in Cairo list are these jewelry boxes in geometric patterns. The arabesque-style cases are very popular among the locals as well as tourists, and often could be seen on display in multiple shops within the city.
5. Cartouche

What is it? Hieroglyphic Name tags

Where to buy it? Souvenir shops in Giza
The cartouche (or kar-toosh) is a horizontal name tag with Hieroglyphic alphabets. During the reign of Pharaoh Sneferu, these tags were worn by locals and royals. Nowadays, you can get these tags in stone or alabaster – with the Hieroglyphic motifs – on a silver necklace. You can customize the pieces according to your choice. A perfect gift for taking back home.
Apart from this, you can add the following in your what to buy in Cairo list:
• Canopic jar
• Alabaster vases
• Traditional hats
• Glass sand bottles