Top 6 Markets in Egypt for Authentic Artifacts
The world is fascinated with ancient Egypt, their culture, tradition and history. Any exhibition that displays the mysteries of this ancient era attracts countless people to stand in long lines to capture the glimpse. So imagine the excitement of tourists roaming the markets in Egypt to shop for artifacts. It will be a different level of satisfaction. There are countless ancient Egyptian artifacts in museums around the world; however, you can easily start your own collection by collecting important pieces of Egyptian artifacts.
It is one of the oldest market and famous for artifacts and souvenirs. This market is centuries-old in the interiors side of the old city of Cairo and is a must-visit for all those with a shopping bug for artifacts and coins. Even if you are doing it for a friend or helping your loved one, you can just walk around this market to experience this beautiful Arab city's hustle and bustle, it's oozing with stories and ancient vibe of the lost era.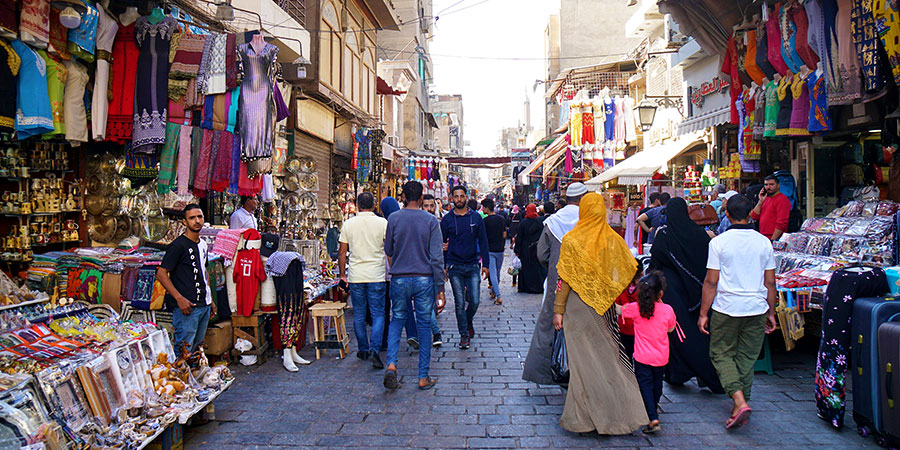 Khan Al Khalili - Famous for Artifacts and Souvenirs
Read more about Shopping in Cairo
• Aswan Souk
This is one of the most beautiful outdoor markets in Aswan. A popular square for tourists and the natives alike, it is located in Egypt's southernmost city. You will be surprised to see that this souk retains all the features and characteristics of a millennia-old crossroads on its trade routes between Africa and the Mediterranean world. Day by day this old market place attracts more and more artifacts lovers. The market offers artifacts to spices at a good price; however, you will have to search for the authentic shops by yourself.
Read more about Shopping in Aswan - Where & What to Buy
• Souq El Ataba

This incredible Cairo market has a lot to do for its tourists, with various choices at the best price. Different styles of antiques, jewelry, shoes, clothing, handmade crafts, etc. are available here. For anyone visiting for the first time, this market in Egypt ought to be on the list because there is something for every visitor in this market. You will not have to worry about shopping in Egypt for souvenirs after you visit their market place.
• Han El Halili

This is another one of the most popular markets in Egypt, this incredible market offers its fellow tourists a multitude of choices. Here one can purchase books and agendas in various sizes. If you want, it is possible to engrave your name with gold gilding on the book. There are also gift stores, souvenir shops, and antique-selling shops. These antique shops are more than a decade old and sells only the very authentic and ancient Egyptian artifacts.

Han El Halili - Gift and Antique-selling Shops
• Luxor Market
Located in Luxor Center, this beautiful market offers items like deity statues, scarves, music CD's, gold, silver, shoes, and spices. The entrance is the most interesting thing because the structure resembles a gate that leads to a medieval castle. All the shops here have signs that suit. Leather goods, antiques, papyrus, and postcards are also on sale here. However, you might need many haggling skills in order to buy things at a cheap price.
• Sharia El Souk
If you want a quiet and sophisticated market place, then visit this one of the less-crowded markets in Egypt. It sits parallel to the beautiful Nile River, which is why it is frequently visited by people who love peaceful and quiet environments while shopping. The quietness makes the shopping experience good here and one can buy items like food, clothes, antiques, etc. However, the prices are often too high due to the posh location.
What artifacts to buy in Egypt?
Even after finding the right place to buy artifacts, chances are you will be confused in selecting the right items; here is a list of things you can remember to the shopping in order.
• Amulets
• Coins
• Jewelry
• Coptic
• Masks
• Funerary
• Cartonnage fragments
• Mummified artifacts
• Panels and plagues
• Scarabs
• Ushabits
• Vessels
• Statues and fragments
• Wall fragments
Most of the artifacts maniacs know that King Tutankhamen's solid gold death mask is among the most widely recognized Egyptian artefacts, but it also buried in the common personal possessions. Masks were placed over the mummies face to help them get through their afterlife and to recognize them when they meet. It is a strange belief, but it is not the only one, there are many stories, which is associated with the mummies.
Read More: What to Buy in Egypt
Tips for Artifacts Shoppers
Recognizing an authentic artifact is no joke, Even a skilled expert gets fooled. However, with the advancement of technology, the museums and shops have started providing proof for their discovery and items. Here are some tips to consider when purchasing antiques:
• Avoid auctioning online when you have already done business with the dealer.
• Visit the museums and check out antique paintings. There is nothing like seeing the original to help train your eye to bad fakes, even though you can do nothing with well-made fakes.
• Authenticity Certificates mean nothing. You will have to ask for proof of origin-who owned the piece, and where it was. It is very much possible that you could be illegally buying something, without knowing it.
These tips will help you recognize the fake and stay away from fraud antiques and their dealers.