Backpacking in Egypt
Egypt
might be one of the most travelled destinations in the world and tourists have this unspeakable love with this place, and if you happen to ask a backpacker about their view, you will be surprised because they have a completely different level of hype for backpacking in Egypt. Yes, tourists love Egypt and backpacking in various places of this country, however, it is often difficult to put down the right itinerary in order to have successful backpacking. Let us begin with the right time to visit Egypt that is best suited for backpacking.
Best Time to Backpack in Egypt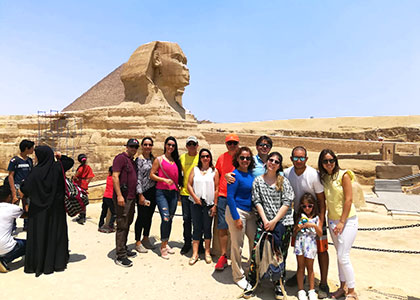 Backpacking in Egypt
The months between spring and autumn are the most preferred time for backpacking in Egypt. The places in terms of accommodation, transportation and prices are affordable. Egypt is famous for having the most scorching sun during the day you must have known and you love sunbathing, then it's a jackpot. However, the nights are chilly and you may need to wear some layers. Also, the months between these seasons usually don't have any religious holidays, so you're good.
What to Carry for Backpacking
It's another thing to be a lightweight traveler, and a completely different thing to decide to backpack. To contrast the statement, you can be both, but there is always a certain rule. You have to be smart to pack when you are going backpacking in Egypt. Here are some selected things you should not miss to pack:
• Breathable shoes
• Comfortable hiking shoes
• Outer jacket
• Swimming suits
• Camera
• Power bank
• Water bottle
• Universal adapter
• Light backpack
• Popular backpacking routes
After knowing what to pack, let us give you some popular routes that for backpacking that might interest you.
· Backpacking: Aswan, Abu Simbel, and the Nile River
This backpacking route is one of the most popular ones, and the most exciting way to visit Aswan, Abu Simbel along the Nile River is through a boat. You can hire some affordable felucca boat and get across the river or cruise around the Nile. The place is also famous for getting maximum backpacker throughout the year.
| | |
| --- | --- |
| Abu Simbel Temple | Felucca on Nile River |
· Backpacking in Luxor
Luxor has the largest open-air museum; you will love every bit of history in this place because the city is oozing with past and archeological sites. If you love exploring ancient history, then you will backpack in Luxor. This location also has some incredible sites like Luxor temple, Karnak temple and more.

Karnak Temple in Luxor
· Backpacking in Marsa Alam
If you want to try diving, then this location is closest to the south-coast dive site. Remember to backpack in this area as the location will give you the opportunity to dive without joining a live boat. Marsa Alam is mostly for people who are willing to experience the raw and rustic Egypt around the coast.
· Backpacking in Dahab
This place is the hub for travelers, and you will bump into a lot of them when you are visiting Dahab. This is the backpack town in the Red Sea (See
Things to Do in the Red Sea
) and most preferred for people who want to spend a couple of weeks in peace. You will enjoy the Scuba diving, free diving to further south because Dahab has some of the best diving sites.
· Backpacking in Sharm el-Sheikh
This location has a European vacation package and some of the more incredible diving sites, this place is close to the southern tip of Sinai and borders the famous Ras Mohammed National Park. This location has resorts and it will be a luxurious experience around a level up set up.
Getting around Egypt
It really depends on what kind of budget you are on if you are willing to hire a taxi or take a subway. Public transport can be a little unreliable in Egypt. Since it's a small country, you won't face trouble getting around Egypt.
See also Egypt Transportation
Flying in Egypt
Flying is the easiest and fastest way to travel in Egypt provided with how much time and money you are willing to invest in travelling. The domestic flights are quite convenient and a little expensive.
Estimated- Depends on where you want to travel but it can overpower your budget by a few pounds.
Buses in Egypt

Trains in Egypt
This is a perfect model of transportation if have limited your spending. Also, it is more backpack friendly and inexpensive to move around the country. If you are travelling through the Mediterranean Coast or the Western Desert, then it is suggested you book your bus tickets online to save time.
Estimated- A One-way ticket cost around 1 Egyptian pound (around $0.11), you can buy at the booth or book online.
Trains in Egypt
Trains are a thing in Egypt, it has some of the most connected routes in the country. You can find some trains from Cairo to Aswan, and Cairo to Alexandria. So you can select however you want.
Estimated- The fare is different for sleeper trains and day train, you might want to check their official website for the exact fare.
Read more about Train Travel in Egypt
Backpacking Tips in Egypt
There are few things that you need to keep in mind backpacking in Egypt, we prepared some of the pro tips to give you a brief idea about the things to keep in mind when you hit the backpacking routes in Egypt.
• Consider the time of visiting Egypt for backpacking.
• Keep your visa handy. See
Egypt Visa
• Buy an Arabic phrasebook for communicating with the locals. See
Language in Egypt
• Carry your own toilet paper.
• Bring a good insect repellent.
• Make sure you're visiting the temples.
• Try the excellent street food. See
Top 10 Egypt Street Food
• Try the Hookah in one of the street corners.
• Take train transportation to move around.
• You will see cats everywhere, so hope you don't have a cat allergy.
• Money transaction is easy and ATMs are convenient. See
Currency in Egypt
• Travel through metro for budget transportation.
There are a lot of other factors to consider when you are planning to backpack in Egypt. There is civil unrest, terrorism, travel issues, and other problems, but the good news is, most of the backpacking routes are safe to travel.
By now you already know that Egypt is more than pyramids and delicious Middle Eastern cuisines. Egypt is about brilliant travel locations and backpacking under the open sky, the people are friendly, trekking routes are dreamy, beaches are to die for, and food will absolutely make you speechless. Along with the good things, Egypt has its dark sides in the face of pollution, police check-points, dusty street corners and scams, but once you stick to the plan for backpacking in Egypt, you will be good to go.
You May Like:
Is It Safe to Travel to Egypt?
An Ultimate Guide for Nile Cruise