Top 11 Places for Street Food in Jaipur, Best Snacks to Try
The tradition and culture of a place are well defined in its cuisine. Trip to Jaipur is incomplete without tasting its delicacies. There is more to Jaipur than just forts, palaces, and monuments. The residents of Jaipur have carried forward the legacy and stayed true to their roots. The culture of Jaipur is so rich that, you can see it in its arts, hear it in its music, and taste it in their cuisine. Hungry travelers will never be bored by the diversity of street food in Jaipur.
Here are 11 places of the most iconic street food in Jaipur to trigger your tastebuds:
1. Rawat Mishthan Bhandar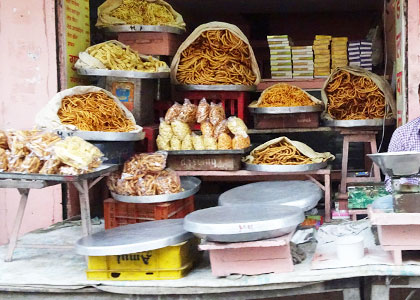 Jaipur Street Snacks
Talk about the street food in Jaipur and the first thing that comes to mind is the famous Pyaaz Ki Kachori at Rawat Misthan Bhandar. Made from flour, onion, and melange of spices, this lip-smacking snack is best served with tamarind or green chutney. The crunchy and delicious snack is native to Rajasthan and when teamed with a beverage is a perfect snack in the evening. RMB is always flooded with people placing orders for Pyaaz ki Kachori and also Mawa Kachori. The place also has more than 50 different varieties of sweets to try.
2. Jawahar Circle Street Food Bazar
There are a variety of food stalls in Jawahar Circle Street Food Bazaar so this is one of the top places of street food in Jaipur. When soft bread roll toasted with butter, topped with onion lemon juice is served with spicy mashed vegetables, an evening cannot get any more perfect. Be it a snack or a complete meal you are looking for, Pav Bahji is the answer. The locals like indulging in this snack and Pandit's Pav Bhaji in this bazaar is extremely popular and draws a lot of crowds.
3. Chawla's
Pani Puri has stolen the hearts of Indians in the past and is successfully continuing to do so. Deep-fried crispy hollow puri stuffed with a mixture of mashed potatoes, peas and more, dipped in flavored spicy water makes anyone drool. Although this chaat is available in every nook and corner of the city, it is best served at Chawla's. Puri with a variety of spicy, sweet and tangy chutneys to choose from served along with different flavored water is must-try street food in Jaipur.
4. Laxmi Misthan Bhandar
If you've got a bit of a sweet tooth, you should try Paneer Ghewar at Laxmi Mishthan Bhandar. Ghewar originated in Rajasthan and is made with wheat flour and soaked in sugar syrup. LMB is one of the best places of street food in Jaipur for Rajasthani sweets and savories. It is also famous for its Rajasthani thali, Dahi Vada, and monsoon special Dal Baati Churma. Paneer Ghewar, however, is truly an indulgent treat not worth missing.
5. Annu Mobile Paan Bhandar
If you haven't tasted the famous paan of Jaipur then you haven't tasted anything. Annu Mobile Paan Bhandar offers more than 100 varieties of Paan served in Rajasthani style. Shoving a burning paan in your mouth while you see the fire on can be terrifying but it's worth trying. Chocolate paan and ice paan are also highlights of the place. A meal in Jaipur is never complete without a crunchy and delicious Paan.
6. Tapri Pratham

Lassi
There is nothing as refreshing as a cup of tea. Head over to Tapri Pratham, one of the oldest and best places for street food in Jaipur for authentic Rajasthani tea. Evenings are filled with tourists and locals sipping on tea with snacks. Although the rates are on the higher side, it is justified for its taste, hygiene, and ambience.
7. Lassiwala
Known for serving lassi for more than 70 years, Lassiwala on M.I. Road is a must-visit place for street food in Jaipur. Many celebrities and movie actors have visited this place that serves authentic lassi made with curd and ice, devoid of water. The taste of lassi served in kulhad (clay cup) with malai on top is inexpressible and adds an unmatched flavour to the drink. The place is open from 7 in the morning to 4 in the evening and is always flooded with locals and tourists.
8. Hanuman Dhaba
Jaipur predominantly being a vegetarian city, it becomes mandatory for tourists to relish in its vegetarian cuisine. Paneer Tikka is one of the starters that is much appreciated by the locals. The softest paneer in town is available at Hanuman Dhaba. The varieties of paneer paired with green chutney served here attracts a lot of visitors every day.
9. Indian Kulfi Faluda
Rabdi Malai Kulfi Faluda is the speciality of Indian Kulfi Faluda. Unlike the typical faluda, Rabdi Kulfi Faluda is different because of the generous amounts of rabdi (melted kulfi), which makes it softer with a smooth creamy texture. The amount of sugar in Kulfis is just right and is served in small, regular, and large sizes. This tiny shop in the middle of the market is nearly 60 years old and is appreciated for its hygiene. Kulfi here is all you need to get a rich flavor of desserts served in Rajasthani cuisine.
10. Sethi's Bar-be-que
Most of the people believe Jaipur to be a vegetarian city but surprise yourself with an unmatched variety of non-veg dishes at Sethis's Bar-be-que. The marinated chicken pieces in spicy red gravy with lots of butter, Butter chicken is one of the highlights here. Spicy Chicken tikka tantalises your tastebuds asking for more. The place is good in terms of service and taste for non-vegetarians.
11. Masala Chowk
Located near Ram Niwas Garden of Jaipur, Masala Chowk is a one-stop place for all your street food cravings. Jaipur's most popular food vendors have their stalls here bringing all the delicacies of Jaipur under one roof. With a variety of dishes, good outdoor seating, and reasonable amenities, the place attracts a lot of tourists and locals. With a nominal entry fee of Rs. 10, it is famous for its hygiene and taste. Samosa, Jalebi, Gol Gappa, Chole Bhature, Tea, Mishri Mawa, and South Indian dishes like Dosa, Uttapam and more are served at a reasonable price.
Read More:
10 Best Vegetarian Restaurants in Jaipur
Jaipur's Top 7 Bars and Restaurants