Traveling Vietnam Alone - Is It Ideal for Solo Travellers?
The best part about travelling Vietnam alone is that it can be both free and debilitating at the same time. Understand that the trip is entirely yours and you have all the endless options to choose from without worrying about another human. You wake up in a completely new place, asking yourself where to go and what to do, how to roam about and where to eat! And, the best part is you don't need any filter!
But if where to-s and how to-s become a concern, you are going to ruin your time in Vietnam. This is why it is important to have a trip itinerary ready at your disposal to guide you in the best possible way and explore this amazing part of South East Asia!
Here are our 6 reasons why travelling Vietnam alone is one of the best trips you can ever think of!
1. It's very safe
Literally yes. The country is safer than many major cities across the globe and is one of the top reasons why it attracts hundreds of women solo backpackers from around the planet. In fact, it doesn't matter whether you are going solo or on a group tour, with a friend or just with family – Vietnam happens to be one of a safe destination for all sorts of visitors.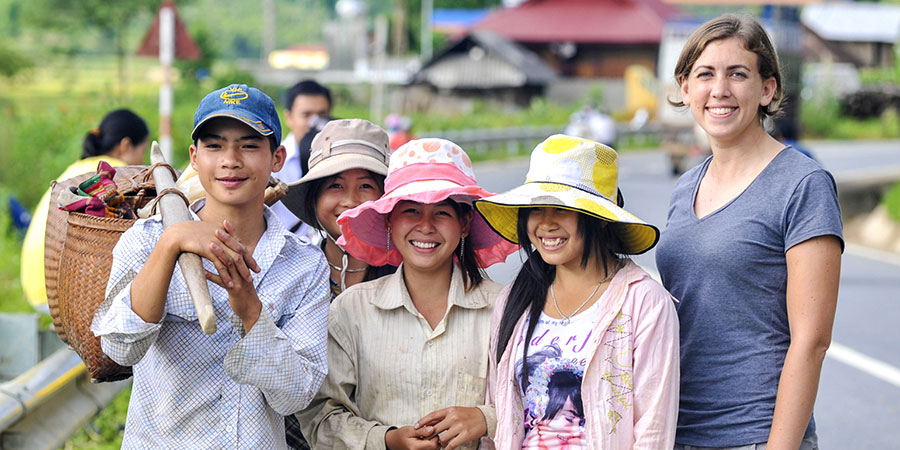 Very Friendly Vietnamese People
That being said, there's no denying minor annoyance, such as pushy vendors or pick pocketing still remains a possibility. That is true to all places and being vigilant is certainly one of the many things you should be. Keep your valuables out of sight and an eye on your surroundings, you should be able to avoid any mishap/trouble.
2. Street food is a way of life
Street food is at the heart of Vietnam's tradition and culture. With vendors selling local cuisine on almost every nook of the cities such as Ho Chi Minh, Hanoi and others, you really will miss out on something indigenous if you haven't pull up a stool and sat and tasted the hot soups with the locals. Vietnam could just be your ideal destination if you know how to mix with the folks and enjoy a bite or two.

Sit on the Street and Taste Local Food
Top street eats include pho, a type of rice noodle soup, which we won't be mistaken naming it the unofficial national food. Vietnamese spring rolls known as goi cuon are yet another fast food item that gives the authentic taste of Vietnam. Grab a dish and dine like a local!
3. Follow the tourist trail
Whilst there is still plenty of off-the-beaten-track, it is wise to follow the well-established tourist trail when it is your first time of travelling Vietnam alone. Take the path along the Halong Bay, Hue, Da Nang and Hoi An, and you can end the trip with Mekong Delta and Ho Chi Minh City in the south.

Meet New People of Various Ethnicities
Following the proper trail makes it a zero-hassle trip. It will already have the perfect itinerary marked and all you need to do it get your diary, pen and camera ready for your notes and snaps. As you tick off most of Vietnam's main sites, you will understand why this South East Asian country is gaining grounds on being one of the most preferred holiday destinations.
With trains and buses running between all the popular tourist destinations, you'll find it pretty easy to get around by yourself.
4. It is always interesting to meet the other travellers
Another benefit of following the tourist trail is that you can be introduced to many other travellers who would be following the same route. Of them, many will be travelling Vietnam alone and sharing the same love and passion for travel just as yours. And it's always great to make new friends on the way!
Travelling Vietnam alone is also easier as it is home to plenty of hostels that have communal spaces which organise daily activities. It is again one of the best ways to meet new people of various ethnicities that can make your trip more enriched. Just show up and join in, and you'll be left with some incredible memories.
5. Choice from the plethora of activities
One thing we can promise if you are travelling alone in Vietnam, that you won't be bored. Stretching for 1,650 kilometres from north to south, the nation not only serves diverse landscapes, but each of these places have some fantastic array of activities.
| | |
| --- | --- |
| Cave Exploration | Enjoy A Wonderful Water Puppet Show |
Whether it is the lush mountains or the terraced rice fields of Sapa or the scenic Halong Bay, you can be engaged in various adventurous activities like trekking or cruising, kayaking and caving. Head to Nha Trang or Phu Quoc to relax by the beach or explore the traditional water puppet show. Some even like to take up a Vietnamese cooking class.
6. It will be a budget trip
Another reason why Vietnam is a popular solo traveller destination, or for that matter a well-liked destination in general, is for its affordability. Vietnam is a place that you can be sure won't dig too deep in your pocket!
From budget accommodation to local street food pho for less than $2, there are very less places in the world which offers such easy affordability. Even today, travelling by bus remains to be the cheapest mode of transport. Most hostels and hotels offer free Wi-Fi and a complimentary breakfast, letting you save some more bucks!
Travelling alone anywhere comes with concerns and it is always advisable to exercise caution. As far as Vietnam is concerned, you would be able to find help even in the rarest of the occasion. Of all things, what makes this places such amazingly loved and travelled is the warmth of its people.
See More:

9 Vietnam Travel Tips for First-time Comers
Things to Know about Vietnam before Your Travel
Why Global Tourists Obsessed with Backpacking in Vietnam?
10 Best Vietnam Holiday Destinations