Outdoor Activities in Vietnam You Should Not Miss
Vietnam, although a small nation with a history of war and imperialism, is slowly emerging as an adventure hub of South East Asia. With a varied topography consisting of mountains, a deep network of caves, exotic seaside beaches, and so on – you will never be out of options for outdoor activity in Vietnam.
If you are looking for an outdoor adventure, then Vietnam is the place for you. You can do anything from scuba diving to sandboarding, and everything else in between on your trip to the country. For an adventurous traveler like you, this write-up contains a list of outdoor activities in Vietnam that are worth a try.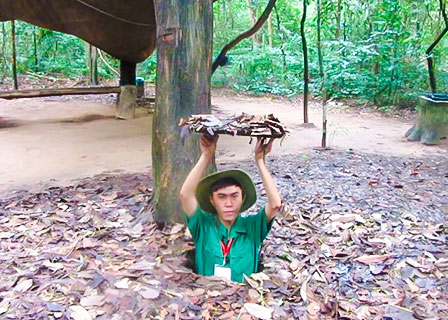 Crawling through Cu Chi Secret Tunnels
The Cu Chi tunnels close to the Ho Chi Minh City (HCMC) is an important national landmark. Stretching in the area close to 121km (75mi), the tunnels were the base of the National Liberation Front or Viet Cong during the uprising of 1968.
These underground passages were fitted with living areas, hospitals, and command centers and were frequently used as a hideout by the Viet Cong guerillas during the war. Walking through the constricted passages of the underground tunnels could be a cathartic but adventurous experience.

Address: Củ Chi, Hồ Chí Minh 733814, Vietnam

Opening time: 7am – 5pm

P.S: Ben Dinh gate of Cu Chi tunnels is closer to the HCMC, and frequently visited by tourists. However Ben Duoc, although 70km (43.5mi) away from the main city, is less crowded.
2. Mui Ne Sand Dunes for Sandboarding Adventures
The picturesque landscape of Mui Ne is popular among the tourists for its natural beauty and a small piece of desert. Yes, you read it right. Vietnam owns a piece of desert, and it is included in this list of outdoor activities in Vietnam for a reason. The Red Sand Dunes close to Mui Ne is very popular among tourists looking for adventure.
You can go for Sandboarding, or quad-biking in the stunning landscape. Close to the Red Sand Dunes is another desert expanse, White Sand Dunes (Doi cat trang) which are equally impressive. You can rent a quad bike or sandboard from the local vendors for rides.

Address: Đường Võ Nguyên Giáp, Mũi Né, Thành phố Phan Thiết, Bình Thuận, Vietnam

Opening time: Although the desert is open 24 hours, the adventure sporting activities are subjected to time constraints.

P.S: If you are at the Red or White Sand Dunes, then remember to catch the gorgeous sunset. It is worth a million pictures.
3. Exploring Hoi An Ancient Town on a Cycle

Exploring Hoi An Ancient Town on a Cycle
The older quarters of Hoi An are an pedestrian-friendly area. Surrounded by ancient Chinese temples, traditional shopping centers, Japanese bridge, and old canals, the town has been listed under the UNESCO World Heritage Center. Exploring the old town on cycle on a three-wheel bicycle taxi in Vietnam could be an interesting experience.
The well-preserved South-East Asian trading city and port, Hoi An, would surely take you on a trip to the past. If you are an outdoors person, then the stunning beaches around the city are worth your time. The An Bang Beach and Cua Dai Beach, closer to the old town, are regarded as some of the popular beaches of Vietnam.

Address: Hội An, Quang Nam Province, Vietnam

Opening time: Open 24 hours

P.S: Street food of Hoi An is simply delicious, and a must-try. Plus, while traveling towards the beaches you can get a glimpse of the Vietnamese countryside.
4. Taking a Dip at the Natural Pools of the Elephant Spring
The Elephant Springs are the natural springs close to the Hue, ideal for outdoor activities in Vietnam. It is a popular destination, perfect for a day trip, where you can go swimming or hiking. For tourists who love to travel to less crowded places, weekdays are more suitable for the Elephant Spring expedition. Although they have to bring their food and water, as local vendors operate only on holidays and weekends, it is still worth a visit.
If you are interested in spending the night here, you can always book a cabin in the woods.

Address: Lộc Tiến, Phú Lộc, Thua Thien Hue, Vietnam

Opening time: Open 24 hours

P.S: Pack your swimwear and towels before heading towards the Elephant Springs.
5. Exploring the Phong Nha-Ke Bang National Park
The Phong Nha-Ke Bang National Park is one of the popular destinations of Vietnam and frequently visited by tourists. A UNESCO World Heritage Site, this national park houses close to 300 prehistoric limestone grottoes and caves, and an underground river system. You can go for cave exploration, bird watching, hiking or mountain biking.
The Son Trach town is the popular gateway to the Phong Nha-Ke Bang National Park and is connected to the important cities of the country through expressways and ferries.

Address: Bố Trạch District, Quang Binh Province 511860, Vietnam

Opening time: 7 am – 4 pm

P.S: The Paradise Cave is one of the largest caves of South East Asia, and has a stunning collection of stalagmite and stalactite formations. Other popular caves include Son Doong Cave and Phong Nha Cave. The Hang Va and Hang En caves are less frequented by tourists and require some serious trekking.
6. Taking a Cruise on the Mekong Delta

Having an Exciting Cruise on the Mekong Delta
The Mekong Delta is a popular tourist destination of Vietnam and is well-known for its lush paddy fields and floating markets. It is an important agricultural area and contributes close to half of Vietnam's food resources. Apart from fertile rice paddy fields, the Mekong Delta is well-known for its fruit orchards, and flower gardens.
While traveling through the region, make sure to visit Mỹ Tho, Sóc Trăng, and less crowded Cần Giờ Biosphere Reserve for an outdoor adventure. If you have days to spare, then you can take a ferry ride toward Cambodia from the Mekong.

Best time to visit: September to November

P.S: Rise early to visit the floating markets of Mekong Delta.
Vietnam is a beautiful country, where you can do a lot more things outdoors. Before closing the list of outdoor activities in Vietnam, here are some of the other mentions - spending an evening at the Bia Hoi Junction of Ha Noi, sampling snake wine at Hanoi, or walking through the six-lane traffic of HCMC. These experiences are worth having and give you the taste of the real Vietnam.
Read More: 10 Reasons for Mekong River Cruise
You May Like:
The Ultimate List for Adventure Tourism in Vietnam
Enjoy Crags and Rock Climbing Vietnam