Periyar Lake - A Perfect Getaway around Nature
Periyar Lake is a very famous attraction in the Periyar Wildlife Sanctuary. The place is brilliantly surrounded by lush greenery and beautiful beasts to give you a glimpse of peace and adventure. This wildlife sanctuary is known to be the perfect place to spot the wilderness. You will notice a decent population of tiger and elephants with some of the famous wildlife safaris to interest you further. This Sanctuary is not limited to just wild animals and brilliant flora but it also has an amazing expanse of water, famously known as the Periyar Lake.
This Lake is the main attraction for tourists for all the right reasons. Cruises and boating services are available every day on particular timings, which you are soon to find out. The interesting fact about this lake is that it is an artificially created water body by the Mullaperiyar River. If you are wondering what you will get to see in the Periyar Lake, then there are many harbors within this area and it is a unique source of the aquatic ecosystem to amaze you. The Periyar lake cruises are arranged by the Forest Department and the Kerala Tourism Development Corporation.
There are numerous options to take an incredible safari of the Periyar National Park, but taking a boat ride is the best way to get the complete view of the Periyar Tiger Reserve. You will enjoy this brilliant safari amidst nature and wildlife.
Quick Look
Timings: 6:00 AM to 6:00 PM

Duration: 2 - 3 hours

Location: The national park is located near Thekkady in the district of Pathanamthitta, Idukki, and Kottayam in Kerala, India.

Best time to visit: This place is perfect to visit throughout the year. However, October to March is the most preferred time for tourists.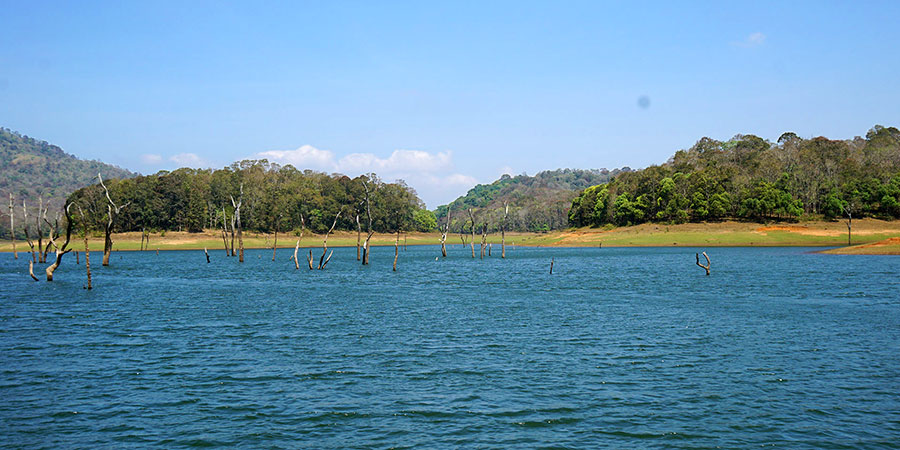 Periyar Lake in India
Once you reach the national park, you will be able to easily get to the Periyar Lake. It's not challenging to reach this location as this protected area is well-connected with most of the transportation around. Here are some of the routes you can comfortably travel through.
1. By Air
: The airports of Kochin are at 200km (124mi), and Madhurai in Tamil Nadu is at 140 km (86mi) from Periyar. If you are planning to take the airways, then you will be able to reach Periyar by directly taking a cab.
2. By Rail:
People who are more comfortable with railways can get to Kottayam, which is the nearest railhead from Periyar approximately at a distance of 114km (70mi).
3. By Road: Roadways are equally convenient because it has state and private buses available from Ernakulum, Kottayam, and Madurai in Tamil Nadu.
See also Kerala Transportation
Cruise Through Periyar Lake
There is an unmatched beauty in taking the boat ride in Periyar Lake. You will love to explore the lush greenery and wilderness of this location from a distance at a safe boat ride. The natural scenery and unique species of this national park will amaze you. The boat ride is around 2-3 hours long and you can easily view the wild animals who visit the shore to drink water. There are many to spot like deer, gaur, sambar, reptiles, elephants and others easily. It is also advised to carry your binoculars to get a closer view of the animals.
Undoubtedly, the Periyar Lake cruise is the best way to get a stunning view of the beautiful beast in this region. Many tourists especially visit to get a glimpse of the tigers, however, coming across this dangerous species is considered to be rare.

Take a Boat on Periyar Lake
Safety
To make sure that your cruise in the lake is a safe one, wearing a life-jacket is compulsory for every person. The boat only starts when every traveler has their safety harness on. If you are wondering about the ticket prices and booking, then here it is:
Booking a seat for the Boat Ride:
You can book the ticket for the Periyar Lake Cruise in two ways. You can choose to book the tickets at the ticket counter at the boating place directly, or if you want double surety of the ride, then book via Kerala Tourism Offices. The timing may vary for both but once you are at the ticket counter, you can cruise through the lake at the following timings:
01:30 PM to 02:30 PM
11:30 AM to 12:30 AM
03:30 PM to 05:30 AM
07:30 AM to 09:30 AM
The duration of the ride is discussed earlier as well, keep yourself free to get a complete experience of nature and wildlife surrounding for 2 hours. Also, you will be able to get the tickets only 1.5 hours before the time of the ride.
Ticket costs:
INR 40 per adult
INR 200 for Camcorder
INR 25 for Digital / Still Camera
Surrounding Location
The best part about taking the boat ride is that there are many incredible surrounding locations to visit. Some of the popular attractions are:
Mangla Devi Temple
If you are a spiritual person, then you will love to visit the locations that are around 15km (9.3mi) away from Thekkady. This shrine is considered to be 2000 years old, the structure of this temple is an interesting sight. This temple lies at an altitude of 1337m and gives a wonderful view because it situated above sea level. Important prayers are planned once a year in April / May, on a full moon day.
Kumily
This place is famous for its cardamom hills that attract many tourists to this town. People find their visit to this place to be very relaxing and peaceful. You will come across many beautiful temples on your way and some stunning view of the scenic beauty.
Pullumedu
This location is again famous for the exotic wildlife and brilliant surrounding beauty. This place is at a very close distance to Thekkady, you can also visit Makara Jyoti Temple and Shri Ayappa Temple.
Kuttikanam
This place is located at an altitude of 3500 feet above sea level and radiates with a peaceful energy. Tourists love to visit this location because of its pleasant climate.
These locations are some of the best places you can visit after your Periyar Lake cruise.
Pro Tip:
You are advised to book the afternoon tickets for the incredible Periyar Lake Cruise because there are high chances of spotting the animals.