What to arrange for a Nepal Trip from India?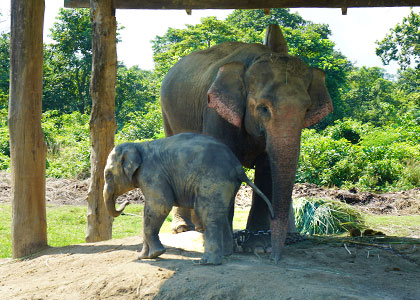 Explore the Natural Chitwan National Park
Nepal, home to eight of the world's highest mountain peaks, is a trekker's paradise. Located on a small slit of land, bordering India and China, the Nepalese landscape is simply surreal. The spectacular views, cities dipped in ancient history, and a chance to conquer the highest mountain peak in the world make the nation a great travel destination.
Due to its proximity to India, many international tourists add Nepal to their India travel itinerary. The entire Nepal trip can be covered in an additional fourteen to twenty days. But, for a pleasant Nepal trip from India, you will need to cover a few bases and do a little planning.
This write-up could help you in outlining the trip so that you can enjoy the authentic flavors of this fabulous country called Nepal were 'once is not enough'.
1. Suitable Time to Travel
The beautiful country, surrounded by towering Himalayan Mountain Range, is a traveler's paradise. Ideally, October to November is the most suitable time of the year to visit Nepal. However, the period gets most tourist footfall making the landmarks very crowded and busy. Also, prices tend to go up.
For your Nepal trip from India, you can always choose the less crowded February-March period. The tourist's footfall is comparatively lesser, and the weather becomes perfect for trekking and hiking.
2. Number of Days Required
Ideally, one week is enough for exploring the Kathmandu Valley. However, if you are planning on going for a trek on your Nepal trip from India, then you will have to add a few more days to your Nepal tour. However, in two to three weeks period you can cover most of the important landmarks of the country.
Add another week covering the mighty Himalayan Mountains. Most tourists planning on trekking and climbing at Nepal allocate themselves some buffer time, due to the country's changeable weather.
3. Packing and Other Essential
While packing for Nepal, remember to include light airy fabrics in your luggage. Usually, Nepalese are very relaxed regarding what tourists wear. But, including clothes that cover your neck, shoulders, and knees, could come handy while visiting religious sites. Also, carrying a scarf for those impromptu temple trips - it can be a lifesaver.
Do carry a warm fleece jacket and ponchos to protect you from rains in the mountains. During winters or at altitudes above 4,500m (14,764ft), you will need protective winter gear – hats, jackets, socks, boots, and gloves. Also, pack moisturizing creams, lip balms, medicines, and universal travel adapter.
4. Currency

Nepal Currency
The Nepalese Rupee (Nepal's currency) is available in five, ten, twenty, hundred, and thousand denominations. Coins or paisa with one and two Nepalese Rupees' valuation are also available. Nepalese currency is issued by the Nepal Rastra Bank – the central bank of Nepal.
Although, till a few years back Indian currency was accepted in some parts of Nepal, nowadays the only native currency is accepted nationwide. Popular ATMs accept international credit cards but dispense only the local currency. Kathmandu is mostly preferred among tourists for currency exchange. Apart from that, money wire and currency exchangers are also available.
5. Reaching Nepal
You can choose from any of the eight Entry and Exit Points placed on the Indian borders, or one at Kathmandu, for entering the country. There are regular flights from major Indian cities that will drop you at the Tribhuvan International Airport, Kathmandu. Apart from that, you can opt for buses or cabs from Delhi, Varanasi, Kolkata, Patna, and so on.
Indian Railways runs train services that you can opt for the Nepal trip from India. But the journey is not a very comfortable one. You can get Visa on Arrival from these checkpoints.
6. Domestic Travel and Accommodation
Owing to a booming tourism business, Nepal is well connected domestically. The cities like Lumbini, Chitwan National Park, and Pokhara, can be accessed via buses and airways. Buddha and Yeti are popular domestic carriers of Nepal. Although cabs are also available, they are a bit expensive.
For accommodation, you can find budget as well as luxury options in almost all the major cities of Nepal. On the outskirts, you can book yourself homestays, teahouses, hostels, or dorms. To experience the local flavors, homestays come highly recommended.
7. Exploring Nepal
Now, to the big question, how do you want to explore this country? Nepal offers a sensory overload to travelers. On your Nepal trip from India, you can cover multiple mountains, visit historical sites, or participate in adventure sports.
For a weeklong Nepal trip, stick to the Kathmandu Valley and its nearby areas. But if you have adventure sports and trekking in mind, then you will need a couple of days more. Some of the must-visit sites include:
• Kathmandu
• Pokhara
• Chitwan National Park
• Patan
• Panauti

Explore the Phewa Lake in Pokhara
Activities around Nepal:
Apart from sightseeing, you can go for adventure sports, trekking or hiking. Places like Pokhara, Terai, and areas close to the Himalayan range are ideal for thrill-seekers. Post-2015 earthquake, the trekking trails were closed for some period. However, now these trails are open and offer the guest the view of devastation the natural calamity had caused.
(See also: Nepal Travel Guide)
8. Eating at Nepal
The local Nepalese cuisine is a beautiful concoction of fresh ingredients, spices, and a pinch of love. The Nepalese staple - Daal Bhaat Tarkari (lentil soup served with rice and mildly spiced curried vegetables) – is easily available throughout the country. The local diners or bhojanalayas offer cheap and pocket-friendly meals.
Also, Tibetan influenced food at Thamel is a must-try. Do sample Momos (steamed dumplings), Sekuwa (barbequed meat), and Samsa (curried potatoes fried in dough parcel). Nepalese love their alcoholic and non-alcoholic brews. After a hectic day, traveling and trekking, these drinks can be very refreshing.
9. Shopping
End your Nepal trip from India with a satisfying shopping spree. Do get yourself local Nepalese tea procured from local tea gardens, Lokta paper products, Tibetan prayer flags, Hemp-made bags, Thangka paintings, and Khukuri knife.
Further Reading:
4 Best Routes for You to Cover India to Nepal by Road