Top 10 Hotels near Jaipur Airport, Places to Stay
Jaipur has something for every need. Whatever is the purpose you are in the city with, the pink city will not let you return disappointed. From luxury hotels and havelis with relaxed atmosphere and entertainment arranged for leisure travelers to the ones with professional culture meeting the business travelers need, the hotels here are well-equipped to cater to a wide range of guests. One can find hotels in every street of Jaipur looking at the place of convenience for them. Here is the list of hotels for those planning a stay near the Jaipur International Airport also locally known as the Sanganer Airport, which is about 13 km (8 mi) from the walled Pink City.
1. Jaipur Marriott Hotel:

Strategically located just 2 kilometers (1.2 miles) from Jaipur Airport, this Marriott property is a blend of modern amenities in a traditional backdrop. Occupying a total of 43,000 sq. ft. space, this hotel is one of the top hotels near Jaipur airport, ideal for plush weddings, conventions and business meetings.
The world-class hotel assures gastronomical satisfaction with a wide range of beverages and food items on the menu in the hotel's all-day dining kitchens. Spacious rooms are welcoming in their refined elegance, relaxing feel. The lounge bar and spa let the guests spend their evenings relaxing in their ways.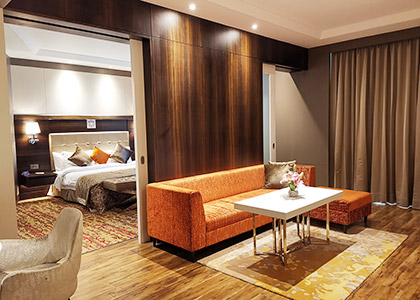 Well-furnished Room with Warm Light
2. Hotel Cheelgadi:

Well-furnished rooms in modern yet contemporary interiors décor, are painted in warm hues and located only 5.6 kilometers (3.5 miles) from the airport. The large windows covered with curtains keep the rooms well ventilated and lit in sunlight. The hotel is conveniently located near Jawahar Circle Garden and many top-notch restaurants serving local delicacies with expertise. The hotel has an elevator facility and wheelchair accessibility, a conference room, a banquet hall, and a restaurant to keep all the needs of its guests addressed. This is definitely one of the best hotels near the Jaipur Airport.
3. The Lalit Jaipur:

At a distance of 2.5 kilometers (1.5 miles), this is a value for money and family-style hotel located near Jaipur International Airport. Very well kept rooms are tastefully furnished and spacious, this is the perfect place to relax away from home. The staff is courteous and helpful, ready to take that extra step forward. A good place to be in for a great vacation or business conference.
The breakfast spread is sumptuous and healthy - so are all other meals - in addition to being delicious. The hotel's respect for guest's privacy and security is evident in the fact that the lift is accessible by only the room key. This 5-star deluxe Haveli style hotel is inspired by the local architecture, beaming in resplendent architecture that mirrors the rich cultural heritage of Rajasthan. Adding to other modern-day entertainment options like spa, swimming pool, salon, a spacious ballroom, is the old world local Rajasthani folk dance show.
4. Radisson Blu:

Just 3 kilometers (1.9 miles) from the airport, in Malviya Nagar is the coveted property of Radisson Blu very close to the World Trade Park, the city's iconic trade park. Blended in convenience and comfort are the stylishly designed well-equipped 182 rooms and suites, a round-the-clock coffee shop, a fine dine Pan-Asian restaurant, rooftop venue, and a garden lounge.
The spa, fitness center, swimming pool, banquet hall, and event space spread across more than 1,672 square meters makes it one of the top hotels near the Jaipur Airport. The breakfast corner offers a great breakfast spread. Large beds and spacious rooms and luxurious bathtubs add to opulence and relaxation factor.
5. Clarks Amer:

Drive 2.8 kilometers (1.7 miles) on the Jawaharlal Nehru Marg to come face to face with the royal lifestyle at this Clarks hotel. Centrally located, the life in Clarks Amer is amongst chirping birds, lush greens, and moving at its own pace. The first 5-star hotel of Jaipur, oozes magnificence and warm style, in the premium decorated cozy rooms, and world-class amenities of modern-day.
A 15-minute drive away from major city attractions, like
City Palace
,
Hawa Mahal
,
Birla Mandir
, and
Jantar Mantar
, the convention hotel has played host to many delegates, and eminent personalities from politics, entertainment industry, and other areas. Proud owner of some of the best restaurants in Jaipur, the hotel is a treat to the taste buds and serves best of North Indian, continental, bakes, pizzas and authentic Rajasthani cuisine with aplomb. The unmatched dedication of the staff to deliver the best manifests into the hotel featuring on the list of best hotels of Jaipur.
| | |
| --- | --- |
| Clean & Tidy Room in Budget Hotel | Spacious Swimming Pool in Great Hotel |
6. Clarion Bella Casa:

Enhance your experience at Jaipur with a distinguished stay in this charming and business-style hotel, which is also the traveler's choice. Reasonably priced, the rooms come with a flat-screen TV, air conditioning, mini-bar, Wi-Fi, etc. The hotel also has a concierge desk to help you gather any information about the city.
Its closeness to some of the tourist spots like Surya Mandir and Brahaspati Dham Mandir, among others is a plus point. Proximity to some of the famous art galleries of Jaipur like Jewels Lake Palace, Gyan Museum, etc. adds to the rich experience.
7. Lily Bay Inn:

The hotel is a stone's throw away at just 500 meters (547 yards) from Jaipur International Airport. A convenient place especially if your flight departs or lands at midnight. This is a hotel with a view of the airport and Jaipur city. The rooftop restaurant lets you see the flights taking off and landing and take a bite into tasty food, along with. Spacious rooms, comfortable beds, quiet and very clean, this place deserves brownie points in the budget hotel category.
8. The Theme, Jaipur:

Located 3 sweet kilometers (1.9 miles) from the Airport, you can lie in the lap of comfort at this budget hotel as soon as you reach Jaipur. Personalized services in an alluring mix of elegance, style, and luxury at a reasonable price are the USPs of this hotel. The rooms are elegantly made to match contemporary living styles. Terrace barbeque and an upcoming therapy room ooze subtle luxury while the Wi-Fi connection, electronic safe, well-stocked minibar, international direct calling facility, and fitness center meet the daily need. Overall a good hotel close to the Jaipur International Airport.
9. Zade House:

This is a pet-friendly place and you can check-in with your dear pet. Your kids are going to love this place too as they can stay connected with their Mr. Bean, Minnie Mouse, and other favorite characters, with the children's television networks the hotel subscribes to. This is a new property well equipped with Wi-Fi in each apartment. However, they do not allow outside food, and it must be ordered from their menu, overall a good homely stay.
10. The Fern:

An ecotel hotel at just 3 kilometers (1.9 miles) from Jaipur airport feels proud of Rajasthani culture and aims to preserve it. It is a high place as it is one of the high-value hotels in Jaipur. The hotel is a champion in contribution to the environment. The Rajput heritage hotel, with suites and guest rooms painted in earthy hues, and wooden floors are highly appreciated.
You May Like:
Best Areas to Stay in Jaipur – to Live Like a Local
Where to Stay in Jaipur - Airbnb vs Hotels vs Home Away