Backpacker's Guide to Top 10 Budget Hotels in Jaipur
Rajasthan is truly a place known for its enthusiastic hospitality. Going out of the way to help a guest is within norms and comes out naturally with a will to provide comfort. No wonder that most of the times along with beautiful, spacious architecture, rich and delicately delicious food; their warm hospitality will also leave you mesmerized.
Welcome to the city of Jaipur. Whether you are a family or a set of friends, fun or a business traveler willing to relish the super luxury, a bunch of backpackers on a budget or a solo traveler, Jaipur welcomes all its guests with an open heart.
Here is a list of 10 budget hotels in Jaipur that provide the best of services despite being on a budget.
1. Little Ganesha Inn: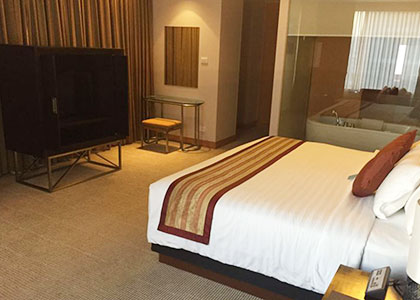 Value Hotel with Modern Amenities
At the asking price, this is a value hotel for a backpacker looking for a decent accommodation, one of the best budget hotels in Jaipur. The property is a clean and comfortable one. It is friendly and accommodative of needs. One can also take a lesson or two in cooking from the hotel team and they are happy to be at service.
Should a need be there amenities like a portable cooler, it can be fulfilled. The food is tasty and value for money. The hotel has some good art on display, excellent hospitality, highly attentive staff, comfortable mattress for a good night's sleep, air-conditioned rooms, clean bathrooms, and the staff is courteous enough to arrange a good guide for city tours on request.
Location:
Amer Road, Brahampuri, Jaipur.
Price Range: Starts from US$25
2. FabHotel Sugan Niwas Palace:

It is an old heritage haveli converted into a hotel for the authentic feel of being in Jaipur. It has haveli style big, tastefully designed rooms and a garden. Just watch out that they do not have an elevator in case you are traveling with elderly people or someone with special needs.
It is a rich-looking, clean hotel with modern amenities, and well-managed rooms with friendly staff. Food in the restaurant is good and is priced reasonably with a homely environment. Breakfast is included in the welcome package. The hotel is centrally located, close to many tourist attractions. Also, getting a public conveyance is easy from this location.
Location
: Sindhi Camp Bus Stand, Bani Park, Jaipur
Price Range: US$30
3. Hotel Jai Niwas:

As one of the best budget hotels in Jaipur, the best thing about this hotel is they allow pets. So if you're a pet lover, your search ends here. Set on M.I. Road, its closeness to restaurants, main markets, and public transport is an advantage here. However, inside the gates, it is a peaceful resort to unwind.
The boutique hotel, was earlier an old bungalow, with a lotus pond, tall trees, lush green gardens, and open spaces. It has many species of birds inside. The property has 19 rooms, beautifully decorated, well-furnished and air-conditions rooms. The place has modern amenities, with a projector room for movie screenings, where a traveler can mingle with other travelers over food and movies.
The hotel is airy with lots of sunlight and a ready-to-help staff. A positive atmosphere, homely and vibrant environment, public kitchen to cook your own food, reasonably priced restaurant with good quality food and events and tours being organized, keep the backpackers and solo travelers interested.
It is a good place if you are traveling with family and friends too. The streets outside are not so good for a walk, however, it is easy to get a Tuk-Tuk at a reasonable price to connect to bustling bazaars, and places of tourist interest. In all, a good deal at the asking price.
Location:
M.I. Road, Near GPO, Jaipur
Price Range: US$28
4. Atithi Guest House:

Located in the heart of the city, in between the train station and the old city, 'Atithi' is a family-run guesthouse, a fancy budget hotel in Jaipur. All the 22 well-furnished rooms are bright and airy with modern facilities. The relaxing rooftop restaurant serves both Indian and continental food through the menu.
The front lawn and ground floor restaurant are also equally good. The in-house kitchen is supervised by the lady of the house that rolls out tasty dishes in a very clean and quiet atmosphere by friendly and attentive staff. This is an ideal place for long term stay at a reasonable price and home-like feel. The place is near the main tourist places. Interiors are Rajasthani in taste and are pretty.
Location:
M.I.Road, Park House Scheme, Jaipur
Price Range: US$15
| | |
| --- | --- |
| Big & Comfortable Bed in Budget Hotel | Clean and Spacious Bathroom |
5. Krishna Palace:

You won't get this place anywhere in the country at this price, definitely one of the top budget hotels in Jaipur. Open being verandahs, airy spacious rooms, subtle yet enrapturing interiors, a good mix of colors, the authentic architecture, an in-house library, well-manicured lawns, super clean haveli turned into a hotel.
The hotel has a rooftop terrace for beautiful breezy evening banter and a bridal suite to host marriages etc. The free of charge pick-up facility ease the flow. The rooms are soundproof, so your peace is at your own will. This cozy guest house mirrors the good old times of rich heritage and grand welcomes.
Location:
Near Sawai Jai Singh Circle, Bani Park, Jaipur
Price Range: US$13
6. Hotel Kalyan:

Located on Ajmer road, 1.5 kilometers (0.9 miles) from the railway station and bus stand each, and 13 km (8 miles) from the nearest airport, this hotel provides free pick up from the bus stand, railway station, and the airport. It is surely of the best budget hotels in Jaipur.
Homely atmosphere, heritage exterior, rooftop terrace restaurant, plus an indoor restaurant, photocopier, fax, free Wi-Fi, etc. are facilities this budget hotel provides to its guests. The rooms are thoughtfully provided with refrigerators and serve Indian, continental and Chinese cuisines. There are some good places to eat nearby too. There is no lift facility though. A very reasonably priced hotel that is good for backpackers, students, families, and solo travelers.
Location:
Ajmer Rd, Jaipur
Price Range: US$10
7. Welcome Heritage Traditional Haveli:

The extravagant exterior Haveli look is enough to lure you into this hotel, one of the best budget hotels in Jaipur. And the alluring continues still inside, to every corner. Heritage Traditional Haveli in Jaipur was built in the late 1940s by Rai Sahib Laxmi Pati Singhania. It was used as a private residence before 1956. However, in 1958, it was sold and the spectacular building was transformed into a hotel later.
No Wonder that the luxurious décor, underground bar, rooftop pool, imperial suites, the two restaurants dishing out the delicious international platter, all combine to make you feel like royalty on a budget. The staff is a show-stopper with their nothing-is-a-problem attitude.
Location:
Bani Park, Jaipur
Price Range: US$20
8. Hotel Chitra Katha:

Located at Station Road, there is something special in this hotel, be it interior, intricately carved walls, and separators, or interestingly presented food. In this top budget hotel of Jaipur, there is an in-house coffee shop, a rooftop restaurant with BBQ facilities. The hotel interestingly shares its boundaries with the Hathroi fort that forms the interesting backdrop for the rooftop restaurant.
This is literally a bite into the glorious Rajasthani history. There are plenty of rickshaw drivers at the doorstep to take you from place to place. Well-lit AC rooms, water heater, charmingly clean, a separate storeroom for luggage, green sit-outs, and masala tea with the morning newspaper are few distinguishers. So is the very prompt, non-intrusive and hospitable staff.
Location:
Hathroi Fort, Ajmer Road, Jaipur
Price Range: US$14
9. Hotel Sarang Palace:

Offering conference and banquet facilities for travelers on business trips, the hotel is situated 1 kilometer away from the bus stand and the railway station. It is at a walkable distance from Chandpole Market and many shopping malls. It is located close to Hawa Mahal, City Palace, and Jantar Mantar. Several dinner options, friendly ambiance, airy and full of sunlight rooms make this hotel a true boutique hotel with modern and heritage amiably co-existing.
Location:
Near Peetal Factory, Jaipur
Price Range: US$18
10. IBIS Hotels:

One of the best budget hotels in Jaipur for a world-class ambiance in the middle of Jaipur for travelers on leisure or business. It is close to the Civil Lines Metro station, and Jaipur airport is just 11.6 km from here. It is near to the railway station, bus stand, M.I. Road and other places of interest. The rooms are clean; service is good and so are the amenities. The hotel has a cricket net to play and one can enjoy cycling too apart from using the gym.
Location:
Near Civil Lines Metro Station, Jaipur
Price Range:
US$22
Read More:

8 Best Heritage Hotels in Jaipur
Top 10 Hotels near the Jaipur Airport
10 Best Hotels in Jaipur with Gorgeous Views
Insider Tips on Finding Accommodation in Jaipur