Shopping in Cairo: Traditional Markets and Modern Shopping Malls
Do you feel a certain way of happiness while simply reading about shopping? The feeling is inevitable, regardless of men or women, shopping bring out the best in people. The reality is entirely different when you are researching for shopping in Cairo. There are tons of things you ought to know before setting yourself for shopping, we will start with some very basic that is some important areas to shop for street markets and shopping centers.
See also What to Buy in Cairo Shopping in Egypt
Key Areas
9 photos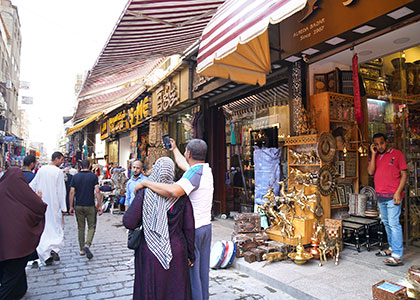 You must have heard about Khan el-Khalili, this place has streets dedicated to specific trades, like an entire Street to Coppersmiths who builds engraved brass trays, and other items. The sidestreet dedicated to bookbinders, and they customize some of the brilliant hand-bound leather notebooks, 31 El-Sheikh Mohamed Abdou St. Zamalek dedicated to stylish clothing brands, jewelry shops, and boutiques.
Markets
You will often find
Khan el-Khalili Market
in almost every list, this is a world-famous attraction and has some of the great items to offer. There are other markets like the street of tentmaker, souk al fustat and others. They have a wide variety of items like jewelry, silks, spices, hand-made leather shoes and perfumes. On its outskirts, Sharia Muski area packs in essential items for households like towels, utensils, pottery, toys and crockery.
Shopping Centers
Most of the tourists prefer the market when it comes to shopping, but there are some tourists, who prefer the malls for shopping in Cairo. The 35 Sharia Giza has over 60 boutiques with brands that include Prada, Dior, Yves St Laurent, and so on.
Opening Hours
Most of the markets and shopping center opens in regular hours from Monday to Saturday around 09:00 – 22:00 and closes in summer between roughly 1230-1600.
Let us find out more about the markets and malls in Cairo, we selected 4 from each section to give you a clear idea and exact location to shop without wasting any time.
4 Markets to Shop in Cairo

Shopping in Cairo
1. Al-Khalili
This is a default bazaar in Cairo and no tourist leaves Cairo without visiting this market. You will get options to shop the most wonderful items like spices, jewelry, perfume, artifacts, garments, shoes, leather goods, and other items.

Where: Al-Azhar Street, Cairo 11511
2. Souq el Ataba
This local market is not that raw and it will give you space for haggling like a civilized buyer. If you are looking to buy some traditional garments, jewellery and shoes, then get to this place with the best haggle face you can find, because you are going to need it. We suggest you interact mindfully with the locals, some can be a delight to talk to, while some may turn out to be frauds.

Where: Cairo, Egypt
3. The Street of the Tentmakers
The name suggests what you will find here, this place is famous for producing and selling appliqué panels. You will find small street turnings taking you to loaded local shops where traders come to sell and buyers come to get items from all over the world.

Where: Shari Khayyamiya (or Suq Al-Khayyamiya)
4. Souk al Fustat
This place is famous to sell some of the finest linen curtains and embroidered garments for bed sheets and clothing alike. However, this market is considered a little pricy as compared to other bazaars in the city. Shopping in Cairo will be easy if you know what to expect where. This souq also sells tents and wooden items. Some of the other items also include pottery, jewelry, leather bags, and corals, etc.

Where: corner of el Emam Street and Hassan al Anwar Street in old Cairo
4 Shopping Centers in Cairo
1. City Stars Mall
This mall has some of the most famous brands you would want to shop. The mall is spacious and you are going to love to window shop at this place. This place also has a few restaurants and café for refreshments.

Where: Omar Ibn El Khattab St. Off El Nasr Rd. Heliopolis, Cairo 11511
2. Downtown Cairo
This place is an area which is famous for having most of the well-named brands and perfect restaurants all under one portion of the sky. You will find this place overflowing with the crowd after sundown, most of the people come here to relax, shop, eat and have fun in a breezy evening. The shoes of this place are quite famous, they have a variety of shoe of local and Egyptian taste.

Where: Plot A – 90 Axis, 5th Settlement
3. Tiba Outlet Mall
This shopping mall has over 34 retail outlets all under one roof, and you will get endless options to make the most of shopping in Cairo. You will come across dining places, pizza houses, amusement parks, game parlour, entertainment and much more in Tiba outlet mall.

Where: 75 Al Nasr Road, Cairo 11511, Egypt
4. Mall of Arabia
We want to live up to our reputation to save the best for last, Mall of Arabia is Egypt's biggest mall and has various stores from a number of brands for a shopaholic. Just like any other shopping centers, you will come across cinema houses, restaurants, cafes, and ice-cream parlor all under one roof. The USP of this mall, which makes it different from the rest of the other, is the fountain display.

Where: Mehwer 26th July, 6th of October City | Juhaynah Square, Cairo 11511
These places have a positive vibe just like any shopping place. This statement is an understatement to the fun and rushes these places have in the heart of Egypt. Your idea of shopping in Cairo can be anything and you will still end up being happy and enjoy yourself around brands,
local foods
, and entertainment.