Chinese Fishing Nets in Cochin Beaches or Harbor
Cochin is famous as 'Queen of Arabian Sea' across the world. Since the 14th century, it was an important spice trading center on the west coast of India. Along with trade, Cochin has various popular tourist attractions. The Chinese Fishing Nets is one of them.
What are Chinese Fishing Nets?
Chinese Fishing Nets are popularly known as Cheenawala which is a type of stationary lift net having fishing nets with fixed land installations. Fishing is the primary purpose of these nets. Nowadays, it is developed as an attraction for tourists. It is also known as Shore Operated Lift Nets. These nets are being widely used in Indochina and coastal southern China. But in India, is mostly found in Cochin and Kollam. This fishing technique is entirely different from other fishing techniques in India.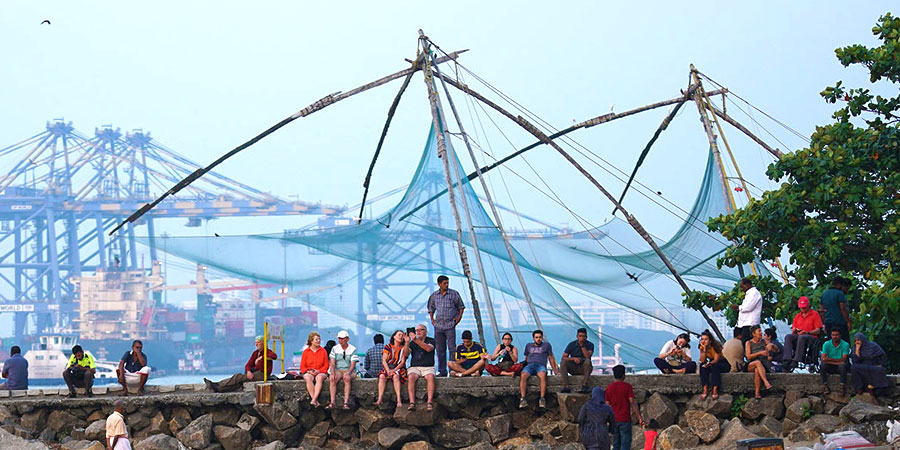 Chinese Fishing Nets in Kochi
These Chinese fishing nets are bound near the Fort Kochi at Vasco-Da-Gama square. Also, you can see these around Santa Cruz Basilica, Bastion Bungalow and VOC Gate in Cochin.
Explore the History of Chinese Fishing Nets
You must be wondering how this technique came to India and become famous? To know the answer, dig in below-
It is found that the Chinese Fishing Nets has its origin in China. There are many stories you will listen in Cochin about how these nets came to India. Mostly it is believed that Chinese traders brought these nets to India in the 13th century. The first time it is exported to Kochi Fort from China that was under the rule of Kublai Khan. Some believed that Zheng He brings these in the 14th century while some claim it was Portuguese who brought these nets in India.
By went through history, people have one interpretation behind the name of the city, i.e. Cochin is, 'Co-Chin', meaning 'like China'.
Designing and Working of Chinese Fishing Nets
It is made up of wooden mechanical installations that hold out horizontal nets. These nets are 20m (65.6ft) long and sometimes more than that. Each structure is at least 10m (32.8ft) high. Nets are set up on teak poles or bamboo that is having fixed land installations. It gave an appearance of the wide hammock when it suspended over the sea in mid-air all along the coast. These nets are suspended horizontally from ropes when it has counterweights at the other end. It takes at least 6 fishers to operate these fishing nets.
It is a unique way in India to handle the fishing net. To descend the loss in the sea, a man should walk along the main beam. And the system sufficiently balances the weight of that man. After descending it in the sea, fisherman let it there for a few minutes and after that raised it by pulling on ropes. Also, while pulling strings, fisherman sings a local song to gain energy and enjoy the work.
| | |
| --- | --- |
| Handle the Fishing Nets | Wooden Mechanical Installations |
Before suspending net, fisherman drop rocks of 30cm (11.8in) from ropes of different lengths in the sea. After raising the loss, these rocks come to rest on platform one-by-one to keep the balance of fishing net.
Nowadays, these ships have been mechanized by younger fisherman so that it can be operated through the electric motor that reduces the manpower to handle the fishing net.
1. Visiting time: To trying out the nets, visit here in the morning. But to get the best photographic scenery and boat ride you must visit in the evening.
2. Best time to visit: The best time to visit this popular place is from October to March.
3. Location: Fort Kochi Beach, Kochi (Cochin), Kerala 682001, India
4. How to reach?
The easiest way to get to The Chinese Fishing Nets (in Cochin beaches or harbor) is to reach Kochi/Cochin first by flight, train or bus as Cochin is being served by Cochin International Airport as well as Ernakulam Junction along with Kerala State Road Transport Corporation. All of these transport mediums have connectivity with all the major and prominent cities in India. To reach Chinese Fishing Nets (in Cochin beaches or harbor) from the above respective locations following table will help you.
From

To

Mode of Transport

Distance (Miles)

Duration (Hours)

Fare (INR)

Cochin International Airport

Chinese Fishing Nets, Fort Kochi

Bus

22.7

1.35

100-150

Taxi

27.3

0.42

1,000-1,200

Drive

27.3

0.42

310-460

Towncar

27.3

0.42

2,000-2,800

Ernakulam Junction Station

Maharaja College

Walk

1.49

0.29

-

Maharaja College

MG Road

Train (subway every 15 min)

-

0.1

14-18

MG Road

Vypin Jetty

Taxi

4.41

0.9

190-350

Ernakulam Junction

Vypin Jetty

Taxi

6.15

0.14

330-400

Vypin Jetty

Fort Kochi Junkar Jetty

Car ferry

-

0.1

3-5

Ernakulam Junction

Fort Cochi

Cab

7.95

0.15

320-360

Other than the above-given options you also can use local transport facilities such as autorickshaw, bicycle, etc. It will cost nearly INR 10 for first 1.25km (0.78mi) and after that INR 6 per km (0.6mi).
Attractions near Chinese Fishing Nets:
1. Ethnic Voyages (1.19km/0.74mi)
2. Mahatma Gandhi Beach (1.59km/0.99mi)
3. Gully Tours (1.45km/0.9mi)
4. Fort Kochi

The Chinese Fishing Nets in Cochin is one of the popular tourist attractions in Kerala. The elegant size of ship amazes everyone. And at the time of sunset water body covering with Chinese fishing nets gives the hypnotic as well as soothing sight to the tourists.

To experience this unique fishing style and to test the delicious sea food, you must visit Cochin, and it's the Chinese fishing nets. So, hurry up and book your tickets to fly for Cochin right away!
More Popular Attractions in Kochi:
Jew Town - Go Shopping and Relaxing
Marine Drive: A Popular Promenade