Cambodia Travel Tips
Cambodia Visa is needed for most of tourists except citizens from ASEAN members. Tourists may get a visa on arrival or apply for an e-visa online or a regular tourist visa from a Cambodian embassy in advance. In most cases, tourists prefer getting either of the former two if they are eligible for it because this is more convenient.
| | | |
| --- | --- | --- |
| Visa Type | Visa on arrival | E-Visa |
| Processing Time | Immediately | 3 business days |
| Validity | 30 days from issue date | 90 days from issue date |
| Stay Length | 30 days, extending is allowed | 30 days, extending is allowed |
| Entries | One-time | One-time |
| Fee | USD 30 | USD 30, plus USD 7 for online service charge and USD 3 for Credit Card service charge |
Consumption
Consumption level in Cambodia is not low, for example, USD 0.38 for a bottle of purified water in 340 ml (12 oz), USD 1.12 for the flag-down fare of taxies, etc. But for clothes and shoes, the prices are comparatively attractive due to low labor costs.
Read More: Shopping in Cambodia Cambodia Trip Cost
Food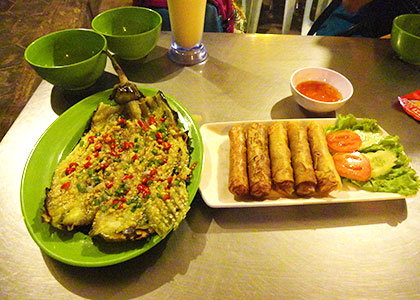 Cambodia Food
6 delicacies in Cambodia:
1. Cha Houy Teuk - A jellylike desert made from gelatin extracted from seaweed.
2. Bai Sach Chrouk - Rice with roasted pork on the top and pickled cucumber, carrot and fresh ginger as side dishes.
3. Nom Banh Chok - A mix of rice noodles and vegetable soup, cooked with peanut, mashed coconut, shrimp, fish, and Yellow curry.
4. Fish Amok - Steamed boneless fish with coconut juice, coconut milk, lemon leaves, and all kinds of spices.
5. Kdam Chaa - Fried crab and Kampot green peppers; a specialty of Kep city cuisine.
6. Red Tree Ants with Beef and Holy Basil - stirred beef slices with ants in all size; a good dish together with steamed rice.
Read More: 10 Unique Cambodian Food
Currency and Exchange
USD can be used in Cambodia. Airports and areas near markets in big cities are arranged with exchanging sites, which open from 9:00 to 17:00 and close in the afternoon on Friday and whole Sunday.
ATM
ATMs can be found in big cities like Phnom Penh, Siem Reap, Sihanoukville, and Battambang. Tourists can withdraw money using Visa Card, Master Card, and JCB card. US dollars can be withdrawn from the ATMs, with an upper limit of 2,000 one time, but the service charge is high. Only five star hotels and high-end restaurants in Phnom Penh and Siem Reap accept credit card payment.
Festival
Cambodia Festivals include New Year's Day, Water Festival, Kite Festival, Monk Festival, etc. While Water Festival, with 3 days holiday starting from full moon day in December of Buddhist era (Nov. 13th to 15th on solar calendar), is a big and prestigious traditional festival in Cambodia. It is said to celebrate the receding of river. Dragon Boat Race will be held in memory of the breeding of Tonle Sap Lake and Mekong River.
Read More: Top 5 Traditional Festivals in Cambodia
Tourist Information Center
16 Tourist Information Centers are set up in the country, including those in Phnom Penh, Siem Reap and Sihanoukville where visitors can ask for help. The centers provide free maps and travel brochures for each province.
Necessities for Cambodia Travel
1. Clothing: take summer clothes, since it's hot in Cambodia; take a long thin coat when watching the sunrise since it's cool in the morning.
2. Certificates: Passport and Visa
3. Skin care products: moisturizing products and sun cream
4. Medicine: Cold medicine, medicine for enterogastritis, anti-mosquito water, sunstroke preventive, etc.
Read More: 5 Helpful Items to Avoid Mosquitoes Cambodia Packing List
Power Supply and Voltage
Voltage used in Cambodia is 210 to 230 volts. Two-phase sockets with parallel flat pins are common. Most hotels do not provide socket adapters, so visitors had better take one.
Read More: How & What Cambodia SIM Card to Buy A Guide to Cambodia Power Plug
Network Accessibility
Major hotels and restaurants in Siem Reap are covered with Wifi signal, but visitors need to spend some money there to access the Wifi service.
Other Travel Tips
1. Take hats and shoes off before stepping into Buddhist temples.
2. Salute by putting palms together in front of chest and lowering your head.
3. Avoid going outside at night alone.
4. Cambodians regard left hand as an unclean hand, and it is impolite to hold things or foods by left hand. Also head is seen as a holy part of body, thus it is not allowed to touch children's head without permission.
5. Visitors usually need to tip tour guide and driver USD 4 each, and receptionist in hotels 2000 Riel.
Read More: Cambodia Nightlife Tipping in Cambodia
Emergency Call
Calling Code: +855
Police: 117
First aid: 119
Fire emergency: 118
Further Reading:
10 Things You Must Know Before Backpacking Cambodia
5 Reasons to Take a Cambodia Solo Travel