Cambodia Packing List: What to Bring & Supplies Tips
If you are planning a visit to Cambodia and you are travelling there for the very first time, then this ultimate Cambodia packing list will be your savior. You need not to freak anymore. To help you out, we have prepared the best Cambodia packing list, which will clear all your doubts. On reaching Cambodia, you will not feel that you have left out something or the other. We have covered all the essential items that you may require in Cambodia.
We will help you with smart packing. You will not overload yourself and, at the same time, will be able to make your trip to Cambodia more enjoyable. Start packing with enough time remaining and follow the below mentioned Cambodia packing list and get ready to enjoy a smooth trip to Cambodia:
Clothing and Footwear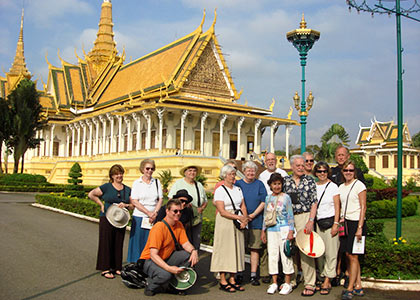 Wear Breathable Clothes in Summer
If you are visiting Cambodia during the scorching hot season, then makes sure to carry:
• Breathable and light cloth items, such as denim shorts, flowing cotton skirts, cotton dresses, vests, singlets tops, T-shirts, etc.
• Comfortable sets of footwear, as there will be lots of walking. Do not forget to pack variety like flats, sandals, and sneakers.
• Sunglasses, sunscreen, an umbrella, and a hat or two. These will protect you from harmful sun rays.
• Temple outfits that cover your shoulders and knees.
• A pair of dresses that you can wear while dining out or partying.
• Swimwear, which you will need in waterfall areas and pools of the luxury hotels.
Much Needed Packing Essentials
Medicines
You cannot afford to miss out on medicines from your Cambodia packing list. Medicines are extremely essential as you are going to a country full of forests, water, etc. Do not forget to carry cold and flu tablets, painkillers, anti-allergic medicines, paracetamol, etc. You can also include inhalers and other such special medication in case you suffer from any particular disease.
Read More: Tips for Keeping Health in Cambodia
Bug Spray
Carry a good quality bug spray as you will most probably lodge in forest areas.
Read More: 5 Helpful Items for Avoiding Mosquitoes
Hand Sanitizer
Add this now to your Cambodia packing list as you never know when you come to cross something hairy, sticky, and gross in the forest areas.
Charging Stations

Prepare Extra Backpack or Duffle Bag
This is a mandatory item that you should include in your Cambodia packing list. Carry a power board with multiple plugins and one PowerPoint converter.
Read More: A Guide to Cambodia Power Plug
Hair Products
While in Cambodia, you will face extreme humidity. So in case, you feel the need to tie your hair up, take along some hair ties. And do not forget to carry shampoos and conditioners since you do not want a bad hair day during your Cambodian trip.
Tissues
Cambodia packing list is incomplete if this item is not in it. A traveler must carry tissues all the time, in order to wipe away sweat, and whatnot. If you are a girl, then do not forget to include items like feminine hygiene products, cosmetics, etc.
Luggage
As you are traveling to Cambodia, do not forget to take a backpack or a duffle bag. The large suitcases that you will carry to airports and hotels will not serve your purpose during your hiking trips.
Carry a water bottle always because you need to keep drinking water all the time as there are too much heat and humidity.
Some Other Essential Items That Can Make Your Journey Smooth and Easy
Local Currency
Now, this one is so apparent, right! You must carry some local currency all the time. You never know when technology shows some malfunction, and you fail to withdraw money or make an online transaction. Local currency will be a savior in such dreary situations. It is all the more necessary if you are a solo traveler in particular.
Laundry Bags
Add a laundry bag in your Cambodia packing list. This will, for sure, come handy when you want to keep dirty clothes separate from the clean ones.
Air Freshener

Take a Good Quality Camera
Keep an air freshener once in your luggage, and you will see the vast difference it makes to your luggage. You will get to notice the difference, as it is so obvious. Your luggage will no longer smell musty as you keep your dirty clothes and footwear in it.
Camera and Memory Cards
You will definitely want to let loose the talented photographer within you as soon as you land in Cambodia. For this, you will need a good quality camera and some extra memory cards to capture and save all the memories for a lifetime.
An Extra Bag
Since you are visiting a new country, you will end up shopping for lots of items. Even if you are not a shopaholic, then too, you will like to pick up an item or two as a token of fond memory. Use this extra bag to carry all those items that you have purchased in Cambodia. After all, you will not want to squeeze in those new and delicate products into your suitcase or backpack.
All yea- Hot and Humid! You will witness a rainy season from May to August, at that point, a "chilly season" from August to October, however, if a half year out of the year, you can expect 95-degree heat at 90% humidity.
We are super confident that this long Cambodia packing list will come handy as you plan for your vacations in Cambodia. You already have a lot in mind to think about - budget for the trip, itinerary, accommodations, passport-visa, and whatnot. The tension of packing should be the last thing on your mind. Hence, go ahead with this Cambodia packing list and enjoy your stay in Cambodia. Have a wonderful journey!