Cambodia Transportation
Ways to Cambodia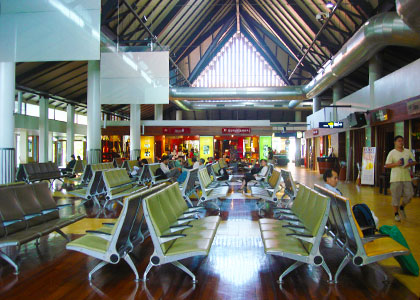 Siem Reap International Airport
Tourists can get to Cambodia either by flight or by road. International flights to the country mainly depart from China, Thailand, Singapore, Vietnam, South Korea, Laos, and Malaysia and arrive in Phnom Penh and Siem Reap. If entering the country by road, you need to take a bus from Ho Chi Minh City of Vietnam or Bangkok of Thailand.
Domestic Transportation
Air
Phnom Penh International Airport, PHN for short, 7 kilometers (4 miles) from downtown in the west, is the only airport in Phnom Penh, also the biggest in Cambodia. It takes 20 minutes from the airport to downtown at night when there is no traffic jam, and around 1 hour during the day when the traffic is heavy. From the exit of the airport to downtown, it takes USD 7-10 by taxi and USD 5-8 with two to four passengers by Tuk-tuk. It is wise to book a room in advance and get the phone number of the hotel ready so that the drivers can call the hotel for correct destination easily, since they do not speak English.
Siem Reap International Airport, aka REP, located in the northwest of Siem Reap, 7 kilometers (4 miles) from downtown, and 5 kilometers (3 miles) from Angkor Wat, is the second largest airport in Cambodia. It is a 20 minutes' drive to downtown. Taxi is the best choice, but as expensive as USD 5. Besides, there are Tuk-tuk and motorcycle services for you to choose from freely at the exit. It takes around USD 4 to downtown by Tuk-tuk, and USD 1-2 by motorcycle.
Sihanoukville International Airport, 18 kilometers (11 miles) from downtown, is the third largest international airport in Cambodia. It takes about USD 20 to downtown.
Read More: Major International Airports in Cambodia

Railway
2 railway lines existed once in Cambodia: Phnom Penh to Poipet, 385 kilometers (239 miles) long; Phnom Penh to Sihanoukville, 270 kilometers (168 miles) long. Both of them were out of service before, while Phnom Penh-Sihanoukville line has reopened, providing roundtrip service every Friday to Sunday. The train has three coaches and is air-conditioned. It departs from Phnom Penh at 07:00 and arrives in Sihanoukville after eight hours, passing by Takeo and Kampot, with USD 6 for a one-way ticket. It runs only 30 to 40 kilometers (19 to 25 miles) per hour.
Read More: Cambodia Trains - Popular Routes & How to Buy Tickets
Boat
Taking boats is a feasible way in Phnom Penh, Kampong Cham, and Kampong Chhnang. The line between Siem Reap and Battambang is highly recommended.
Siem Reap dock is next to Phnom Krom, 10 kilometers (6 miles) from downtown.
Siem Reap - Phnom Penh: voyage of 5 hours and the lowest ticket price is USD 35.
Siem Reap - Battambang: voyage of 5 hours (5-6 hours from November to next April,) and the lowest ticket price is USD 20.
Note: There are one to two ships to Phnom Penh and one ship to Battambang every day, both departing at 7:00.
| | |
| --- | --- |
| Boat in Kampong | Bamboo Train of Battambang |
Bamboo train, made of bamboo and waste metal, is a unique vehicle in Cambodia. Though not as convenient as buses and motorcycles, bamboo train survived because of the curiosity of tourists to this type of train. There are only several hundred of bamboo trains in a few provinces now, mainly in Battambang and Pursat. They either carry goods for a short distance or carry foreign tourists.
The ticket for bamboo train is relatively cheap. Bamboo train trip can be arranged by hotels and motorcycle drivers, and the ticket for foreigners costs USD 5 each person.
Coach
Most coaches are in good condition. The fare is favorable and the service quality is good. Most buses are equipped with air conditioners. Some even provide a toilet, with towel and mineral water available.
Phnom Penh Coach Station is in the northeast of Central Market, providing international and intercity buses. Main lines details are as below:

| | | |
| --- | --- | --- |
| Lines | Travel Time | Ticket Price |
| Phnom Penh-Ho Chi Minh | 8 hours | USD 6 |
| Phnom Penh-Sihanoukville | 4 hours | Minimum USD 3.5 |
| Phnom Penh-Battambang | 5 hours | Minimum USD 5 |
| Phnom Penh-Siem Reap | 6 hours | Minimum USD 5 |
Read More: How to Travel Around Cambodia by Bus
It's common to see Tuk-tuk and motorbike in Cambodia. Just as Vietnam and Laos, Tuk-tuk is the cheapest way to travel and can be found everywhere around a market or grand hotel in Phnom Penh. There is a shelter on Tuk-tuk to protect passengers from the rain. The fare varies from 1,000 Riel to USD 1, so it is better to reach an agreement on the price before getting on. Visitors can also rent a motorbike or taxi to travel around.

Cyclo
Cyclos provide passengers with a broad vision, so it's a great choice if you wish to take vista photos. They mainly pick up passengers at the areas surrounding the
Royal Palace
. The ticket price is about the same as that of motorbikes. One cyclo can hold two passengers.
Read More: Cycling - The Best Way to Explore Cambodia